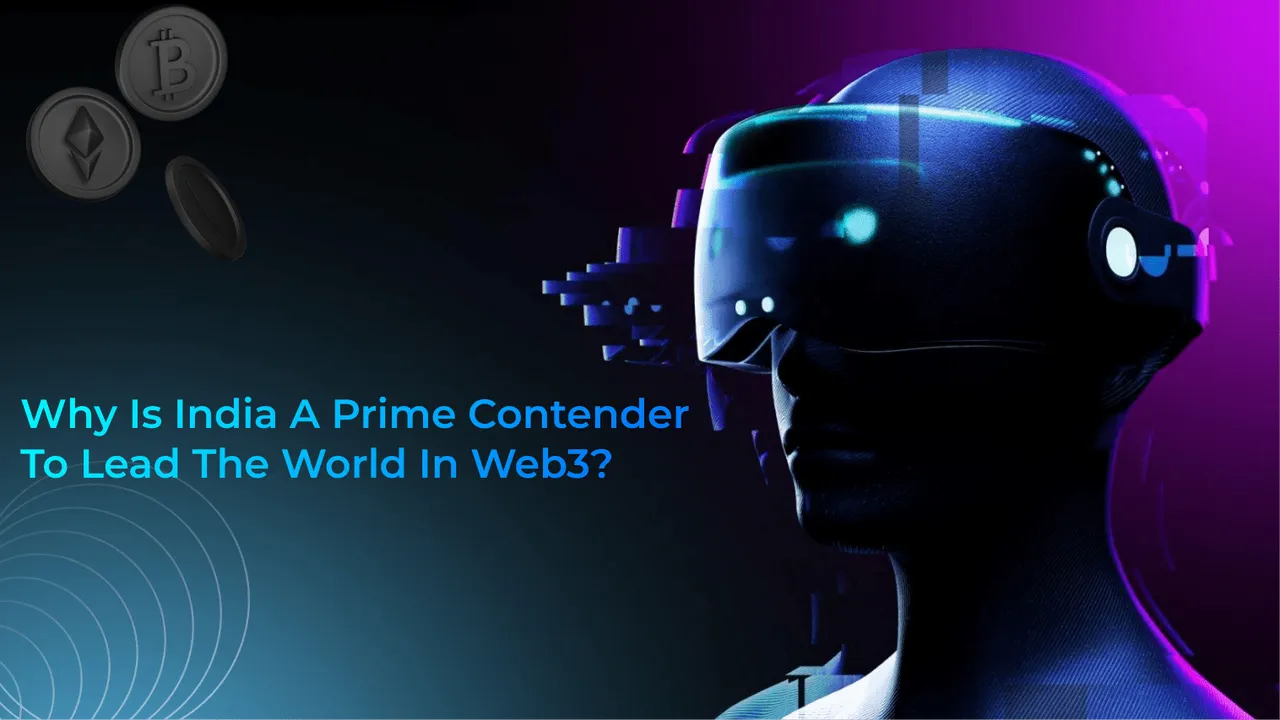 A joint report by NASSCOM and VC firm Hashed Emergent said that India now has over 450 active web3 startups that have collectively raised $1.3 billion in funding in the last two years.
Between 2021-2022 alone, India registered over 170 new Web3 startups, generating over 50% CAGR growth since 2015.
The report added that 80% of Indian web3 startups are in Tier I cities. However, the Tier II/III cities are also overgrowing, with locations such as Jaipur, Ahmedabad, Trivandrum, and Coimbatore evolving as emerging hubs for Web3 startups.
Interestingly, the report estimates that India is home to over 11% of the global Web3 talent, making the country the 3rd largest Web3 talent pool globally.
But why is Web3 essential?
The main goal of web3 is to get back to its root of open source, decentralized, and community-governed internet, simultaneously giving a richness of Web2 features and functionalities.
In essence, Everything we do in Web2 can be done in Web3 but in a decentralized manner. Many Web3 enthusiasts believe that the progress of web3 and its technology will return the web to its original purpose.
Just like cybersecurity, the Web3 space is spreading its roots in India. Venture Capital firms like Coinbase Ventures, Jump Capital, Andreessen Horowitz, and traditional institutions like Sequoia Capital India and Lightspeed are aggressively backing founders at an early stage in web3.
Here are some of the famous web3 startups in the Indian startup ecosystem:
1. Stan
Founded in 2020 by Nauman Mulla, Stan is a blockchain-based esports fan engagement startup that helps content creators to monetize their digital goods, content, and services.
In May 2022, the startup raised $2.5 million as part of its seed funding round led by General Catalyst, alongside other VCs, including Better Capital and Eximius Ventures.
2. Cypherock
Cypherock is a web3 security company founded by Rohan Agarwal and Vipul Saini, which builds infrastructure to promote freedom through self-custody. 
In early December 2022, Cypherock raised $1 million in a funding round led by Consensys Mesh, Infinite Capital, Gnosis, Stefan George, Sandeep Nailwal, Mahin Gupta, OrangeDAO, Prasanna Sankar, and Furqan Rydhan.
3. Glip
Glip is a Bengaluru-based web3 game discovery and wallet app founded by Parth Choudhary and Ishan Shrivastava, which aims to bring millions of gamers to Web3 and continues to onboard Web3 games like Axie Infinity, League of Kingdoms, and KOF Arena by Netmarble to boost user acquisition and engagement.
In November 2022, the startup raised $2.5 million in a pre-Series A funding round led by Hashed Emergent, with participation from Beenext and existing investor Prime Venture Partners.
4. CryptoNaukri
Founded by Pradnyashil Gajbhiye, CryptoNaukri is building an ecosystem for blockchain developers which aims to help them learn blockchain development, solve problems with the help of the community and can get jobs through its job portal in Blockchain space startups and MNCs.
5. Biconomy
Founded in 2019 by Ahmed Al-Balaghi, Sachin Tomar, and Aniket Jindal, Biconomy is a developer platform that empowers blockchain developers to enable a simplified transaction and onboarding experience for their Web3 project.
The startup provides APIs that enable simple and customised transaction journeys for developers so that end users don't get frustrated by the less-than-desirable UX of DApps.
6. KrypC
Founded in 2016 by Karthik Balasubramanian and Ravi Jagannathan, KrypC delivers secure, enterprise-grade blockchain solutions to the private and public sectors.
The web3 startup has partnered with IBM and Microsoft for blockchain applications and smart contracts. It uses Hyperledger, Multichain and Ethereum as technology platforms.
7. mesha
Founded in 2019 by Tahem Veer Verma, mesha is building the financial stack for web3 organizations - treasury, payments, and expense management.
The startup, through its platform, offers accounts, money transfer services, loans, credit cards, NRI banking, investing, and other related services to clients, allowing its users to manage their finances from anywhere by using the financial platform.
8. SoluLab
SoluLab was founded in 2014 by Chintan Thakkar and Rajat Lala. SoluLab is a leading mobile and web development and blockchain development startup that provides full spectrum, 360-degree services to enterprises, startups, and entrepreneurs.
9. QuillHash Technologies
Preetam Rao and Rajat Gahlot founded QuillHash Technologies in 2018. The Gurugram-based startup offers private and public blockchain development, blockchain audits, smart contract development, and dex development.
It has a range of products which includes QuillAudits, dNFT, Tokenic, QuillPlay, and QuillTrace.
Also Read:
Follow IndianStartupNews on Facebook, Instagram, Twitter for the latest updates from the startup ecosystem.