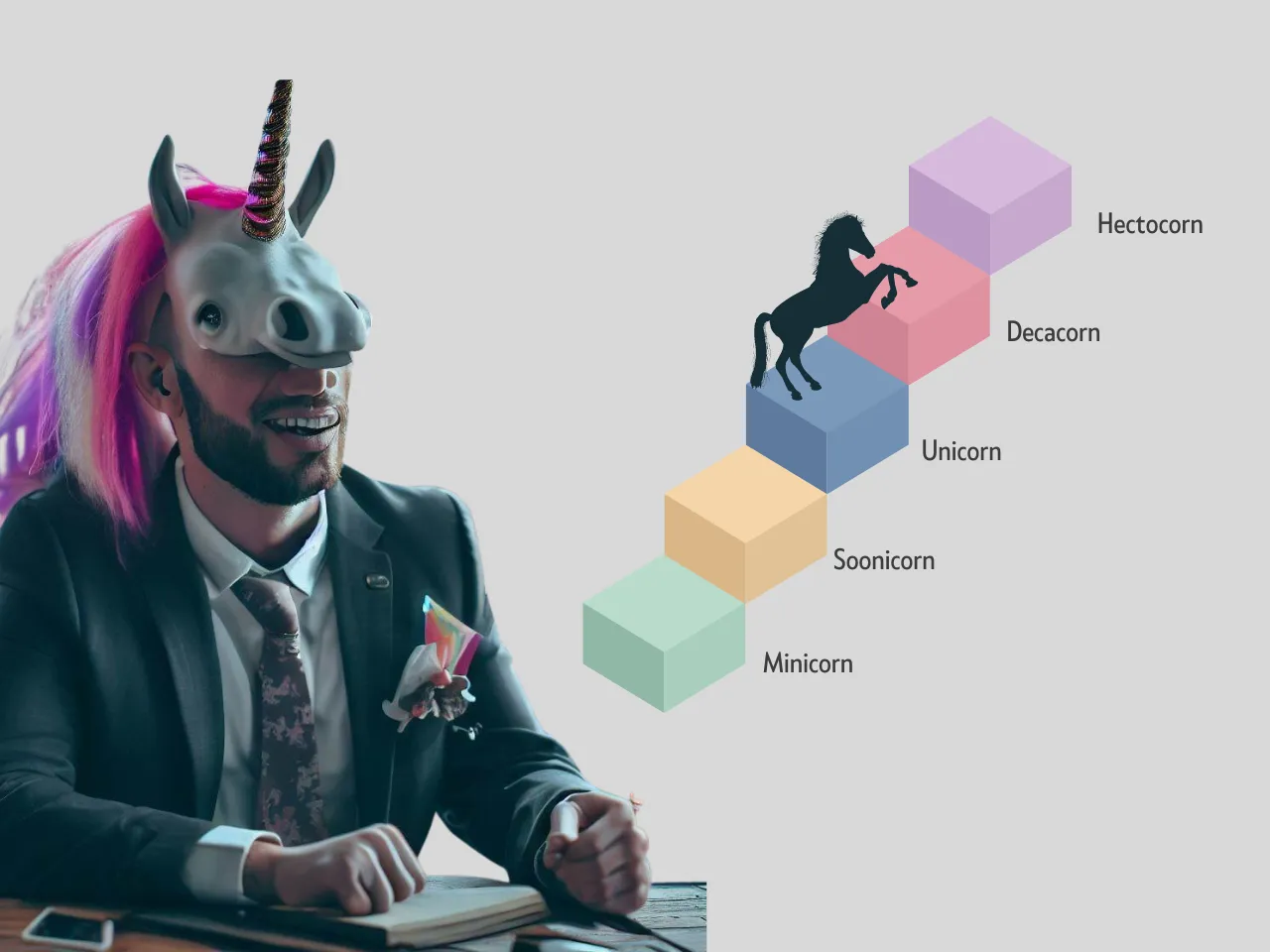 Startups have become an integral part of the business landscape, and every entrepreneur aspires to have a startup that becomes successful and changes the world. For startups, there are various milestones that they aim to achieve, such as becoming a minicorn, soonicorn, unicorn, decacorn, and hectocorn. Ahead, we will discuss these terms and their significance.
Unicorn
The term unicorn was coined by venture capitalist Aileen Lee in 2013. A privately held startup with a valuation of over $1 billion is considered a unicorn. Initially, there were only 39 unicorns worldwide, but the number has grown significantly in recent years.
Minicorns
startups with a valuation of over $1 million. These companies are relatively new to the game, but they have some valuation that indicates their potential to become a unicorn in the future.
Soonicorns 
Aka "soon to be a unicorn", are startups that have the potential to enter the unicorn club soon. These startups are often backed by angel investors or financial speculators based on future projections or apparent valuations
India, which has the third-largest startup ecosystem in the world, is home to 6 of the world's top 100 unicorns, according to a report recently released by the Credit Suisse Research Institute. These 6 Indian startups that feature on the global top 100 unicorns list include - 
BYJU's ed-tech platform was Valued at $22 billion at the end of December 2022, India's most valued startup and the world's 12th, according to the list. Swiggy food-tech platform was valued at $10.7 billion, OYO Rooms $9 billion, online gaming portal Dream11 at $8 billion, and payment gateway Razorpay and Ola were both valued at $7.5 billion each.
Many corporations like Facebook and Amazon, are worth a lot. However, as each Facebook and Amazon have gone public and sold-out shares on the stock market, they're not typically referred to as unicorns. This term only applies to corporations that stay privately owned.
Decacorn
A decacorn is a startup company that has a current valuation of over $10 billion. The first decacorn in the world was Facebook (now Meta), which achieved this status in 2017, crossing the $10B valuation after Microsoft's investment round of $240 million.
According to CBInsights, there are presently 47 decacorns in the world.  Here's a quick breakdown 28 in The United States, 9 in China, 5 in Europe, 2 in other countries, and 2 in India  which are - 
BYJU'S
An ed-tech solution addressing the needs of India's national education system and offering tutoring services for teachers, and educational content for students 
Details of the startup:
Year founded: 2011
Location: Bangalore, Karnataka
Funding: $5.3B
Valuation: $22B
Swiggy
A food ordering and delivery platform focusing on the Indian market, similar to what Glovo, Bolt, or Foodpanda offer in Europe and the United States.
Details of the startup:
Year founded: 2014
Location: Bangalore, Karnataka
Funding: $4.8B
Valuation: $10.7B
Decacorns are the evolved versions of unicorns. What separates them isn't simply the funding. It's the distinctive business model, the revenue model, and also the rate. They've received such investments and have a post-money valuation of over $10 billion as a result of they've shown the globe a fantastic growth rate that the others couldn't.
Several startups have been valued just below $10 billion in their latest fundraising rounds, indicating that they could become the next "decacorns" in the coming months or years. Three such startups include:
OYO Rooms: This Indian hospitality chain operates 43,000 properties with over 1 million rooms in 80 countries. In August 2021, OYO raised $5 million from Microsoft, valuing the company at $9.6 billion.

N26: A German neobank that offers banking solutions to customers in the European Union. In October 2021, N26 closed a $900 million Series E funding round at a $9 billion valuation.

Klaviyo: A marketing platform that helps businesses automate their email and SMS marketing campaigns. In May 2021, Klaviyo raised $320 million, which doubled the company's valuation to $9.5 billion in just seven months.
Hectacorn:
A tech company valued at over 100 billion dollars is called Hectacorn. The term is formed from the Greek root word 'hecto' which can loosely be translated as hundred. These startups are also known by the term "Super Unicorn". SpaceX Bytedance and Shein are currently the only three privately-held startups with a $100+ billion valuation
1) Bytedance
Bytedance has certainly stepped into multi-hectocorn territory with their short-form video platform TikTok that's seen rocketing growth — the fastest among social media companies— drawing young people across the world and bringing in $58 billion in revenues in 2021.
Bytedance also owns a host of social media platforms like Toutiao, Douyin, and BuzzVideo, but the crown jewel fuelling the company's humongous valuation has been their insanely popular short video platform that Meta and Youtube have been trying unsuccessfully to copy or contain.
Year Founded: 2012
Location: Haidian Qu, Beijing, China
Funding: $9.4 billion across 12 rounds
Valuation: $450 billion (October 2021)
2) SpaceX
SpaceX, led by the visionary entrepreneur Elon Musk, has been pushing the boundaries of space exploration and redefining what is possible in the industry. The company has achieved a number of historic firsts, including vertical vehicle launches and recoveries, and becoming the first private space carrier to dock with the International Space Station.
One of SpaceX's main revenue streams has been launching satellites for various clients, including the US military, NASA, and private companies. However, the company has even bigger ambitions, such as plans to colonize Mars and provide satellite internet services worldwide through its OneWeb project. SpaceX continues to dazzle the world with its innovation and cutting-edge technology, and many are excited to see what the future holds for this trailblazing company.
Year Founded: 2002
Location: Hawthorne, California, US
Funding: $7.7 billion across 56 rounds
Valuation: $100.3 billion (October 2021)
3) Shein
Founded by Chris Xu in 2008, Shein initially began as a dropshipping company, before pivoting to become a popular online fashion retailer. With a focus on affordable fashion items for men, women, and children, Shein operates in over 220 countries, catering to a young and price-conscious customer base. Through rapid expansion in recent years, Shein has become one of China's most successful e-commerce enterprises.
Year Founded: 2008
Location: Nanjing, China
Funding: $2 billion across 6 rounds
Valuation: $100 billion (April 2022)
In 2023, it is expected that two of the world's most valuable private companies, Stripe and Bytedance, will go public. SpaceX, on the other hand, has not yet disclosed any information about its potential IPO.
As the hectocorns prepare to enter public markets, other visionary companies such as Klarna, Adyen, Canva, Epic Games, Instacart, and Revolut, as well as numerous startups, are continuing to innovate and create products that consumers adore. The future appears to be exciting, with more groundbreaking technologies and revolutionary ideas in the pipeline.