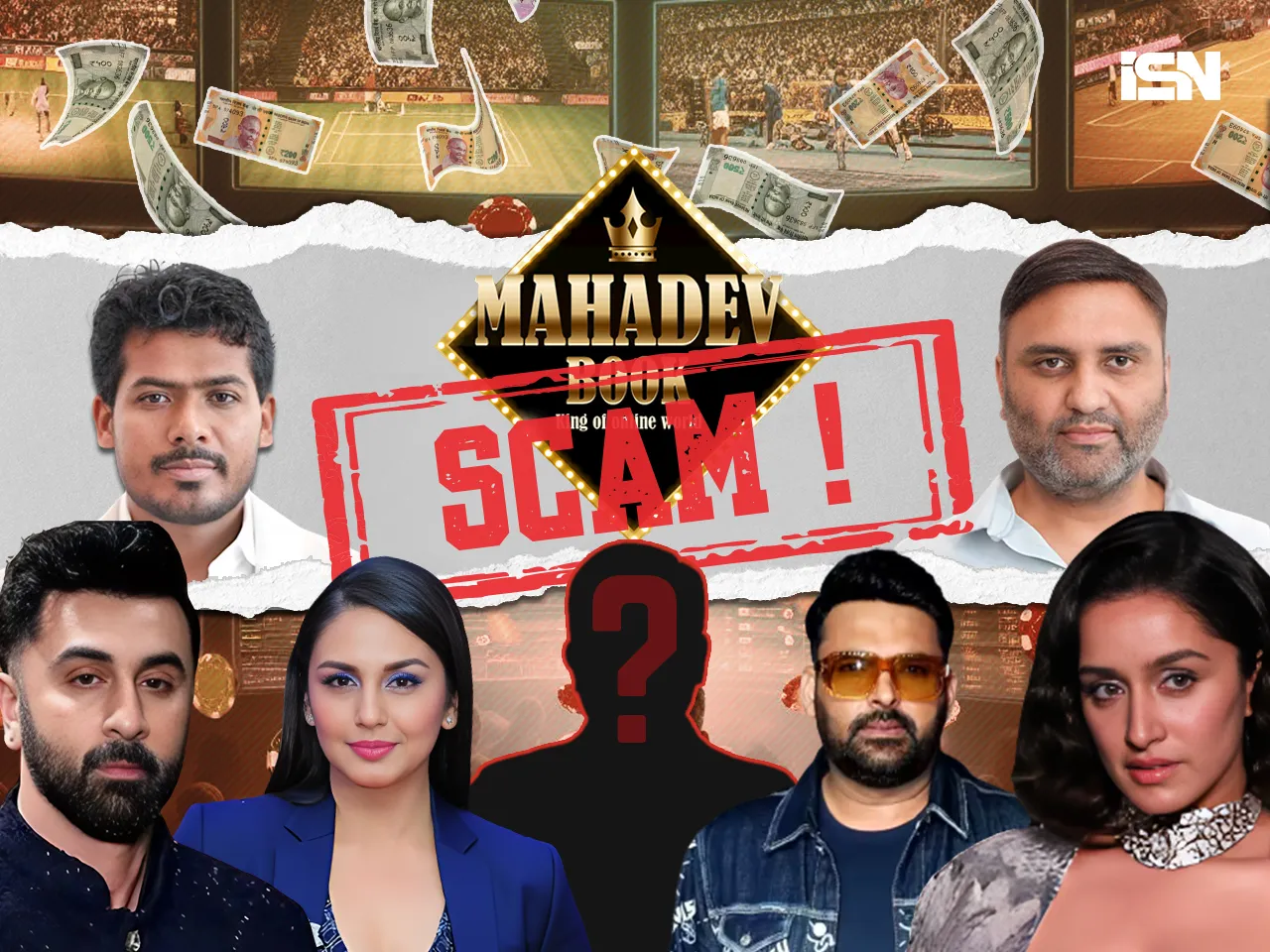 Who doesn't want easy money in life? In today's fast-paced digital world, the desire and urge to make quick money has pushed many people into the dark betting rabbit hole. 
The thought of earning crazy money without putting in much work is very enticing to some. However, not everything that glitters is gold. Some of these apps have a nefarious aspect behind the scenes that can get one into trouble. The betting platforms provide the thrill of easy money which collides with the dangers of being engaged in illegal activities. Recently the talk of the town is The Mahadev App Scam that lures people into the world of betting on live sports such as poker, card games, cricket, badminton, tennis, and football in India.
What is the Mahadev app and how does it work? (Background Info)
Mahadev is an online betting app, which was launched by Saurabh Chandrakar and Ravi Uppal from Bhilai, Chattisgarh.
As per ED, It started as an umbrella syndicate that aggregated various online platforms, including betting websites that are illegal in India. This allowed users to bet on a range of live sports, including cricket, tennis, badminton,teen patti, and poker.
Mahadev Book Online is a hyper-local website that targets audiences in certain states or territories. The app encourages users to communicate with bookmakers or bookies using instant messaging apps such as WhatsApp and Telegram, as well as social media sites such as Instagram.
Platforms like The Mahadev App are powered by a massive network of small apps built with custom Android application packages, or APKs. When users download one of these apps, they contact a website administrator, who generates a token or user ID for them.
The user can then use the generated token to place wagers via instant messaging apps. Money is transmitted using internet techniques such as the Unified Payments Interface (UPI).
The Mahadev App provides a range of card games, including Teen Patti and Poker, and virtual cricket games to help users understand the app more deeply.
This enterprise reportedly earned Rs 200 crore every day by operating through closed groups on various instant messaging platforms. 
To attract participants and make a profit, those responsible posted contact numbers on websites, which can be accessed primarily through WhatsApp. When users contact these numbers, they receive two separate contact numbers. One is for money deposits and points for their user IDs used in betting, while the other connects to the website for cashing out points from the assigned IDs.
Betting platforms industry insights
According to Statista, the Indian betting platform sector is poised for significant growth, with a forecast value of $1.70 billion by 2023, representing a 9.79% annual growth rate (CAGR) from 2023 to 2027. 
As part of the greater Indian betting market, which is expected to top $2 billion, the sector is expected to grow at a rate of roughly 20% per year as per the reports by Smallcase. 
The report added that the legal sports betting business in India, currently valued at more than $2 billion, is expected to rise to an astonishing $112 billion in the next four years, propelled by the increasing usage of the internet and mobile phones, with an annual growth rate of more than 60 million users. 
Cricket, football, and tennis are the most popular sports for betting in India, both offline and online, adding significantly to betting companies' revenue. Despite its scale and popularity, the industry faces regulatory problems, particularly in the offline arena, where the activity is still mostly unlawful due to a lack of uniform laws and government recognition. 
However, technical developments, including the incorporation of live tips and bets, are moving the sector forward, making India an appealing destination for operators. Looking ahead, the future of online betting in India is bright, reflecting Indians' increased interest in this dynamic and ever-changing business.

The Mahadev app controversy in India
The Enforcement Directorate (ED) has launched an extensive inquiry into the Mahadev Online Betting scandal. According to experts with knowledge of the situation, the scope of this scam goes far beyond internet betting. What distinguishes this case is the innovative form of money laundering it has shown – the usage of UPI IDs.
The Enforcement Directorate (ED) is investigating the massive Mahadev Online Betting fraud, revealing a fresh money laundering scheme involving UPI IDs.
The creators, Saurabh Chandrakar and Ravi Uppal ran an illicit betting network that preyed on vulnerable people. Large quantities of money were passed via celebrities who endorsed the scam, involving them in potential criminal gains.
The ED has recently conducted sweeping searches against money laundering networks linked with the Mahadev App in places such as Kolkata, Bhopal, and Mumbai, obtaining substantial volumes of incriminating evidence and freezing/seizing proceeds of crime totaling Rs 417 crore."
Recently The Ministry of Electronics and Information Technology banned many betting and gambling apps, including Mahadev Book Online, in a late-night strict order on November 5 due to concerns of money laundering.
Previously, the Enforcement Directorate arrested several people connected to the activities of the Mahadev betting app and accused them of various provisions of the Prevention of Money Laundering Act (PMLA).

Mahadev app: legal or illegal?
Betting platforms are infamous for breaking government laws and norms that specifically prohibit online betting and gambling, these applications and websites also violate laws governing the transfer of money from one nation to another.
For example, the ED stated in its chargesheet that the Mahadev app used a franchise-type concept in which the promoters and owners of the app are located abroad and use WhatsApp groups and call centers to appoint people to operate their businesses in India.
In India, the profit is split 70:30 between the handlers and the promoters. These handlers, sometimes known as panel operators, are solely responsible for paying out winnings, accepting wagers from users, and moving funds to promoters via the hawala network.
According to ED, Chandrakar and Uppal are the major promoters of Mahadev Online Book, which is administered from a central Head Office in UAE and runs by franchising "Panel/Branches" to their known associates on a 70:30 profit ratio.
Those involved in the alleged scam approached unwary slum dwellers and people from low-income backgrounds. They used to steal these people's UPI numbers and launder money using these apps.
They used to provide these people with a very tiny amount in exchange for utilizing their UPI ID. This money was being diverted to foreign businesses. The ED is looking into the scope of the fraud and how much money was laundered using this method.

The ED had also said that the Mahadev Book Online app had over 2,000 such panel operators in India, who would accept minor wagers from consumers and put bets on live games and events.
According to the ED, the corporation was utilizing the betting app to enlist new users, generate IDs, and launder money through a complicated network of Benami bank accounts. 
Following searches at 39 locations, the ED frozen and seized assets worth Rs 417 crore in connection with the money laundering case just a month ago. Owners Saurabh Chandrakar and Ravi Uppal transferred money to hawala operatives in Dubai.
While these operations had been on for some time, it was the founder Chandrakar's Rs 200-crore opulent wedding in Ras Al-Khaimah, Dubai, that drew the app into the sights of the investigation agency.
Vishal Dadlani, Tiger Shroff, Sonakshi Sinha, Atif Aslam, Sunny Leone, Neha Kakkar, Ali Asgar, Bharti Singh, Bhagyashree, Pulkit Samrat, Elli Avram, and Rahat Fateh Ali Khan reportedly performed at the star-studded event.
In February 2023, Saurabh Chandrakar got married in RAK, UAE, and for this marriage ceremony, the promoters of Mahadev APP spent around Rs 200 Crore in Cash," the ED stated in a statement dated September 15.
The ED also stated that the event management company got Rs 112 crore through hawala transactions (including private airplane expenses) and Rs 42 crore in cash in UAE currency, which was used to make hotel reservations.

Political Interventions
To begin, a political controversy surrounds the Mahadev app, with the BJP charging Chhattisgarh Chief Minister Bhupesh Baghel and other Congress politicians of involvement in unlawful activities with the app. In reaction, the Congress has chastised the BJP for using the matter to target Baghel.
Second, under the rules of the Information Technology Act of 2000, the Centre has taken strong action by prohibiting 22 software and websites, including the Mahadev app. This action, which was sparked by a probe by the Enforcement Directorate (ED), has heightened the political tension around the case.
As per Times Now the ED's decision to prohibit the Mahadev app is seen as an attempt to sway the approaching Chhattisgarh state elections.
BJP claims that the ED's action is part of a bigger scheme planned by the Congress to harm the BJP's electoral chances. This link between the app, political controversies, and state election dynamics emphasizes the app's complicated engagement with the political scene.
B-Town celebrities' involvement?
After the exposure of the controversial betting app, the Enforcement Directorate (ED) summoned nearly 17 Bollywood celebrities to account for the funds that they received in exchange for promoting the product. 
As part of the investigation, the ED called in Indian actor Ranbir Kapoor for questioning. The ED also found that the payments made to Kapoor for promoting the online platform were sourced from the illegal profits of the criminal operation. The investigation also reveals that Kapoor was part of Chandrakar's wedding, and in return, he received a substantial amount of money. 
The federal agency also summoned other B-town popular figures in the Indian film industry, including Shraddha Kapoor, Kapil Sharma, Huma Qureshi, and Hina Khan, all linked to the Mahadev betting app incident. 

Netizens' reactions to the controversy
The Mahadev Gaming App case stands out as a big controversy, centered on an online betting platform that facilitated illegal gambling on a wide range of games, including poker and card games, as well as badminton, tennis, football, and cricket. This controversy has elicited a variety of reactions.
To begin with, in response to claims of money laundering and illegal gambling, the Ministry of Electronics and Information Technology took swift action by prohibiting a number of betting and gambling apps, including Mahadev Book Online. Legal action was also taken against people linked with the Mahadev betting app's operations.
Second, the case involved several Bollywood celebrities, most notably Ranbir Kapoor and Shraddha Kapoor, creating a  debate over Bollywood's possible influence on political concerns.
Third, a legal battle erupted, with the Supreme Court first affirming the Ministry of Electronics and Information Technology's prohibition on 118 gambling apps, including Mahadev Book Online.
However, the Delhi High Court later reversed this prohibition, claiming that the government lacked the right to impose such limits.
Furthermore, the Mahadev betting app controversy prompted concerns about the potential impact of illegal gambling on election outcomes, emphasizing the issue's broader societal consequences.
Finally, given the sport's significant engagement in the betting app, the incident cast a shadow over the cricketing ecosystem.
This multilayered controversy has sparked not only legal challenges, but also reflections on Mahadev's mixing of entertainment, politics, and athletics.