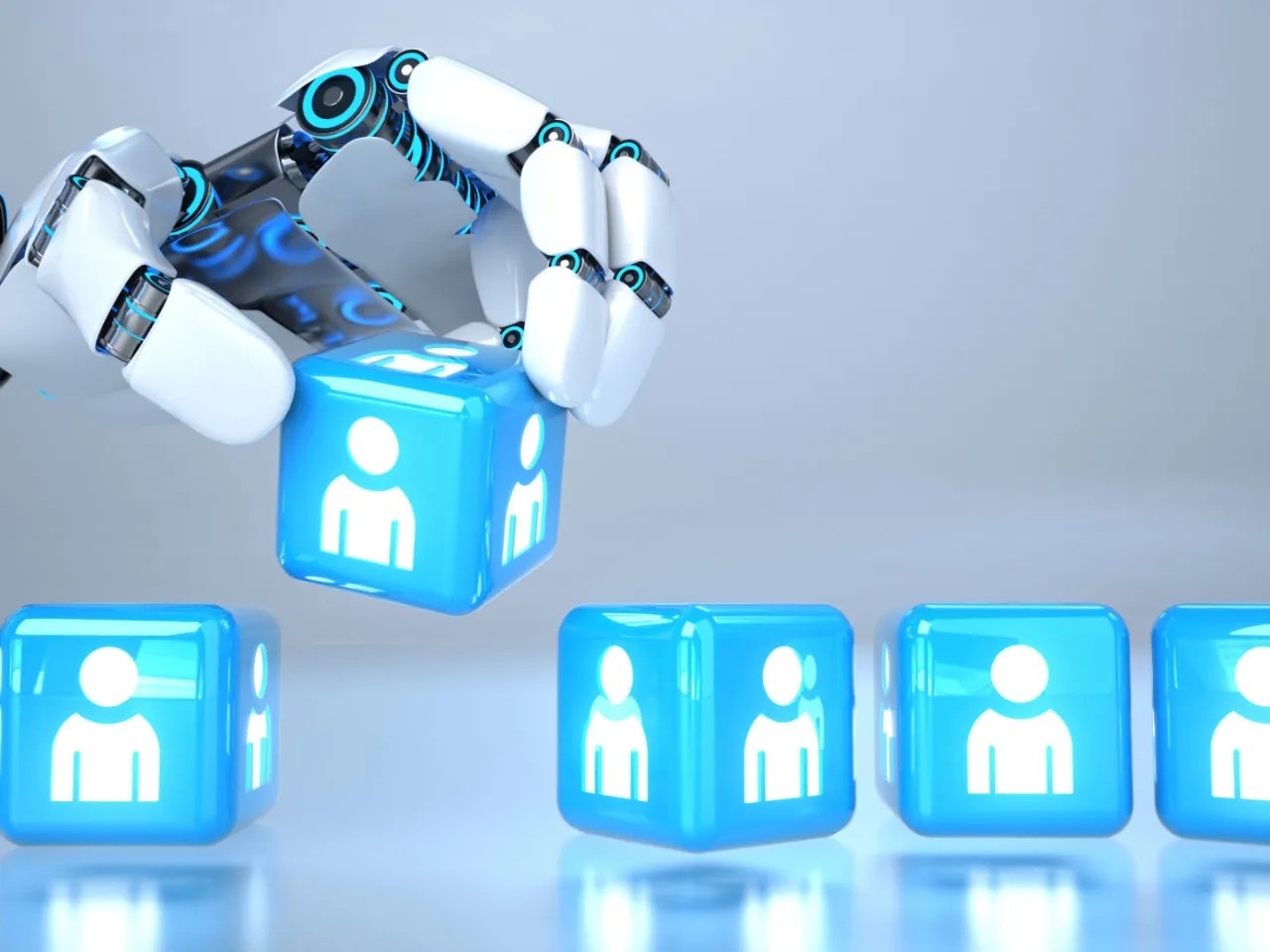 Artificial Intelligence (AI) has emerged as a disruptive force in various industries, revolutionizing the recruitment landscape for Indian startups.
The integration of AI-driven recruiting solutions has ushered in a new era of efficiency and innovation, transforming the hiring process from end to end.
With powerful machine learning algorithms at its core, AI-driven recruitment offers a streamlined and data-driven approach, enabling startups to attract, assess, and hire the best-suited candidates with unprecedented accuracy and speed.
AI-Driven Recruitment Process:
The AI-driven recruitment process begins with optimizing job postings, where sophisticated algorithms analyze vast amounts of data to identify the most effective keywords and phrases. This optimization ensures job descriptions are compelling and targeted, increasing their visibility and attracting the right talent.
Subsequently, AI-powered screening software takes center stage, automatically evaluating resumes against predefined criteria and identifying candidates with the most relevant skills and qualifications.
By removing the manual screening burden, recruiters can focus on the most promising candidates, accelerating the shortlisting process. Virtual assistants, utilizing natural language processing, conduct initial interviews by asking a set of predetermined questions, standardizing the evaluation process, and minimizing human biases.
Data-driven decision-making becomes the backbone of the AI-driven recruitment process. The abundance of data generated throughout the recruitment journey provides valuable insights, enabling organizations to make informed and objective hiring decisions. This data-driven approach enhances the likelihood of finding the perfect fit for each role and contributes to building diverse and inclusive teams.
Moreover, the AI-powered system continuously learns and improves based on recruiter interactions, refining its algorithms over time to adapt to changing recruitment dynamics and deliver even better outcomes.
Beyond data-driven efficiency, AI-driven recruitment prioritizes the candidate experience. Personalized communication through automated email responses, chatbots, and virtual assistants ensures candidates receive timely updates and personalized engagement throughout the hiring journey.
This personalized approach not only fosters positive candidate perceptions but also strengthens employer branding and reputation.
Furthermore, AI-driven recruitment has the potential to mitigate unconscious biases that might influence traditional hiring decisions. By focusing on objective data and qualifications, AI-driven systems ensure a fairer and more inclusive hiring environment, enhancing diversity within startup teams.
Indian AI-Driven Recruiting Startups:
Eightfold: 
Eightfold, founded in 2016 and based in Noida, India, offers AI-based talent intelligence solutions for enterprises. Its platform caters to various aspects of talent management, including engaging employees in career development, transforming recruiters into talent advisors, providing candidate experiences, and managing contingent workforces. The platform's algorithm-driven matching system helps identify the best-suited talent for organizations, with notable clients such as Tata, Air Asia, Mobile Iron, and Global Logic. The startup has secured impressive funding of USD 410 million from investors like SoftBank Vision Fund, General Catalyst Partners, Foundation Capital, and others.
HackerRank:
Founded in 2009, HackerRank operates from Mountain View (United States) and Bengaluru (India). This startup provides a technical recruitment platform and code-challenge community for companies seeking to hire top tech talent. The platform automates the applicant code testing and interviewing process, pre-qualifying and screening candidates based on their performance in programming challenges, MCQs, and subjective questions. Notable investors, including JMI Management, Khosla Ventures, and Randstad, have supported HackerRank with USD 115 million in funding.
Talview:
Launched in 2017 in Bengaluru, India, Talview (formerly Interviewmaster) has become an AI-based video interviewing and assessment platform. It presents an automated recruitment ecosystem encompassing various modules such as a recruitment chatbot, AI-based video interviews, online assessments, and automated proctoring. Clients like HCL, Amazon, Cognizant, and RelianceDigital have benefited from its services. The startup has raised USD 22 million in funding, supported by investors such as Eileses Capital, Storm Ventures, and Inventus Capital Partners.
IDfy:
Founded in 2011 and headquartered in Mumbai, India, IDfy offers an online platform for applicant tracking, specializing in data-driven solutions for customer verifications, employee verifications, and partner verifications. Its range of services includes KYC, AML, GDPR compliance, customer onboarding, and identity authentication. The startup has received USD 21 million in funding from investors like Vistra ITCL, TransUnion, and Blume Ventures, among others.
Belong:
Belong, previously known as DataEmo, was established in 2014 and operates from Bengaluru, India. This data science-enabled candidate sourcing platform leverages machine learning to help organizations discover, engage, and hire top talent. Its data-driven search and recommendation technology analyze millions of profiles across social, internet, and public sources to identify candidates that best fit culture and skill requirements. Notable clients include Snapdeal, Ola, Practo, and Zivame. Belong has secured USD 15 million in funding from investors such as Sequoia Capital and Matrix Partners India.
AuthBridge:
Founded in 2005 and headquartered in Gurgaon and Delhi, India, AuthBridge specializes in AI-based data verification and employee onboarding solutions. The company's product offerings include TruthScreen, a data-based authentication platform using AI and ML for faster account opening and onboarding, and CorpVeda, a business intelligence platform providing streamlined corporate information for improved risk assessment and fast-track decision-making. The startup caters to various industries, including BFSI, Telecom, Sharing Economy, and IT/ITes, and has raised USD 10 million in funding.
EDGE:
EDGE, established in 2012 and based in Bengaluru, India, is a cloud-based platform for applicant tracking. The startup provides AI-based talent acquisition and workforce optimization software, offering tools for candidate sourcing, document tracking, and interview management. With USD 8 million in funding from investors such as Ventureast, Exfinity Venture Partners, and Kalaari Capital, EDGE is catering to diverse industries.
Vahan: 
Vahan, founded in 2016 and located in Bengaluru, India, operates as an AI-based platform connecting job seekers and employers through WhatsApp. This innovative platform enables field sales teams to connect with their back office via popular messaging apps like WhatsApp, facilitating information retrieval and clarification. The customizable bots cater to various business functions such as support, training, communications, and reporting. Vahan supports multiple languages, including English, Hindi, Kannada, Tamil, Telugu, and Bengali, and has received USD 8 million in funding from investors like Khosla Ventures and Airtel.
MonJin:
Launched in 2014 and based in Pune, India, MonJin is a cloud-based interviewing platform. The online platform provides pre-interviewed candidates for employers, with registered candidates connecting with interviewers to record video interviews stored on the platform. Employers can access the videos and shortlist candidates, and the platform includes an in-built reference and background checks feature. MonJin has secured USD 7 million in funding from investors like eTeam and Puja Bhagwandas.
HireSure:
Founded in 2019 and headquartered in Bengaluru, India, HireSure combines blockchain and AI-based technologies to offer a candidate engagement platform. Its blockchain registry of job offers and employment enhances recruitment processes, with notable companies like Hush, Ziggo, Converse now, and Tracxn using the platform. HireSure has received USD 7 million in funding from investors like Y Combinator, Three State Capital, and Tribe Capital.
Conclusion
AI-driven recruitment has emerged as a game-changer for Indian startups, revolutionizing talent acquisition processes and transforming the way companies attract and select top talent. The integration of sophisticated machine learning algorithms in the hiring process streamlines job postings, enhances candidate screening, and standardizes the interview process, resulting in increased efficiency and accuracy.
Data-driven decision-making empowers organizations to make informed choices and build diverse and inclusive teams, while personalized candidate experiences strengthen employer branding and engagement.
As the AI-driven recruitment industry continues to evolve, startups that embrace this transformative technology will be better positioned to navigate the competitive talent market and secure sustained success in the dynamic landscape of the future.
With an array of innovative AI-driven recruitment startups like Eightfold, HackerRank, Talview, and others leading the way, the Indian startup ecosystem is poised to witness unparalleled growth and success in talent acquisition.
Also Read: