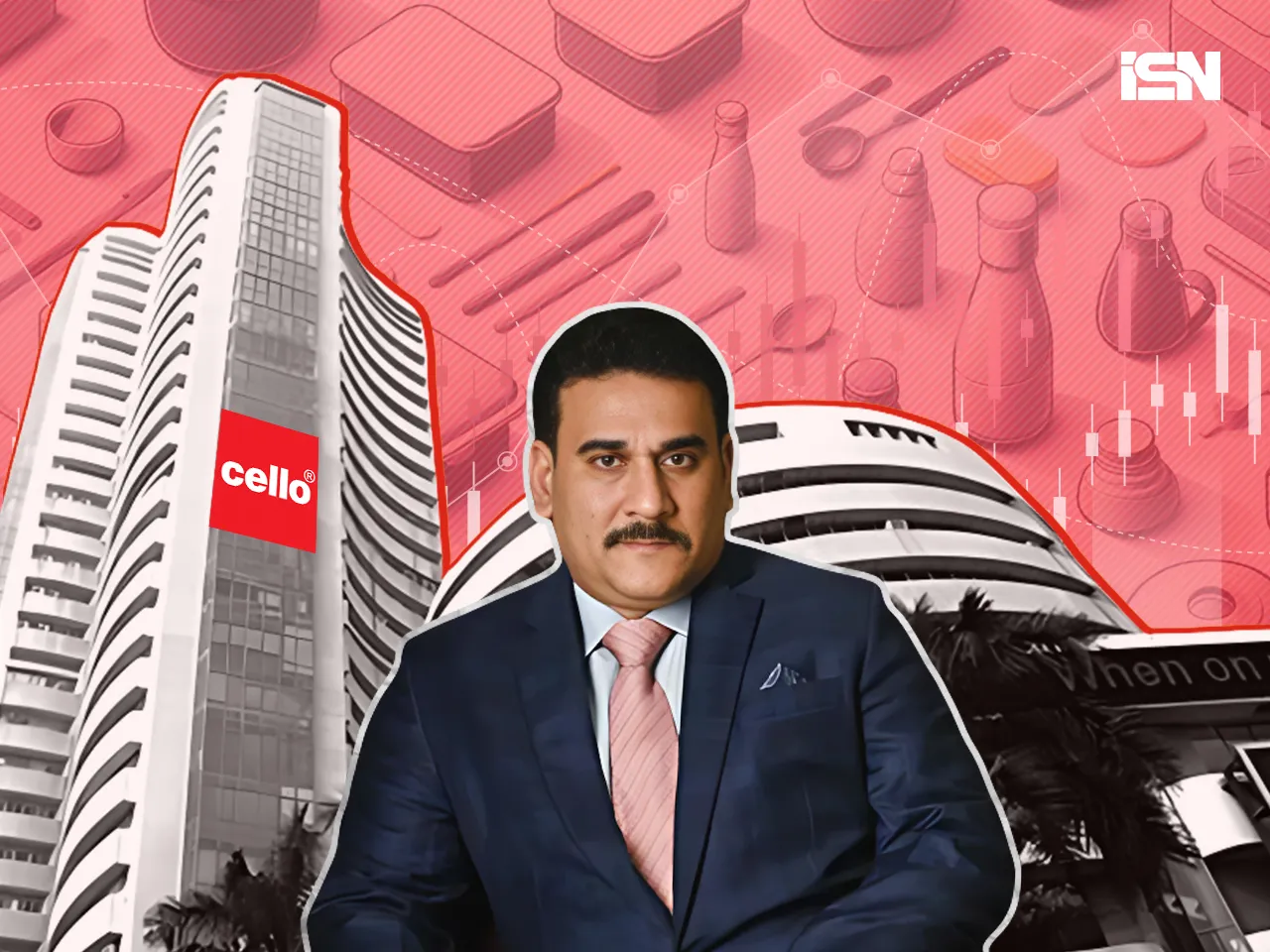 Cello, a company renowned for its quality casseroles and pens, made a grand entry into the stock market and achieved unprecedented success, propelling its founder Pradeep Rathod into the millionaire ranks.
Cello's exceptional products and commitment to excellence have earned it a reputation as a leader in the industry, and its entry into the stock market only solidified its position. This achievement is a testament to the hard work and dedication of everyone involved in the company's success.
Cello world offers a wide range of household items, including pens, water bottles, Dinnerware, utensils, Glassware, Drinkware, and Insulatedware. The brand caters to customers of different income levels with its diverse product choices, materials, and price points, acting as a "one-stop shop."
Additionally, Cello's product portfolio includes Cleaning supplies, Stationery, Small kitchen appliances, Moulded furniture, and Air coolers, making it a comprehensive solution for all kinds of household needs.
Inception and journey
Cello has been a household name in India for over six decades, representing a heritage of understanding and creativity since its founding in 1962. Cello has constantly supplied innovative and excellent products to Indian households at competitive pricing, making it one of the largest and most renowned Indian household brands.
Cello has created various goods that have become essential in households, hotels, restaurants, and catering enterprises around the country. Because of Cello's unwavering commitment and customer-centric approach that looks out for Indians and their needs made this brand huge to the extent that the company is oversubscribed by 1.6 times.

This dynamic mix of human centricity and utility has enabled Cello to mix functionality and aesthetics perfectly, ensuring that its products are not only functional but also enhance its consumers' everyday experiences. The brand's durability and success are built in its unique ability to connect deeply with the Indian consumer, transforming it into a trusted and cherished companion on life's journey.
Now let's look at how Cello World came into existence. It all started with Ghisulal Rathod starting a small factory with 7 machines and 60 workers in Goregaon, Mumbai. The factory used to manufacture bangles and PVC shoes initially. 
The company manufactured PVC shoes and bangles for years while also expanding into other sectors. In the year 1967, the company started to produce cheap and durable plastic wares for Indian households. 
Ghisulal identified the gap in the Indian market and understood that Indians want cheap and durable plasticware as brass and steel are expensive and heavy; thus, the company boomed. Next, in 1951, the company started producing pens with rubber grips, which gained a lot of popularity among students, thus making huge profits.
In the year 1980, Ghisulal, while travelling to the USA, saw casserole, and he decided to bring it into the Indian market. This made Cello a household name, and the company reached its paramount.
Cello World's growth
Cello World's growth trajectory can be traced back to its successful Initial Public Offering (IPO) in 2023.  The company's IPO was oversubscribed by 1.6 times, indicating strong investor interest.  The surge in demand for Cello World's IPO can be linked to India's expanding middle class and the rising trend of kitchen renovations featuring modern appliances. 
The company's performance is reflected in its robust financials. For instance, the company's consolidated net profit jumped by 25.2% year-over-year to 774. 4 crores.  Cello World's revenue and PAT have grown at 30.8 and 32.7 per cent per annum, respectively, between FY21 and 23. 
In terms of diversification, the company has made strategic moves. It has increased its presence in the consumerware market, which is experiencing a 6.9% compound annual growth rate, by diversifying into modern appliances.  Furthermore, Cello World acquired a 40% shareholding in Pecasa Tableware Private Limited, a company engaged in the business of manufacturing porcelain products, in 2022.

IPO milestones
Cello World IPO promoters are Pradeep Ghisulal Rathod, Pankaj Ghisulal Rathod, and Gaurav Pradeep Rathod.
The Cello World Initial Public Offering (IPO) took place over three days, from October 30 to November 1, 2023, and was an eventful one. The shares were offered within a price range of Rs 617 to Rs 648 each, with a face value of Rs 5, totalling Rs 1,900 crore.
The IPO was structured as a complete Offer for Sale (OFS), allowing promoters and other shareholders to sell their shares. The IPO garnered a positive reception from investors, with a subscription rate of 1.12 times on the second day.
The shares were listed on the Bombay Stock Exchange (BSE) and National Stock Exchange (NSE) on November 6, 2023. The total issue size, including both the fresh issue and OFS, was set at Rs 1,900 crore. The Gross Market Premium (GMP) was established at an impressive 123.40 times the face value, with a cap price of Rs 129. Retail investors had to invest a minimum of Rs 14,904.
After the IPO, the promoters retained a 51.63% shareholding, indicating their continued interest in the company's growth and success. Overall, the Cello World IPO was a significant achievement, both for the company and the investors who participated in it.
Industry Insights
Cello World is a renowned Indian consumer product company with over six decades of experience in the industry. The company specializes in three categories - writing instruments and stationery, moulded furniture, and consumer housewares.
Their vast range of products is designed to cater to the needs and preferences of customers across different age groups and segments. From sleek and elegant writing instruments to durable and stylish moulded furniture, Cello World's products are a perfect blend of quality, functionality, and aesthetics. With a strong focus on innovation and customer satisfaction, Cello World has established itself as a trusted and reliable brand in the Indian consumer product market.
The Indian consumer durables market, divided into urban and rural segments, draws the attention of international marketers. This market comprises a large middle class, a substantial affluent population, and a smaller economically disadvantaged group. It includes consumer electrical items like fans, kitchen appliances, lighting devices, and white goods such as washing machines, televisions, refrigerators, and air conditioners.
The business is currently witnessing a transition in market share from unorganized to organized sectors. Approximately 30% of the market is still unorganized, giving a major opportunity for established Indian enterprises to increase their market share. As customer awareness of technology breakthroughs rises, artificial intelligence and factory automation are expected to impact the sector's future.
Industry 4.0 is projected to spur investment in R&D, technology infrastructure, and manufacturing techniques to improve the efficiency of consumer durables production.
Because of its favourable demographic profile and expanding disposable incomes, global firms see India as a crucial source of future growth. Between April and November of fiscal year 2023, electronics exports increased by 13.8%, the greatest growth in the previous six years. India is on a rapid growth trajectory, with the goal of reaching US$ 300 billion in electronics manufacturing and US$ 120 billion in electronics exports by FY26.
Business model
Cello World has fashioned out a remarkable story in the fast-paced world of consumer goods, spanning over 15,891 SKUs. Cello World has been a household name since its beginning in 1962, with a varied portfolio that includes anything from consumer houseware to writing instruments and moulded furniture. They have been synonymous with excellence and trust thanks to a legacy that has developed tremendous brand equity.
A commitment to innovation is at the heart of Cello World's success. The company displays an ongoing spirit of invention and adaptation in product creation by constantly expanding into new product categories and scaling up. This innovation extends beyond their products to their approach to economies of scale.
Cello World is able to pass on cost savings to its clients by combining quality and affordability through large-scale manufacturing and efficient supply chain management.
Their distribution networks demonstrate their versatility and customer-focused attitude. Cello World serves its clients wherever they are, from traditional retail networks that include a solid distribution to over 58,716 merchants to embracing the digital age with a strong online presence on e-commerce platforms and their own websites. Furthermore, their direct sales to corporate clients and government agencies meet more specialized and bulk needs.
Cello World's story is also a story of relationships. They maintain relationships with distributors and retailers by employing a specialized sales force of 721 people. 
From in-store displays to active social media engagement, their marketing and branding efforts weave a connective thread through the fabric of their customer base, reinforcing the story of a brand that has grown alongside its consumers, understanding and evolving with their needs.

How well has Cello World performed financially?
Cello World's journey to financial triumph and market leadership is a tale of strategic growth and savvy business acumen. The company's consolidated revenue from operations leaped by 32.19% to Rs 1,796.69 crore in the fiscal year 2023, up from RS 1,359.18 crore the previous year, showcasing a remarkable upward trajectory in its revenue. This increase is a testament to the company's robust growth and expanding market presence.
Further solidifying its financial stronghold, Cello World witnessed a net profit surge of 29.86% between fiscal years 2022 and 2023, climbing from Rs 219.52 crore to Rs 285.07 crore. This impressive growth not only reinforces the company's profitability but also its overall financial health.
In the latest quarter ending June 30, 2023, the company reported an operational revenue of Rs 471.78 crore and a profit after tax of Rs 82.83 crore, indicating strong and consistent performance.
When measured against its peers, Cello World stands out with the highest Return on Capital Employed (ROCE) during fiscal years 2021 and 2023 and the highest EBITDA Margin across fiscal years 2021, 2022, and 2023. These metrics highlight the company's exceptional financial performance compared to its competitors.
Cello World's growth is not just a result of financial strategies but also a reflection of its efforts to boost online visibility, nurture customer relationships, and engage in impactful brand associations. These initiatives have significantly contributed to the company's success in recent years.
Cello World's investment in advertising shows its commitment to growth. From Fiscal Year 2021 to 2023, the company allocated Rs 92.60 million, Rs 104.22 million, Rs 236.98 million, Rs 28.87 million, and Rs 27.98 million in advertising, respectively. These investments, which amount to 0.88%, 0.77%, 1.32%, 0.67%, and 0.59% of revenue from operations for the respective periods, show that Cello World is focused on strengthening its market presence and driving growth through strategic advertising.

Who is competing with Cello World?
According to the RHP, other major companies in this market are Borosil, Milton, and TTK Prestige. Cello is a big player in the Indian consumerware market, with an aggregate sales of 14 billion in FY 2022 and 18 billion in FY 2023. Cello has 678 distributors and a retail reach of over 51,000 retail outlets in its direct outreach for the Consumer sector.

Borosil Ltd (P/E 50.59), Kokuyo Camlin Ltd (P/E 57.97), La Opala RG Ltd (P/E 40.81), Stove Kraft Ltd (P/E 51.49), TTK Prestige Ltd (P/E 43.78), Linc Ltd (P/E 33.39), and Hawkins Cookers Ltd (P/E 40.23) are comparable listed peers.

Future Prospects
"Going forward, our Glassware unit, which is coming up in Rajasthan, will also give extra revenue to the company. Overall, it looks really good to grow from here. Our product lines are expanding and we will grow at the pace we were growing over the last three-four years," said Pradeep Rathod, Chairman of Cello World.
Cello World has big plans to grow all parts of its business, especially its houseware and writing items, since these are expected to become more popular. Recently, the demand for their products wasn't as high as before, but the company still did well.
The startup believes that the Indian economy is doing well and more people in rural areas are buying things; there will be a good demand for their products for the next three to five years. So, they're getting ready to make more products to meet this expected increase in demand. This plan shows that Cello World is thinking ahead and wants to stay on top of the market.