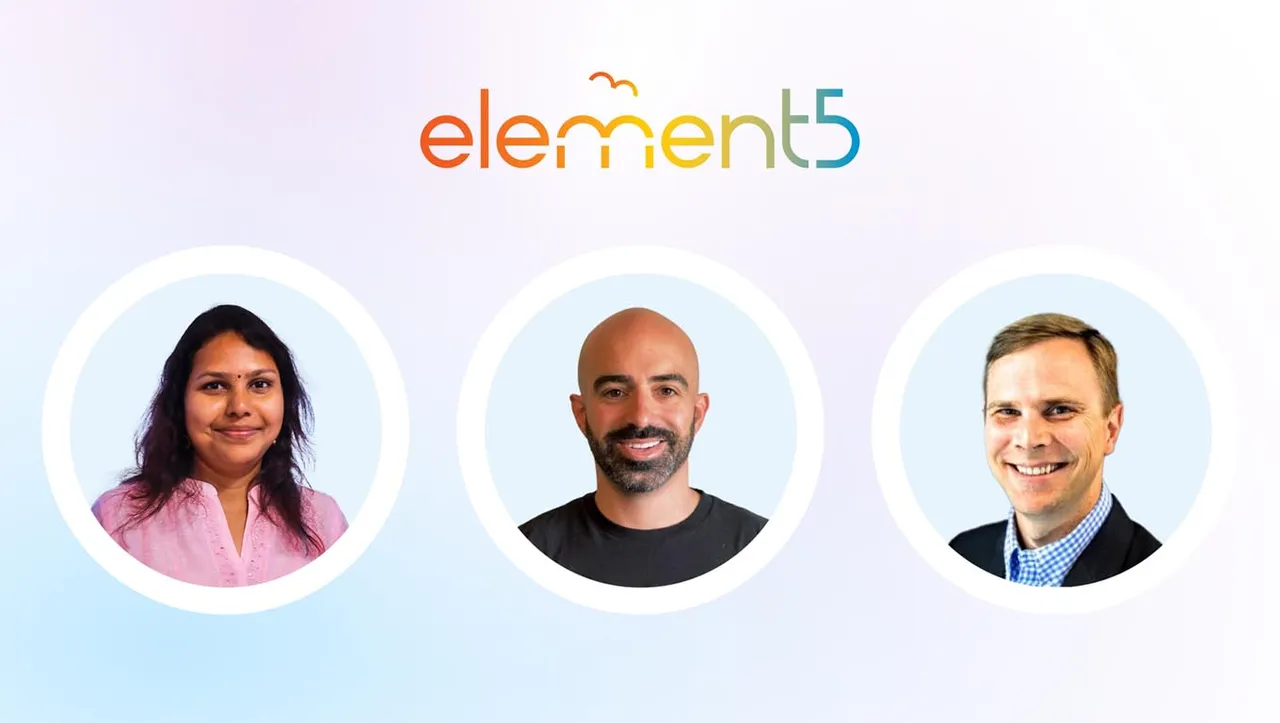 San Jose-based automation-as-a-service (AaaS) service provider Element5 has raised $30 million (around Rs 228 crore) in a Series B funding round led by New York-based existing investor Insight Partners.
Prior to this, Element5 had raised $15 million in a Series A round in August 2021 from Maxwell Investment Partners and Insight Partners. The current round brings its all-time raise to $48.5 million.
Founded in 2019 by Joe Randesi, Eric Gordon, and Bhavani Raman, Element5 uses artificial intelligence (AI)-powered robotic process automation (RPA) to deliver pre-built workflow automation solutions for post-acute care organizations.
Post-acute care refers to a range of medical care services that support the individual's continued recovery from illness or management of a chronic illness or disability.
The startup technology allows post-acute care organizations to automate their processes, eliminating highly repetitive, logic-driven administrative work, enabling teams to focus on higher-value tasks, improve operational efficiency and combat the ongoing post-acute care staffing crisis, it said.
With this round of funding, The AaaS startup will focus on accelerating the adoption and deployment of advanced automation solutions across various service lines within the US$400 billion post-acute care market.
"We're overwhelmed with the trust and support provided by Insight Partners who share our common vision, which is to eliminate the need to perform manual, repetitive work for post-acute care," said Joe Randesi, Co-founder and CEO of Element5.
"The post-acute care industry demands improvements in operational efficiency and a means to overcome chronic staffing shortages. Over the last two years, we have witnessed significant growth in the adoption of our automation technology and the next phase of our growth journey is focused on enabling more health organizations to embrace and operationalize the power of automation to reduce administrative costs and enhance patient outcomes," Joe adds.
In the last 12 months, Element5 claims to have gained a dominant position as an automation provider for post-acute care and was named by CB insights as a Digital Health 150 company. Element5 also has its office in Chennai, India.
The startup also said that leading home-health, hospice, SNF, and senior living facilities trust Element5 to automate everyday processes across intake and admissions, revenue cycle management, clinical records, notifications and authorizations, and a broad range of other operational tasks.
Speaking on the investment, Eric Gordon, Co-founder & Chief Revenue Officer of Element5, said: "Element5 is ushering in the era of automation and post-acute care providers are witnessing tremendous value through our offerings. This round of funding is a testament to the enthusiastic demand from customers in this market."
Also Read:
Follow IndianStartupNews on Facebook, Instagram, Twitter for the latest updates from the startup ecosystem.