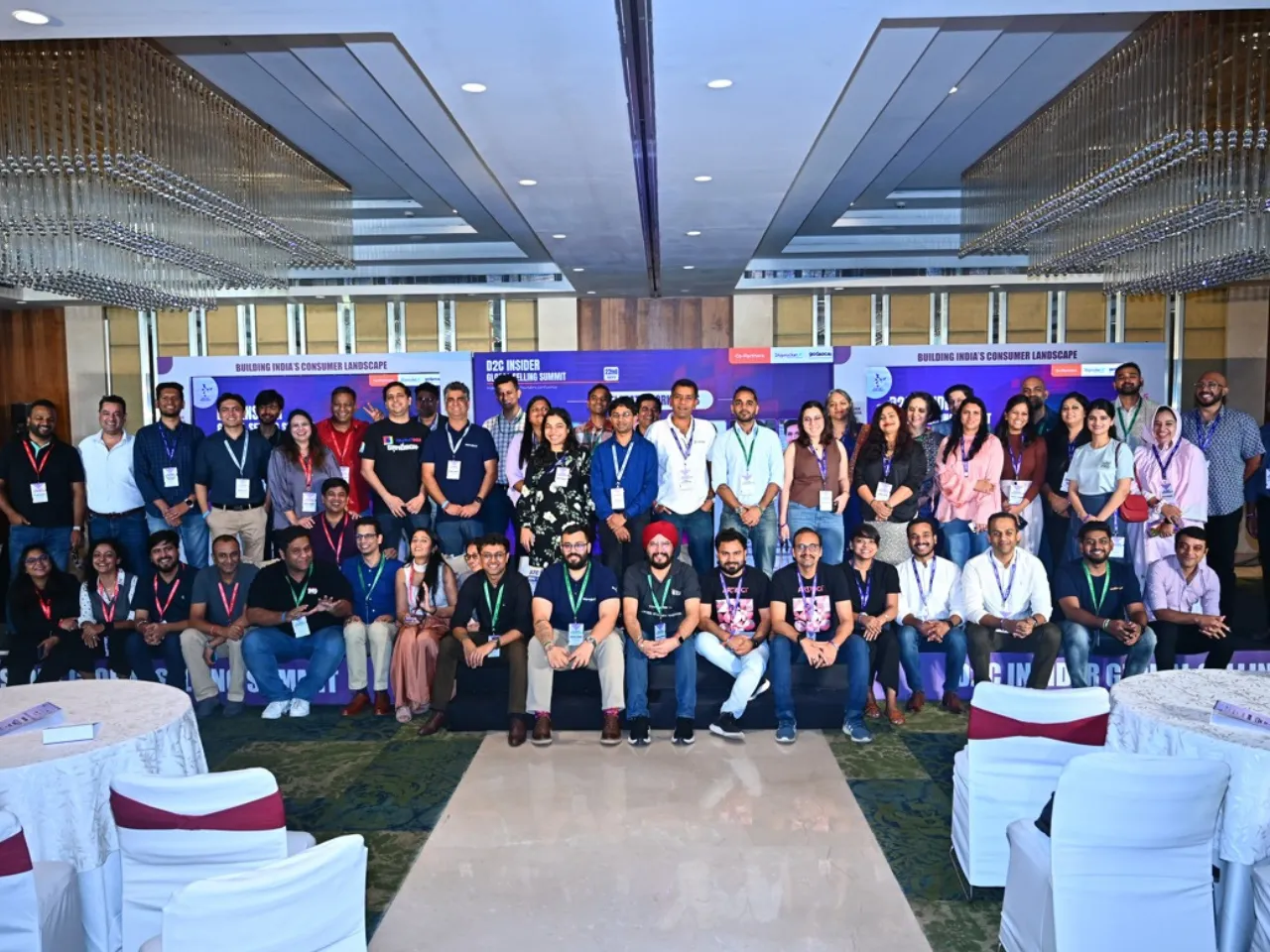 Over the past few years, India has experienced an exponential surge in Internet users. With around 600 million users and 185 million online shoppers, India now holds the position of the third-largest online shopping base after the U.S. and China.
This has enabled emerging D2C startups to benefit by bypassing traditional distribution networks like wholesalers and retailers.
D2C Insider, a Mumbai-based prominent network in the direct-to-consumer (D2C) sector, is making significant strides as a catalyst for new-age D2C brands in India.
The firm, which was established in 2019 by Abhishek Shah and other like-minded D2C brand founders, began as a modest WhatsApp group aimed at exchanging ideas and mutual growth.
Since then, it has transformed itself into India's largest community in the D2C ecosystem, boasting over 5000 brand founders, 500+ enabler founders, and more than 500 investors.
D2C Insider focusing beyond metro cities
The platform has experienced organic growth, with Shruti Agarwal and Kshitij Ladia joining the founding team, and now includes over 100 volunteers across India.
So far, D2C Insider has expanded beyond major metro cities, onboarding members from Tier II and III locations.
Additionally, it has established extensions in the Middle East and Southeast Asia, including a thriving women founders' extension.
How D2C is creating a positive impact on the Indian D2C ecosystem?
Unlike others, D2C Insider provides a dynamic platform featuring founders of renowned brands, including Arjun Vaidya (Founder at Dr. Vaidya's), Varun Alag (Co-Founder at MamaEarth), Aman Gupta (Co-Founder & CMO at boAt), Deep Bajaj (Co-Founder at Sirona), Manish Chowdhary (Co-Founder at WOW Skin Science), Mohit Sadani (Co-Founder at The Moms Co), Tarun Sharma (Co-Founder & CEO at MCaffeine), and Hitesh Dhingra (Co-Founder at The Man Company).
D2C Insider aims to enhance the ecosystem through various initiatives such as networking meetups, Pitchathons, masterclasses, and strategic partnerships, fostering connectivity and growth among stakeholders.
Inside of D2C Insider's Bengaluru event
Recently, D2C Insider organized the D2C Insider Global Selling Summit on 22nd September 2023 in Bengaluru. The event served as a platform for learning and networking where entrepreneurs could interact, learn from industry experts, and pitch to marquee investors.
It was attended by several prominent figures from the Indian D2C ecosystem, including Arjun Vaidya (Founder at Dr. Vaidya's), Viskas D Nahar (Founder of Happilo), Kanwaljit Singh (Founder and Managing Partner at Fireside Ventures), Kshitij Ladia (D2C Insider), Aijth Pai (Delhivery), Dr. Chytra Anand (SkinQ), Jayanti Bhattacharya (India Hemp and Co), Manav Dhanda (D'Moksha Homes), Neeraj Tyagi (We Founder Circle), Dr. Shashank Sinha (Drools), Pakhi Saxena (Wazir Advisors), Vinayak Aggarwal (Bitespeed), Sumir Verma (Merisis Advisors), Akshay Gulati (Shiprocket), and Siddharth Dungarwal (Snitch).
What's special about D2C Insider?
While most of us use the internet to connect with like-minded people in the startup field, D2C Insider goes a step further by providing speed networking.
In a recent event, D2C Insider enabled more than 50 D2C entrepreneurs to exchange ideas, build relationships, and learn together.
Apart from this, the event also included panel discussions, where prominent industry stakeholders discussed the growing Indian D2C startup ecosystem.
Earlier in February 2023, SNITCH raised Rs 1.5 crore from Shark Tank India judges, including Anupam Mittal. Aman Gupta, Namita Thapar, Vineeta Singh, Peyush Bansal, and Amit Jain.
While getting into Shark Tank India isn't easy, almost 3/5 of D2C brands that are featured on Shark Tank India are part of the D2C Insider community, reflecting the impact the platform has created in the Indian D2C startup ecosystem.
"This is my first D2C Insider event and the community is elctrifying and I think this is a strong movement here and we're at the heart of it," said Sudhir Syal, Founder & CEO of Startify

"The great part about D2C Insider is everyone feels safe as a community, you feel safe to share ideas," said Arjun Vaidya, Co-founder of V3 Ventures. "I had more than 15 founders come to me and they didn't ask for funding but for advice on a specific problem." He added.
The current Indian D2C landscape
The direct-to-consumer (D2C) market in India is growing at a compound annual growth rate (CAGR) of 40%. In 2022, the market was worth approximately $12 billion and is expected to reach $60 billion by 2027. The market is expected to grow almost threefold by 2025, according to a KPMG report.
Also Read: