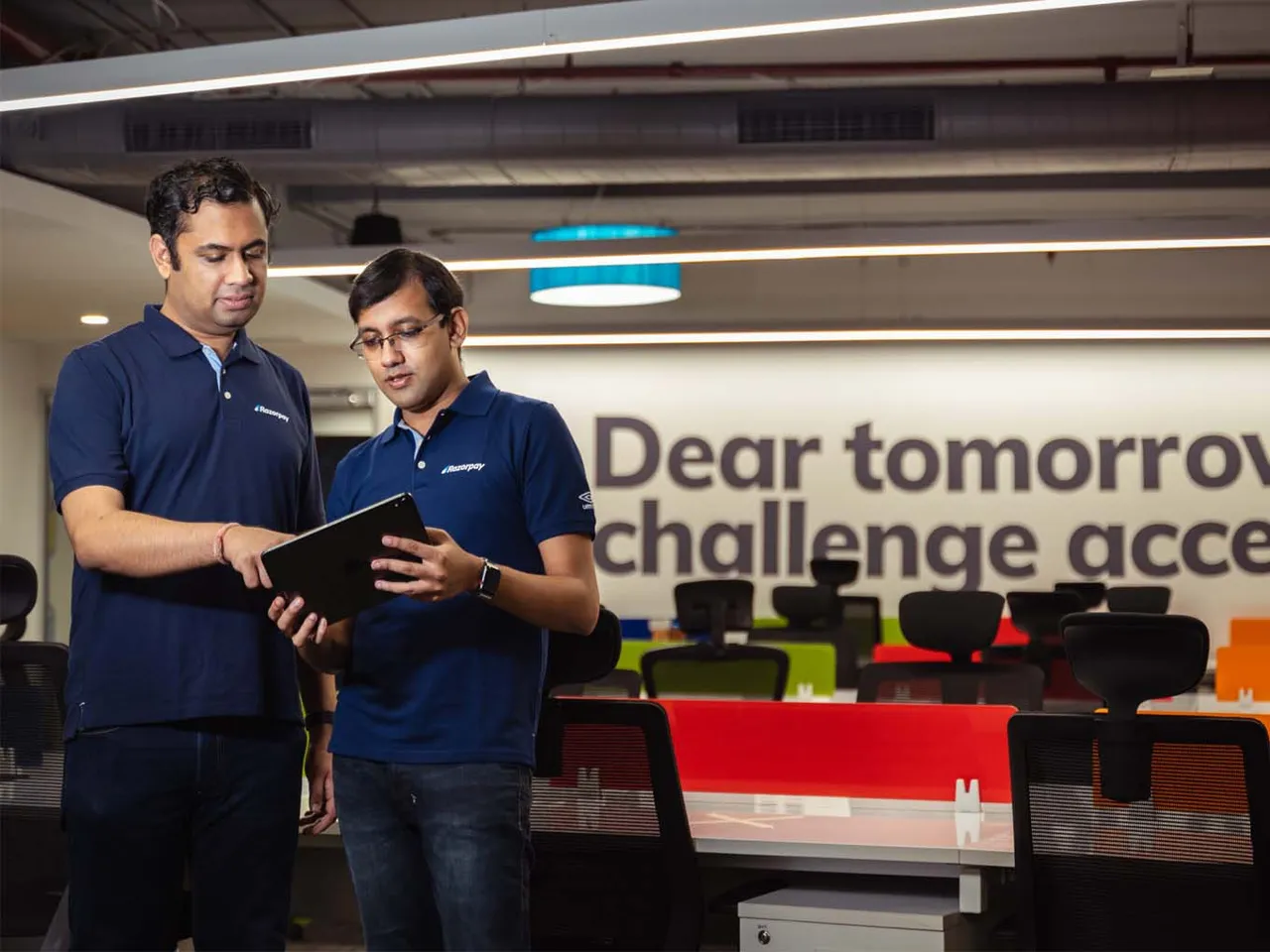 Bengaluru-based digital payments gateway platform Razorpay has raised $375 million or Rs 2,850 crore in a Series F funding round at a valuation of $7.5 billion, doubling its valuation from its previous fundraise which is said to be at a valuation of more than $3 billion.
The Series F round saw participation from the US-based investors TCV, Lone Pine Capital, and Alkeon Capital. Existing backers like Tiger Global, Sequoia Capital India, GIC, and Y Combinator, also participated in the round.
The fintech firm Razorpay had in April this year raised $160 million from Matrix Partners India, Tiger Global, GIC, Ribbit, and Sequoia Capital India. At that time, the startup's valuation crossed $3 billion.
Razorpay is a payment processing provider that uses its gateway service to help companies simplify collections while also assisting small businesses with cash flow management. Apart from this, the fintech startup also operates a neobanking platform, through which it offers credit cards and working capital to small businesses.
Additionally, it also helps businesses with collating tax and compliance disbursements, generating shareable payment links, subscription plans with automated recurring transactions on various payment modes, and automatic reconciliation of incoming transactions using virtual accounts and UPI (Unified Payments Service) IDs.
Razorpay, which has now raised over $741 million in funding, will utilize the raised capital to scale up its Business Banking Suite, RazorpayX, and offer new banking services that will help businesses focus less on handling compliance & operations and more on growth. 
The full-stack fintech platform will also focus on investing in acquisition deals and expanding its presence across the globe, starting with the Southeast Asian countries, the statement said. For this, The startup will hire over 600 employees to fuel these growth plans in India and abroad.
Speaking on the development, Harshil Mathur, CEO & Co-Founder of Razorpay said, "It's an exciting time of change we're living in. We've come a long way in these seven years, and more so since 2020, and I'm filled with immense gratitude for the company to have traveled thus far. Throughout this journey, we're humbled and excited to have had the opportunity and trust of 8Mn partner businesses. And now moving forward, we believe we will radically change how payments and banking are done in nearly every sector of India."
"While these freshly infused funds will be used in multiple areas, the most important one will be towards investing in building intelligent technologies that will make the lives of small businesses easier by providing them a fundamentally different experience and reducing complexity," Harshil said.
Razorpay wants businesses to spend less time managing compliance and operations and invest more time in creating new products, building on new ideas, and thinking scale, he said.
He further added the investment will help Razorpay take financial services up a notch and serve the underserved businesses and continue to build the central nervous system of Digital India.
Razorpay claims to power over 25,000 local businesses to manage their money through RazorpayX. It also said it has amassed over 8 million businesses including Facebook, Swiggy, Cred, National Pension System, Indian Oil, and is aiming to reach 10 million businesses by 2022.
The fintech startup also claimed to have achieved $60 billion in transactions annually (as of early 2021) and plans to achieve $90 billion in annual transaction value by the end of 2022.
"India's B2B fintech sector is undergoing a period of rapid growth, and we are excited to partner with Razorpay, which has been at the forefront of creating resilient, innovative products to anticipate and address the changing needs of businesses," David Craver, Co-Chief Investment Officer at Lone Pine Capital said.
"Razorpay's tenacity in building people-first technology solutions that facilitate seamless financial operations has garnered further momentum in the market. We look forward to working with Harshil, Shashank and the rest of the team to further the company's sustained growth and impact on this dynamic sector," he adds.
John Doran, General Partner at TCV said, "We think they are building the next-generation payments and banking platform in India, and we look forward to supporting them on their mission and future expansion. We could not be more excited to partner with this founding team."
Also Read:
Follow IndianStartupNews on Facebook, Instagram, Twitter for the latest updates from the startup ecosystem.