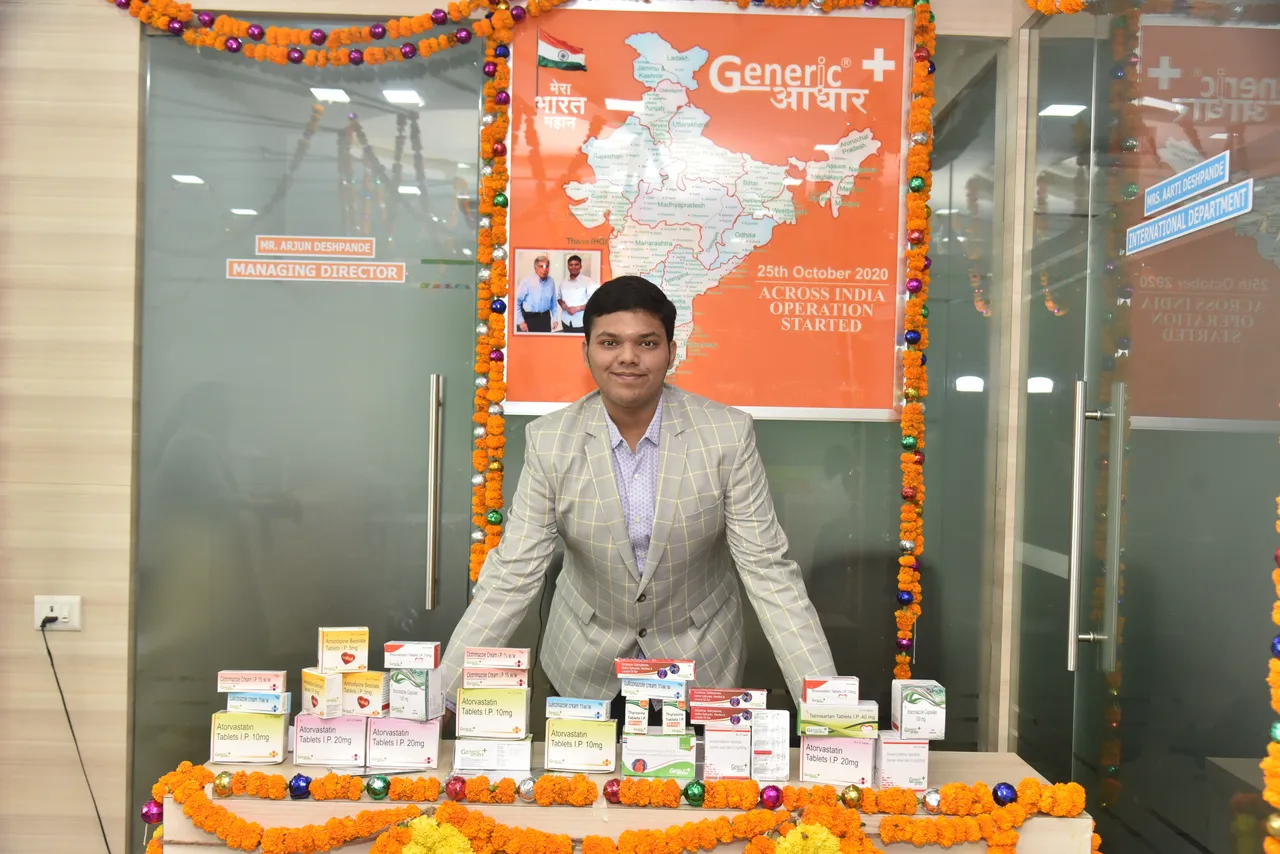 Mr. Arjun Deshpande Founder and CEO of Generic Aadhaar started this Venture at the age of Sixteen and started their operations more than 2yrs in 2018 from Thane, Mumbai in Maharashtra, and expanding 100+ CITIES across India.
Generic Medicines are nothing but Unbranded Pharmaceutical product. It is equally qualified in its quality and efficacy in comparison to branded medicines. It's just the people who are being fooled through high marketing strategies and Advertisements.
Mr. Arjun also has conducted various Free Health Camps at Generic Aadhaar Stores on the Occasion of 26th January and 15th August every year, and he experienced tremendous responses. They have started savings their pension money on monthly medicines Bills by 50% as they are buying Generic Medicines at Generic Aadhaar Store's at up to 80% discounted prices. Which have benefited them and have resulted in a good footfall at our franchise outlets stores.
Mr. Arjun Deshpande was also invited as a key note speaker on various Platforms – Entrepreneurs Summit, Start-up Webinars, Institutes and College Events across India which was organized by, Indian Pharma Manufacturing Association, IIT, KIIT, TED X, Blackbook (International), St Xavier's and many more to boost youth and Empower them to become Young Entrepreneurs for encouraging Prime Minister's Vision of "AATMANIRBHAR BHARAT" as its Time "VOCAL FOR LOCAL"
ON MEGA LAUNCHING ARJUN DESHPANDE SHARING THEIR FEELINGS.
Arjun Deshpande says…. "It feels cheerfulness on keeping the promise of reaching 100 cities from Maharashtra to across India in just 4months and also feels immense happiness by launching our own 20 Generic Aadhaar products as of now and more adding to the list in the coming years, also want to share when Millions were losing their jobs in Pandemic, I was creating job opportunities across India..."
Generic Aadhaar have not only reached Tier 1 but also have reached Tier 2 & Tier 3 cities in India.
Presently, the company has its presence in nearly 100 cities and going forward it aims to further expand its presence organically in the existing as well as in new cities.