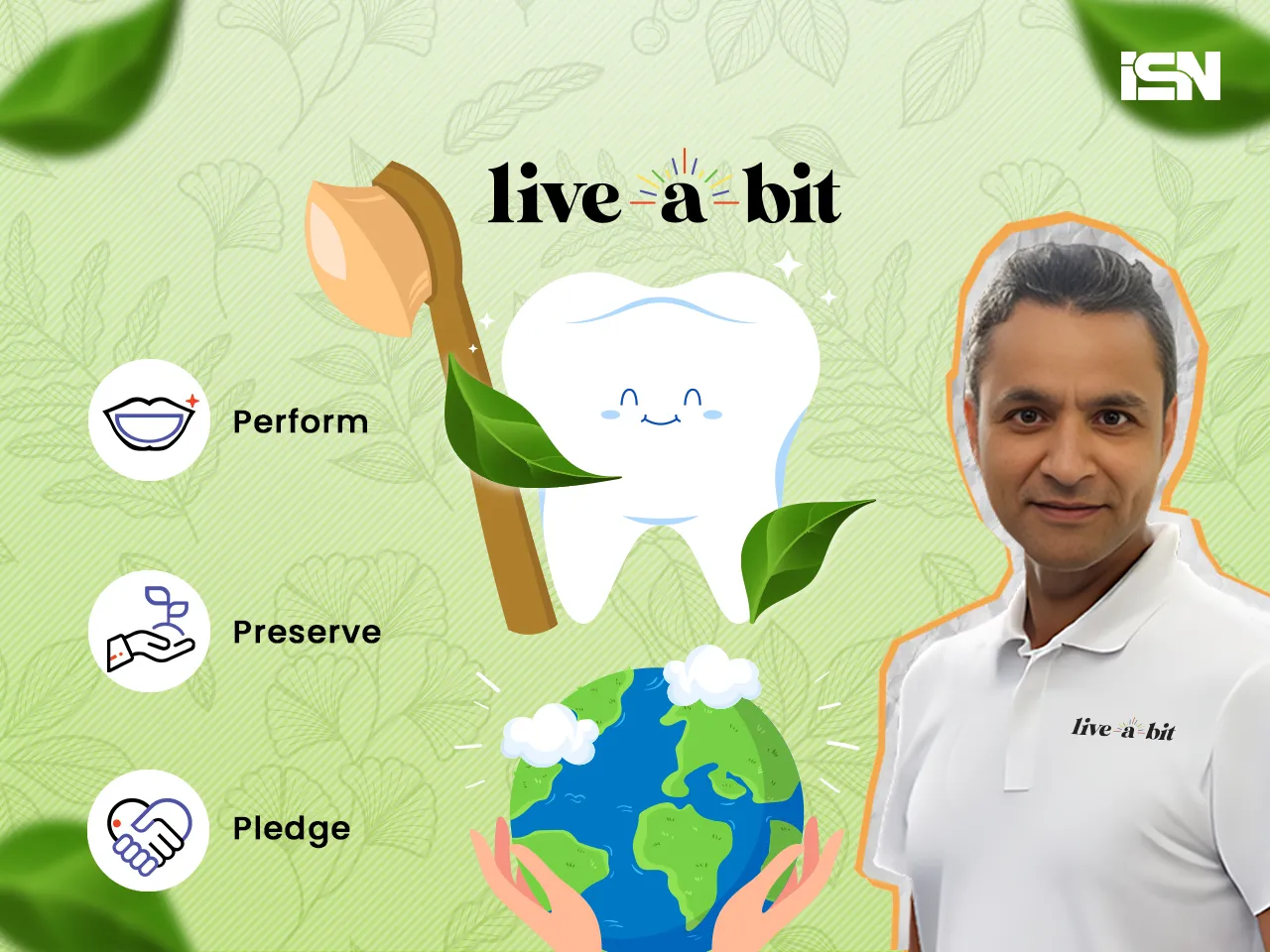 Oral care is essential for maintaining overall health and well-being. However, the traditional oral care industry is notably unsustainable. Toothpaste tubes, toothbrush heads, and other oral care products are typically made of plastic, a non-biodegradable material. This means that these products can take hundreds of years to decompose, often ending up polluting our landfills and oceans.
In addition to the environmental impact, unsustainable oral care products can also be harmful to one's health. Many traditional oral care products contain harsh chemicals and artificial ingredients, which can irritate the gums and teeth.
Millions of plastic toothpaste tubes and bottles end up in landfills each year, taking centuries to decompose. It's a problem that can't be ignored. Ravinder Sharma, the visionary behind Live-a-bit, recognized this issue and embarked on a mission to revolutionize oral care, understanding that a sustainable alternative was not just a choice but a necessity.
The Bengaluru-based startup is motivated by the belief that everyone deserves access to affordable, sustainable, and effective oral care products.
The startup has developed a range of innovative plant-based solutions, including untubed toothpaste, unbottled mouthwash, and under-manufactured toothbrushes made of biodegradable wood instead of plastic.
The "untubing" of toothpaste, replacing plastic tubes with biodegradable wood, could alone divert billions of plastic toothbrushes from landfills. But Live-A-Bit didn't stop there. The startup "unbottled" mouthwash, eliminates the need for plastic bottles and ushering in a hassle-free oral care routine.
Live-a-bit, founded in 2020, The startup is committed to making a positive impact on the environment, and its products are designed to reduce waste and pollution.
Oral care education is needed to help people understand the importance of oral health and how to maintain it. Many people do not know the basics of good oral hygiene, such as how to brush and floss their teeth properly.
By providing people with the knowledge and skills they need to care for their teeth and gums, The startup helps prevent oral health problems and improve the overall health of individuals and communities. 
Current Growth: From Humble Origins to Remarkable Milestones
Live-a-bit embarked on its journey as a bootstrapped startup, with Ravinder Sharma investing $400,000 of his savings. The early days were marked by resilience and dedication, as the brand conducted over 600 trials for nearly a year to ensure the highest quality of its products. 
Today, Live-a-bit stands tall on three pillars: perform, preserve, and pledge. With over 80 unique products offered in more than 27,000 pin codes, Live-a-bit has not only disrupted the oral care industry but also empowered consumers to customize their oral care kits according to their preferences.
While Live-A-Bit was born in Bengaluru, its vision extends far beyond borders. The company aspires to become a global leader in sustainable oral care.
With a focus on quality and innovation, they are working on expanding their reach to countries like the United States and Europe. Their mission to provide cleaner, safer, and more accessible oral care knows no bounds, and their journey to impact oral health worldwide is well underway.
Product Range: Holistic and Safe Oral Care
The startup aims to cater to a diverse audience, offering a range of neem and bamboo toothbrushes, suitable for children aged five and above. The brand ensures that its products are free from water, preservatives, dyes, artificial colours, toxins, parabens, or SLS.
One of the biggest challenges to maintaining good oral health is access to affordable and effective oral care products. Traditional oral care products can be expensive, and many people do not have access to the products they need.
The Live-A-Bit team is now working to make oral care more accessible by offering affordable prices and a wide range of products. Products are made with sustainable materials and are packaged in compostable or recyclable packaging. This helps to reduce the cost of the products and makes them more affordable for everyone. 
Live-A-Bit is unique in that it allows consumers to build their own oral care kits based on their preferences. This means that customers can choose the products that they want and need, and they can avoid buying products that they don't need.
With its untubed toothpaste as one of its most popular products. The toothpaste is made with solid plant-based ingredients and is packaged in reusable glass bottles. This eliminates the need for plastic toothpaste tubes, which are one of the most common plastic waste items.
Another popular Live-A-Bit product is its unbottled mouthwash tablets. These tablets can be dissolved in water to create a refreshing and effective mouthwash. The tablets are packaged in compostable packaging, which further reduces the company's environmental impact.
In addition to its sustainable products, Live-A-Bit also offers a variety of innovative oral care solutions. For example, the company's teddy bear-shaped toothpaste tablets are designed to make brushing fun and engaging for kids. Live-A-Bit also offers a variety of products that are specifically designed for people with sensitive teeth and gums.
Also Read: