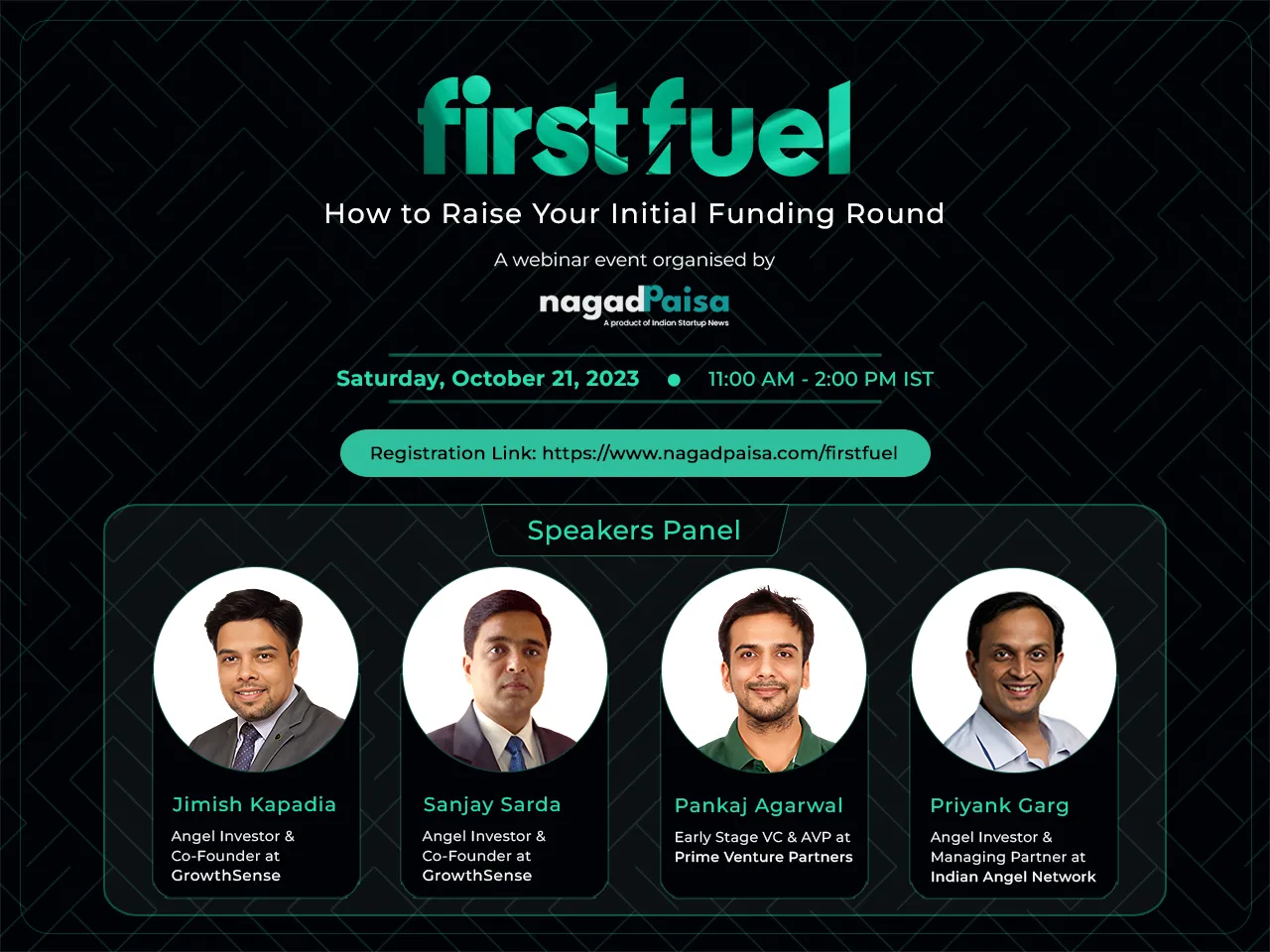 In today's fast-paced world of startups and businesses, raising funds is often a critical milestone on the road to success. But navigating the complex landscape of fundraising can be daunting, especially for those new to the game.
To enable growth for new startups and entrepreneurs, NagadPaisa, a product of IndianStartupNews, announces "FirstFuel", an online event that will help startups unlock their potential for fundraising.
How NagadPaisa is bridging the information gap?
In a rapidly growing startup ecosystem, an information gap can emerge between entrepreneurs and investors, including Alternative Investment Funds (AIFs) and Financial Institutions like banks and NonBanking Financial Companies (NBFCs).
To bridge this divide, NagadPaisa has taken the initiative to create a platform where startups can connect with investors seamlessly. But that's not all; we're going the extra mile by offering valuable insights and knowledge through informative events.
Launching FirstFuel for startups
We are excited to invite you to our upcoming online informative event, where we're bringing together a panel of experts to discuss the fundamentals of fundraising and the essential steps that startups need to take to successfully raise funds.
This event is your gateway to understanding the nuances of fundraising, from pitching your ideas to securing the support you need to fuel your business's growth.
How will it benefit startups?
Participating in NagadPaisa's informative event offers a multitude of benefits for both startups and investors:
Valuable Insights: Our expert panel will delve into the intricacies of fundraising, sharing their knowledge, experiences, and best practices. Whether you're an entrepreneur looking for funding or an investor seeking promising opportunities, you'll gain valuable insights that can shape your journey.
Networking Opportunities: In addition to learning from the best, you'll have the chance to connect with fellow entrepreneurs, investors, and financial institutions. Networking is a powerful tool in the world of business, and our event provides an ideal platform to expand your professional circle.
Transparent Guidance: At NagadPaisa, transparency is one of our core values. You can expect honest and unbiased advice from our experts. We're committed to providing you with the most relevant and up-to-date information.
Q&A Sessions: Have burning questions about fundraising? Our event includes interactive Q&A sessions where you can get answers directly from the experts. No question is too big or too small.
Insights into NagadPaisa's Initiatives: Learn about our mission to connect startups and investors, our partnerships with financial institutions, and the innovative products we're developing. Discover how we're making fundraising easier and more accessible for all stakeholders.
How to register?
Don't miss out on this opportunity to unlock the secrets of fundraising. Whether you're a startup founder looking for funding or an investor seeking the next big opportunity, NagadPaisa's informative event is your chance to gain valuable insights, expand your network, and connect with like-minded individuals who share your passion for entrepreneurship.
To register and secure your spot at this event, please visit NagadPaisa's FirstFuel and mark the date on your calendar.
We look forward to welcoming you to this exciting, informative journey into the world of fundraising.
At NagadPaisa, we're committed to helping businesses and startups thrive, and this event is just one of the many ways we're working toward that goal. See you there!