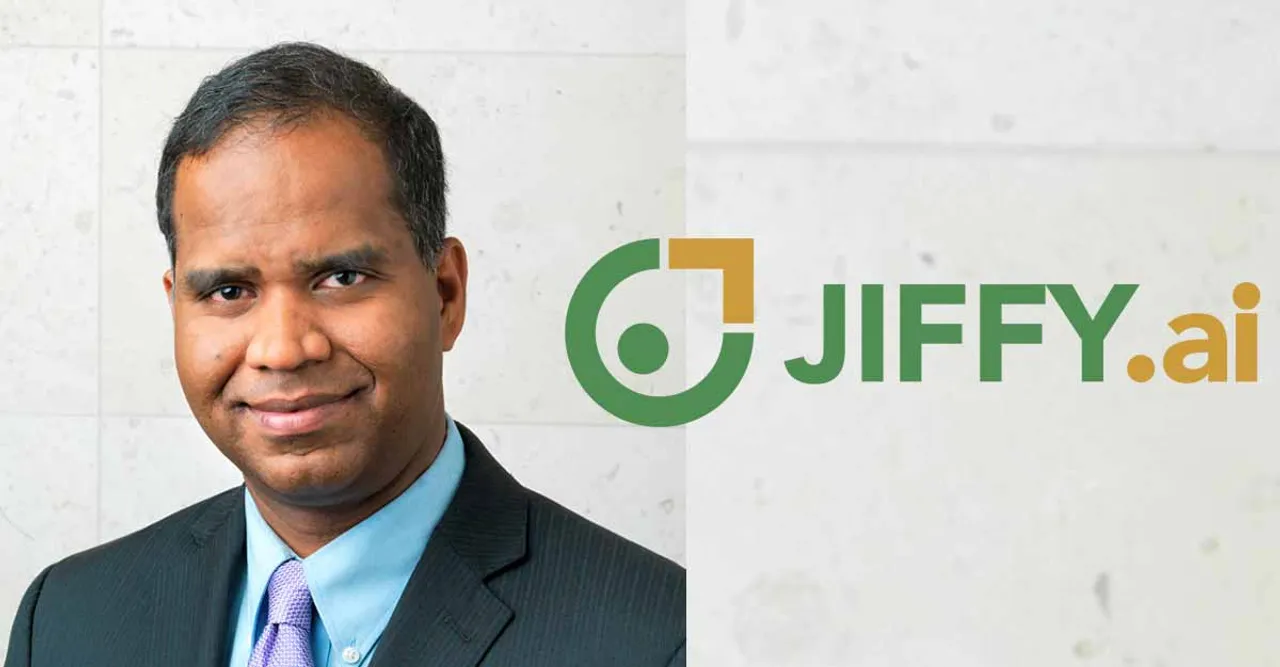 Sunnyvale-based JIFFY.ai, an app-based low-code/no-code intelligent automation platform, today announced that it has raised $53 million (approx. Rs 405 crore) in a Series B funding round to scale its sales and marketing efforts, and to advance its HyperApp platform, which combines Robotic Process Automation (RPA), Intelligent Document Processing, and no-code workflow management and software creation.
Eight Roads Ventures, a leading global investment firm backed by Fidelity, led this investment round, which included participation from Iron Pillar, R-Squared, and existing investors Nexus Venture Partners, Reaction Capital, and Rebright Partners.
"This funding will advance our mission to help build autonomous enterprises of the future by applying artificial intelligence and automation to transform enterprise operations," said Babu Sivadasan, JIFFY.ai's Co-founder & CEO.
JIFFY.ai was initially launched as the go-to-market brand from its parent Paanini Inc., is focusing on strengthening its intelligent automation platform. The startup enables business users to deliver end-to-end business process automation and lifecycle management solutions that boost efficiency, reduce OPEX costs, and ensure faster returns on investment.
"We are focusing on strengthening our intelligent automation platform which will enable organizations to compose, configure, monitor and maintain themselves as autonomous enterprises. Using the platform, they will be able to assemble automated business capabilities that can learn and adapt to changing needs with little or no additional resource and operational expenditure. This investment is validation for JIFFY.ai's continued progress as a disruptor in the RPA and no-code space," Babu adds.
"JIFFY.ai's AI-driven approach to automation is unique with an integrated, modular, and intelligent solution that has proven superior alongside a faster and more sustainable ROI. We are thrilled to partner with Babu and his team in their mission to help enterprises reap the benefits of automation at scale," Shweta Bhatia, Partner & Head of Technology Investments India, Eight Roads Ventures said.
Over the past few years, JIFFY.ai has grown its client base substantially across geographies. Almost all of these industry innovators testify that enterprise automation has helped them to improve efficiency manifold and save millions of dollars every year, the statement said.
"JIFFY.ai's intelligent automation platform powered by a no-code development engine is set to accelerate digital transformation of the global enterprise," said Jishnu Bhattacharjee, Managing Director of Nexus Venture Partners. "We are excited to continue our partnership with Babu and the team toward building a remarkable company."
Also Read:
Follow IndianStartupNews on Facebook, Instagram, Twitter for the latest updates from the startup ecosystem.