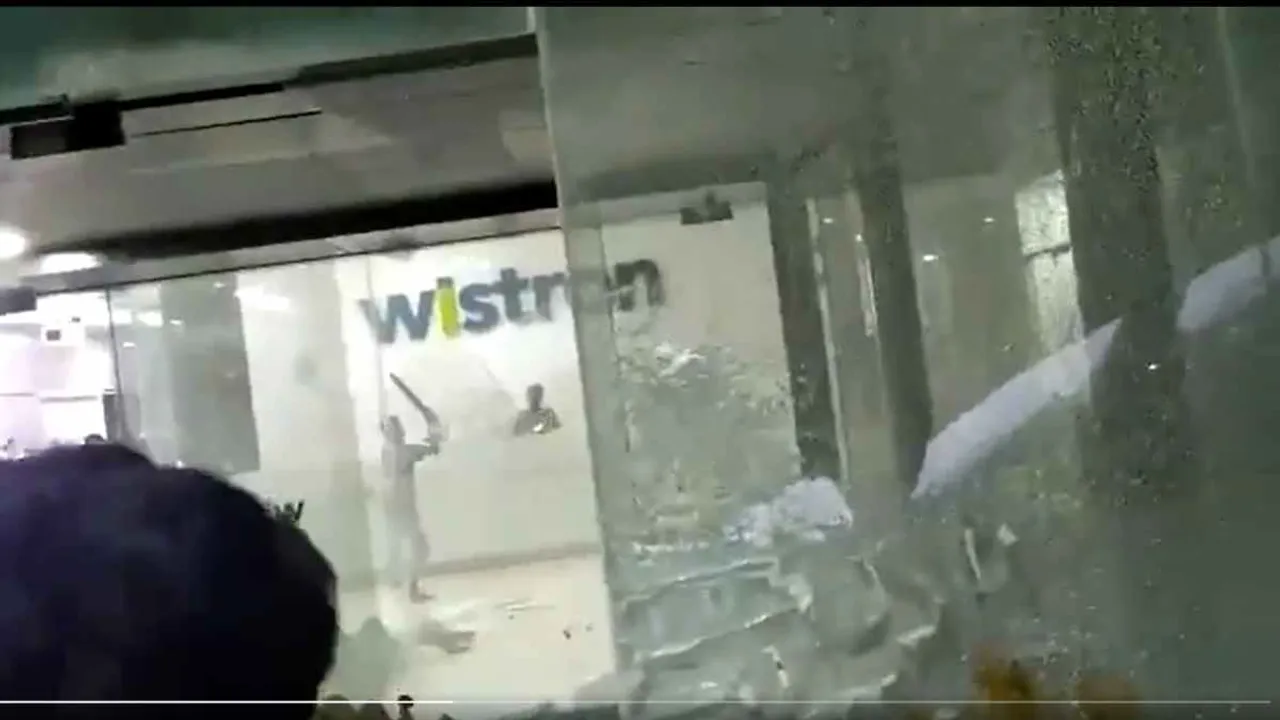 The manufacturing plant was established at 43 acres at Narasapura industrial area in Kolar.
Wistron was proposed to invest around Rs 2,900 crore and assurance to give employment to over 10,000 people.
The employees have alleged that they have not been paid for the past four months.
The workers of Taiwan-based Wistron Corporation, which was contracted by Apple to manufacture iPhones in Kolar district, went on a rampage and have vandalized the factory during the protest over salary dues.
The manufacturing plant established at 43 acres situated at Narasapura in Kolar district, around 58-60 km away from Bengaluru.
The workers have alleged that they have not been paid for the past four months.
Police told PTI that the employees at the facility in the Narasapura Industrial Area of Kolar district rampaged through the factory, damaging furniture besides other things over non-payment of salaries.
Workers pelted stones, "smashed glass windows, damaged vehicles, furniture, computers, and laptops in connection with salary-related issues," said reports.
According to the reports, Over 1,000 employees gathered outside the factory in the early hours of Saturday, demanding the company to pay their remaining remuneration.
In support, The employees accused the management of overworking the factory workers and violating norms under the Factories Act. 
Speaking to the media, SP Karthik Reddy said, "The employees vandalized the factory around 6:30 am. A lot of property has been destroyed, including vehicles, furniture, etc.
We have arrested 80 workers of Wistron so far. An FIR has been registered at the Narsapura police station under sections on rioting, disturbing peace, and vandalism, he added.
Also Read: SaaS Startup OnlineSales.ai Raises Pre-Series B Funding From IvyCap Ventures, Others
Commenting on the salary dues, Workers said that they have submitted several requests to the management to pay salary on time. Meanwhile, Another employee said that Wistron had sub-contracted hiring factory workers to six different firms and that they were promised Rs 16,000-20,000 per month in wages. 
"When we showed up for work, we were informed that we would be getting Rs 12,000 per month. According to the Factories Act, working hours are capped at 8 hours per day. The company is making us work for 12 hours straight," the employee told TNM.
Reacting to the incident, Deputy Chief Minister CN Ashwathnarayan said, "Have spoken to the SP, Kolar to ensure that all measures are taken to bring the situation under immediate control and the culprits are identified. Strict action will be taken under the law against the errant elements."
"It is imperative that nobody takes the law in their own hands. There are appropriate forums to resolve such issues without indulging in this wonton violence." he tweeted.
Wistron was allocated 43 acres at Narasapura industrial area from the Karnataka government after it proposed to invest around Rs 2,900 crore and assurance to give employment to over 10,000 people. At present, it is having 7-8,000 workers.
Earlier this month, Wistron Corporation said that the company is planning to invest an additional amount of Rs 1,265 crore to increase manufacturing capacity and strengthen its supply chain.
Apple Inc. first started assembling iPhones in India with the original iPhone SE in 2017. In 2018, It started manufacturing iPhone 6s also in India. This was followed up by the iPhone 7 in 2019.
In 2019 Apple partnered with Foxconn to startup assembling the iPhone XR at its plant in Chennai. Followed up by the iPhone 11 in 2020.
Currently, Apple assembles a total of six iPhone models in India, which includes iPhone SE (both models), iPhone 6S, iPhone 7, iPhone XR, and iPhone 11.
Follow IndianStartupNews on Facebook, Instagram, Twitter for the latest updates from the startup ecosystem.