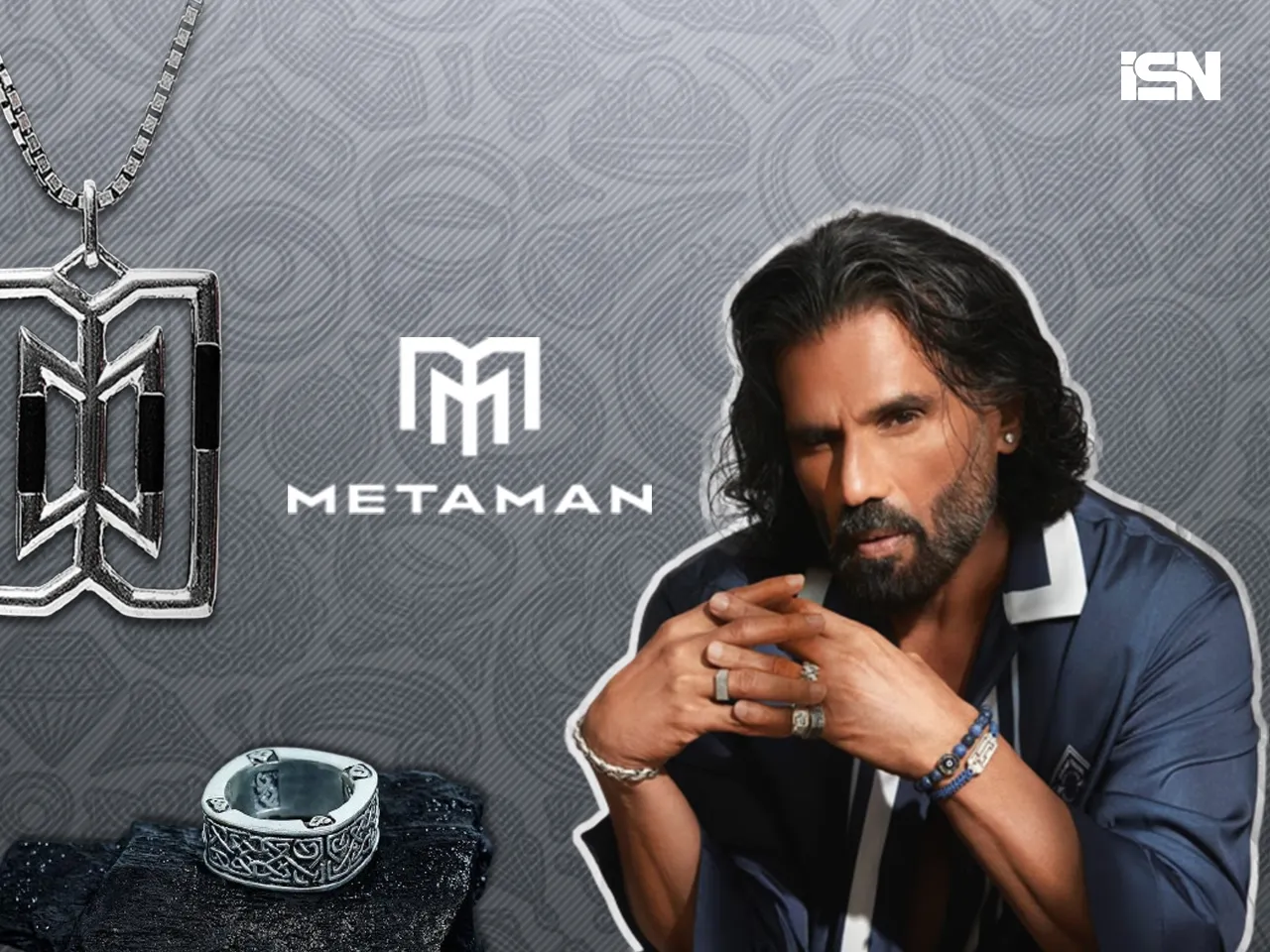 The jewellery segment in India has conventionally revolved around female consumers. But today, increasing numbers of men are expressing interest in accessories and ornaments.
Catering to this demand, Mumbai-based startup MetaMan offers premium designer jewellery crafted exclusively for modern Indian men.
An underserved market opportunity
Historically, jewellery in India has been synonymous with women, who drive around 75% of sales. Male consumers have had limited options beyond wedding bands and religious pendants. But male grooming sensibilities are now evolving. Surveys indicate that 60% of men today are open to wearing ornaments, pointing to a huge untapped demand.
However, most jewellery brands in India continue to overlook men. The few male-centric players largely operate in the mass segment, lacking premium style and quality. Identifying this gap, MetaMan aims to create a high-end jewellery brand, keeping the aesthetics and aspirations of new-age men in mind.
The idea for MetaMan emerged when the founding team struggled to find meaningful jewellery gift options for men in their social circles. Committed to addressing this need, they set about researching and curating a designer male jewellery line.
Established players like Reliance Retail, Damas, and Dubai-based Alukkas have successfully marked their presence in India. Spanish jeweller Armenta has redefined masculine beauty with its artistic and literary collections, while the renowned French jeweller Cartier explores the creativity of luxury jewellery through its acclaimed collections. John Hardy, another celebrated French jeweller, offers meticulously crafted pendants, phone accessories, cuffs, cufflinks, and bracelets that allow men to express their individuality with style.
Building a specialist brand
MetaMan was founded in early 2022 by Suniel Shetty, Sangeeta Boochra and Preeti Khetan. Suniel Shetty is an entrepreneur and promoter investing in the startup. Sangeeta and Preeti have rich luxury retail experience, heading iconic brands like Burberry and Forrester, respectively.
Suniel Shetty lends promotional support and strategic guidance as an investor, apart from his own entrepreneurial background.
The founding team spent nearly a year in design studies and prototyping before MetaMan's official launch in October 2022. MetaMan's entry into the market was met with enthusiasm. The brand quickly gained recognition for its distinct designs, quality, and the promise of a fresh perspective on men's jewellery. The Gen Z segment, in particular, resonated with MetaMan's offerings, seeking to break away from traditional stereotypes and embrace their own sense of style.
Their inaugural collection comprises precious stone accessories like rings, pendants and bracelets ranging from Rs 10,000 to Rs 2 lakh. Manufacturing is handled by expert craftsmen based in Jaipur.
By balancing Indian craftsmanship with modern aesthetics, MetaMan has carved a unique positioning. Their launch collection saw an encouraging response, generating Rs 1 crore in sales within the first 3 months per company sources.
As a digital-first brand, MetaMan sells primarily via its own website and leading e-tailers. To drive trials, the startup offers free shipping and video calls to interested buyers for guidance by stylists. 
By adopting gender-neutral design principles, MetaMan is working to make jewellery relatable and appealing to modern male sensibilities. Their minimalist, sophisticated aesthetics blend seamlessly with Indian and Western attire.
Through clever messaging, the brand also promotes jewellery as a symbol of personal style rather than social status. For instance, their Rings of Power collection associates jewellery with vision, determination and wisdom rather than merely wealth.
The startup also offers virtual try-ons, video calls with in-house stylists and free shipping to build confidence among prospective buyers. Refinement of raw materials and manufacturing is handled by traditional artisans based in Jaipur. However, design inspiration comes from global fashion capitals. As shared with media portals, MetaMan aims to lead this opportunity by becoming India's premier destination for high-end male jewellery.
Within 3 months of debut, the startup claims to have recorded over Rs 1 crore in sales and is targeting 10x growth in 2023, hoping to capitalize on the rising male grooming wave.
To attract millennial and Gen Z buyers, MetaMan recently launched its new sub-brand, 'Drip Project,' with contemporary designs starting at Rs 2500. The startup is also discussing with investors to raise funding and fuel expansion.
MetaMan has also secured funding from Zerodha's Nikhil Kamath, Accel partners Prashanth Prakash and cricketer KL Rahul, totalling $1 million. Some of it's key priorities for 2023 include widening online and offline distribution, entering everyday wear jewellery, and building its international presence. With a projected $13 billion market for men's jewellery by 2026, MetaMan aims to establish itself as the go-to destination for male consumers seeking premium ornaments.
MetaMan Acquires Drip Project to Expand Footprint 
The company recently announced the acquisition of Drip Project, an affordable luxury jewellery label. The acquisition was valued at around $1 million. With this move, MetaMan aims to diversify its product portfolio and expand its presence in the flourishing online men's jewellery market in India.
About Drip Project
Drip Project was launched in late 2021 by entrepreneurs Rohit Golia and Harsh Maskara. Within a short span, it gained popularity for its hip-hop-inspired jewelry designed for young male consumers.
Rohit Golia heads branding and influencer marketing initiatives at Drip Project. His expertise in digital marketing and social media played a key role in creating buzz around the brand.
Harsh Maskara leads operations, sales and technical functions. His experience scaling e-commerce ventures will drive the online retail expansion of MetaMan after the acquisition.
Despite limited resources initially, the founders' commitment helped Drip Project gain leadership in the affordable men's jewellery segment. Their designs struck a chord with millennials and Gen Z shoppers.
This early success captured MetaMan's interest, leading to the recent acquisition.
Expanding MetaMan's Portfolio
For MetaMan, acquiring an existing brand like Drip Project allows it to save time in creating new product lines. It can leverage Drip Project's existing manufacturing and distribution channels.
The startup aims to grow Drip Project's presence across online and offline retail. Drip Project's casual, youth-focused jewellery will help them to expand beyond the premium category and attract younger consumers.
According to Anil Shetty, Co-Founder of MetaMan, this acquisition accelerates their goal to become a one-stop destination for male consumers. Along with diversifying their products, it extends their reach to new geographies and demographics.
The acquisition provides MetaMan access to Drip Project's experience in crafting experimental and hip jewellery. This adds a fresh dimension to the company's portfolio beyond traditional gold and diamond ornaments.

Redefining male adornment in India
MetaMan seeks to drive a cultural shift in how men perceive jewellery, moving from utility or gifting to self-expression. Clean, minimalist aesthetics allow their pieces to seamlessly integrate into male wardrobes. Subtle designs in gold and precious stones convey sophistication and confidence.
By adopting gender-neutral design sensibilities, MetaMan hopes to expand the definition of jewellery beyond the feminine. Their products build on traditional craftsmanship to create a modern vocabulary for male adornment.
In a culture where jewellery has long been deemed a female domain, the startup aims to make it an accepted and integral aspect of male style. Its premium positioning and targeted appeal give MetaMan an edge in tapping this emerging segment. With fine craftsmanship and strategic branding, this startup could pave the way for male jewellery to find its place in mainstream fashion.