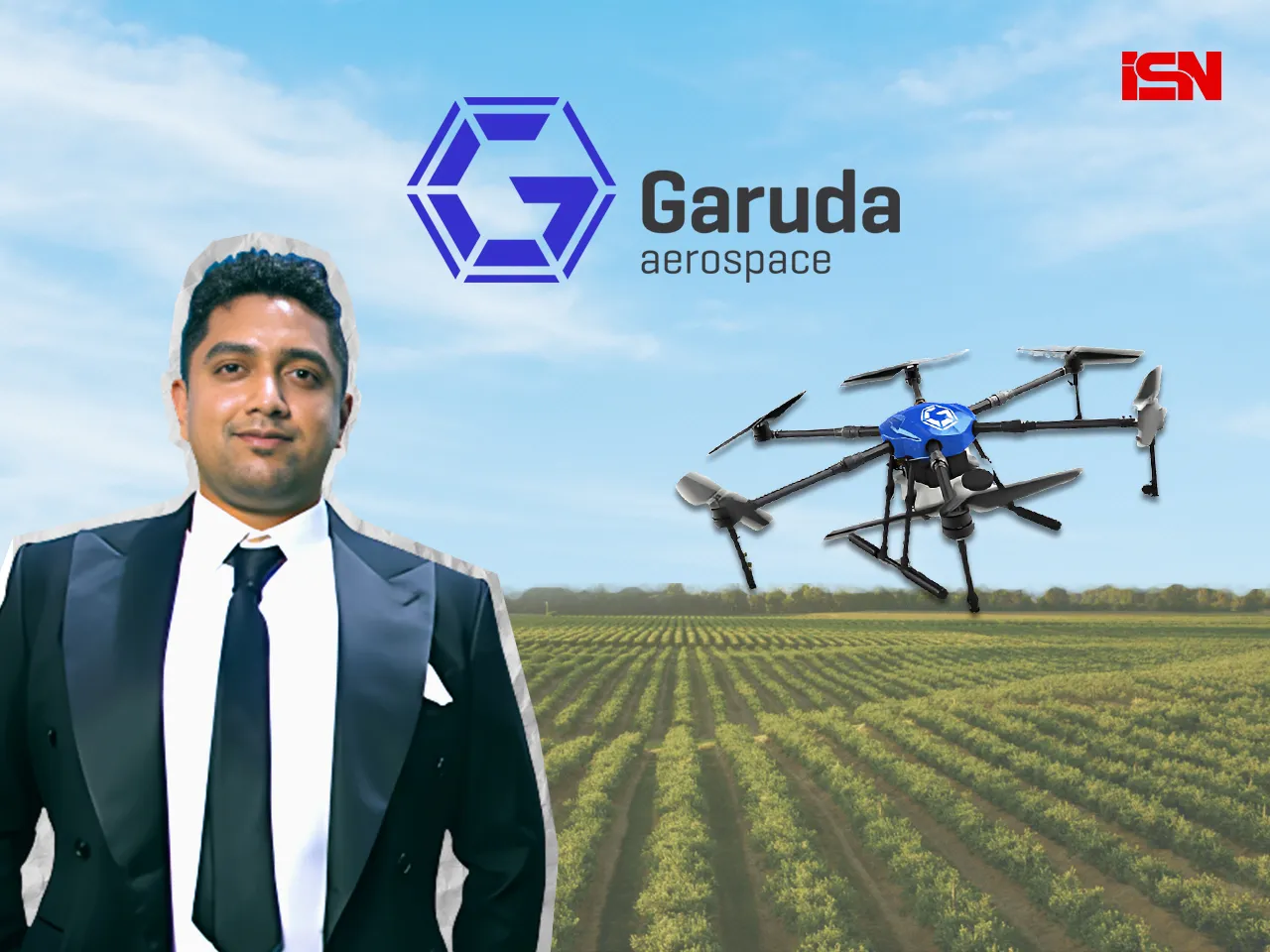 In recent years, the drone industry has witnessed exponential growth, transforming various sectors and revolutionizing the way we approach complex challenges.
From agriculture and defense to environmental monitoring and logistics, drones have become indispensable tools tool today in addressing a multitude of problems.
With the aim to provide low-cost drone solutions, Garuda Aerospace was founded in 2015 by Agnishwar Jayaprakash, when the drone manufacturing sector was still in its initial phase in India.
The high cost of drone technology limited their widespread adoption. In the past, drones were mostly used for surveillance, but the founder had a vision to break those boundaries.
 They aimed to transform drones into versatile tools serving a wide range of industries, and now in 2023, they are offering a diverse set of 38 different applications and serving 400+ government clients.
Their client portfolio also includes government organizations like NTPC, SAIL, IOCL BPCL, and ISRO, and collaborations with esteemed institutions like DRDO, HAL, and NAL.
Talking about the Drone Industry commonly called DaaS(Drone-as-a-Service solutions) it is projected by an estimate via the Ministry of Civil Aviation, that India's drone sector will achieve a turnover of Rs12,000-15,000 crore by 2026, from about Rs80 crore currently.
Projections for the drone market's future are equally promising. Experts anticipate a continued expansion, with a compound annual growth rate (CAGR) of approximately 20% expected in the coming years. The global drone market has witnessed remarkable growth with an estimated size of over  $22 billion, and this expansion has been further accelerated by the COVID-19 pandemic. 

What are the challenges of the drone industry?
The drone market, while immensely promising, isn't without its unique set of challenges. In the early days, Garuda Aerospace faced two big problems.
However, with successful funding and a clear vision to expand their offerings, they introduced various products. Since 2021, Garuda Aerospace has experienced remarkable growth, with defense and agriculture becoming major sources of revenue for the company.
Fuelled by government incentives, increasing drone usage across industries, government schemes, and investor interest, Garuda Aerospace aims to go public by the end of 2024, currently valued at $250 million, and with a goal to achieve INR 100 crore in revenue for the financial year 2022-23. 
Agnishwar Jayaprakash discussed the journey of Garuda Aerospace in the media, shedding light on the challenges and obstacles they encountered.
The company recognized that drones had diverse applications beyond the conventional perception of being used mainly at weddings and basic surveillance. They saw the potential for drones in agriculture, Industry 4.0, logistics, and various other sectors. This vision led to their journey, which began in 2015-16.
Over time, they have expanded its key functional areas, developing 30+ different types of drone fleets and establishing manufacturing facilities in Chennai and Haryana. 
As they evolved, the COVID-19 pandemic brought about a significant shift in the adoption of drone technology. The need for contactless solutions accelerated the adoption of automation, and drones found their place in this transformation.
Garuda Aerospace's commitment has now becoming a dominant player in the drone industry, boasting a pan-India team and the largest drone fleet in the country, with over 400 drones and 500 pilots operating in approximately 80 cities.
Talking about finances Garuda Aerospace secured Rs 25 crore in Series A funding through a new bridge round. This funding round was spearheaded by the integrated incubator Venture Catalysts and WeFounderCircle, aimed at fulfilling the company's working capital needs.
Notably, the capital-raising effort also garnered strong commitments from additional investors, with participation from Hems Angels, San Angels, Peaceful Progress Funds, and various angel investors. 
How well Garuda Aerospace is performing financially?
As per the company, it recorded Rs 3.9 crore in profits during FY23, 7.4% up from Rs 3.63 crore in FY22.
Garuda is planning to close the current financial year (FY24) with a 10X jump to Rs 400 crore revenue, the company told Entrackr. Garuda raised the largest Series A funding round in the space in February this year.
The company's Founder and CEO, Agnishwar Jayaprakash, is resolute in maintaining a focus on profitability. In the previous year, they boasted a net profit margin of 24%, even with increased expenses, they anticipate a gross profit margin of 20% to 25%.

With a keen eye on the future, team shared they are diligently preparing for its initial public offering (IPO). However, Jayaprakash emphasizes that the IPO aspiration must not deviate them from building a fundamentally sound, market-agnostic, and recession-proof business model.
They aim to avoid the pitfalls of inflated valuations and focus on creating a strong, profitable business that can naturally attract retail investors. This approach underscores their commitment to long-term success and financial stability. 
According to the startup, Their delivery drones used by Swiggy. Notably, one of these drones is named "Droni" in honor of the renowned cricketer Mahendra Singh Dhoni. Additionally, they offer Industry 4.0 drones designed for various tasks such as mining and mapping.
"I'm happy to be a part of Garuda Aerospace and look forward to witness their growth story with the unique drone solutions they have to offer," Dhoni said, as quoted in the startup's statement.
In addition, they offer drones for efficient warehouse management for companies like Flipkart and Delhivery. 
They've even introduced a unique seeding drone called Vriksh Vaahan, which has helped plant 75,000 seeds in collaboration with the forest departments of Maharashtra and Tamil Nadu.
Notably, Garuda Aerospace also provides specialized drones for security purposes. They have border surveillance drones and landmine detector drones that cater to the needs of defense forces. While they have a diverse client base, including individual farmers and rural entrepreneurs, they also serve corporate and government clients.
Mr Agnishwar shared, We started to work about 3 years ago on agricultural drones. Now, we are creating a huge impact in villages.
One of their groundbreaking initiatives is the introduction of "Kisan Drones" designed for agriculture. These drones focus on precision farming and promise to transform agriculture in India.
They can cover a significantly larger area than manual sprayers, reducing the need for pesticides and water while increasing food crop productivity. Garuda Aerospace has already pre-booked 2,500 of these drones, marking a new era of data-driven, precise farming.
The company has ventured beyond Indian borders, establishing a significant presence in regions like Dubai, Malaysia, South America, North America, and Europe. But their ambitions don't stop there. They have their sights set on a grand goal - to reach 100 countries by the year 2024.
While India remains a vital part of their success story, Garuda Aerospace is envisioning a future where foreign markets play an increasingly significant role.  India's reputation for expertise in software and information security positions the country as a strong contender in the international drone market.
This expansion underscores the remarkable potential of "Made In India" drones on a global scale.
The Future of Drones in India
The future of the drone industry in India is filled with promise and potential. Recent concerns surrounding data security and the restriction of Chinese drone manufacturers have opened a golden opportunity for Indian drone companies.
While drones from the Western world may come with a hefty price tag, India's proficiency in software and information security sets the stage for it to be a formidable player on the global stage.
Drones are poised to be the next big revolution, following in the footsteps of earlier waves like e-commerce startups, food delivery apps, fintech companies, and edtech platforms.
In these domains, innovation and efficiency converge, and at the forefront of this transformation stands Garuda Aerospace. We wish them all the best in their aspirations and lead the way in this exciting journey.