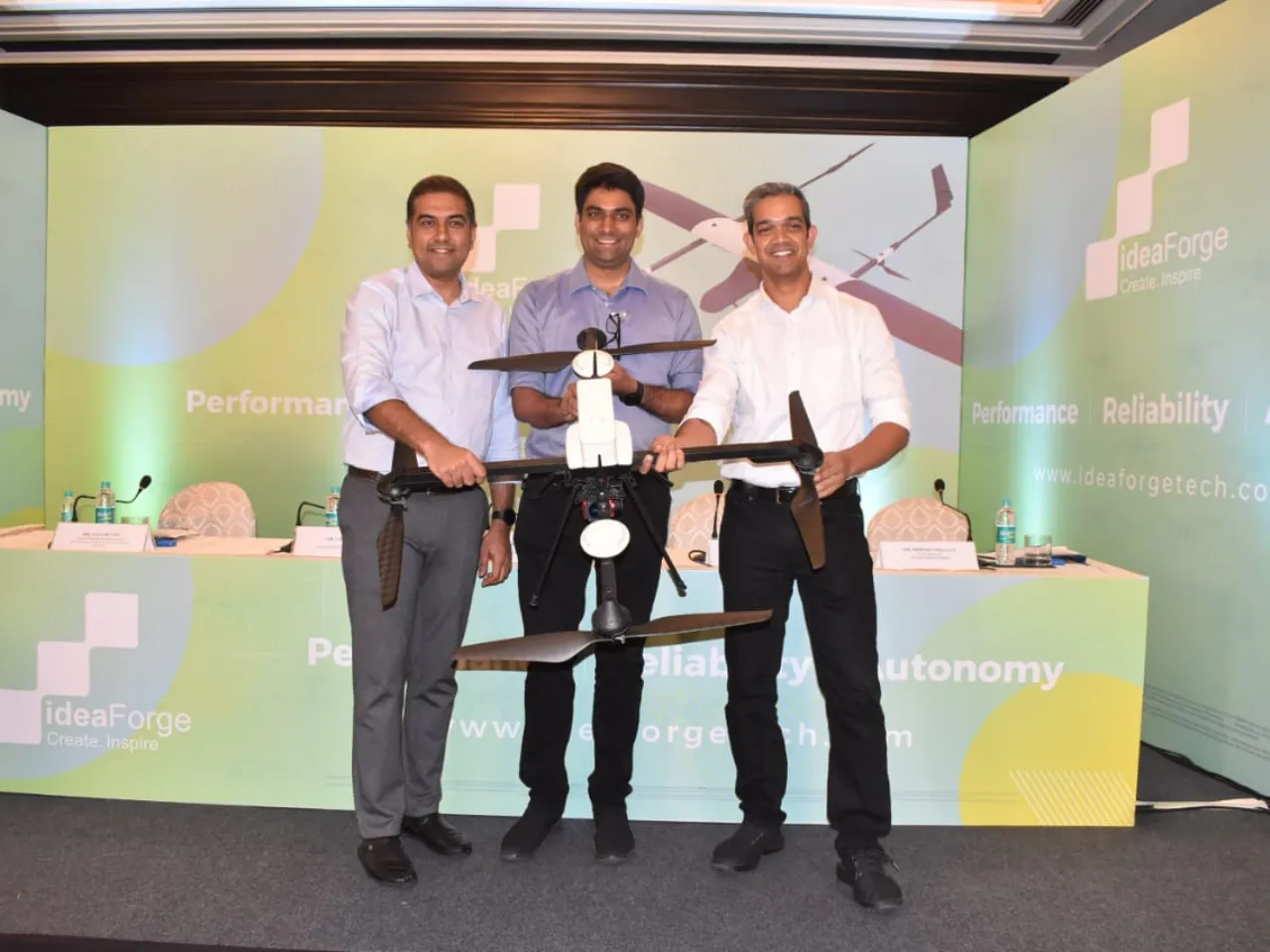 In a highly anticipated and successful IPO listing, ideaForge, a leading drone maker, witnessed a remarkable 94% gain, nearly doubling investor wealth. Let's dive into the intriguing story of ideaForge and explore how this Mumbai-based company is reshaping the drone market.
Founding Visionaries
ideaForge was founded in 2007 by Ankit Mehta, Rahul Singh, and Ashish Bhat, three visionaries from IIT-Bombay. Initially, an experimental project in aerial robotics, ideaForge rapidly transformed into one of India's largest unmanned aircraft systems (UAS) manufacturers. From FY21 to FY23, the company's revenue jumped from Rs347.18 million to Rs1,860.07 million. Their journey began with a passion for innovation and a commitment to pushing the boundaries of drone technology.
Ankit Mehta, CEO of ideaForge, recalls their early days, saying, "We saw the immense potential of drones in solving real-world challenges. Our goal was to build cutting-edge technology that could make a significant impact in various industries."
Technological Breakthroughs and Market Leadership
Despite expensive ask valuation, ideaForge attracted strong response to its offer across investor categories mainly due to its market leadership in the Indian Unmanned Aircraft Systems (UAS) drone market and no direct peers in the listed space. The shares debuted at a premium of 94.21% on BSE, and 93.45% on NSE, surpassing the IPO issue price of Rs 672, and the IPO was subscribed 106 times at close. The quota reserved for retail individual investors (RIIs) was subscribed 85.1 times, qualified institutional buyers by 125.81 times, and non-institutional investors(NIIS) by 80.5 times. Ahead of the listing, the company's shares commanded a grey market premium (GMP) of Rs 515 in the unlisted market.
With a market share of 50% in FY22, ideaForge has emerged as a leader in the Indian UAS market. The company specializes in the production of UAVs for mapping, security, and surveillance applications. Their drones offer a wide range of capabilities, including mining area planning and mapping, making them a valuable asset in various industries.
ideaForge's success can be attributed to several factors, including the favorable government policies and regulations that have propelled the growth of the drone sector in India. Initiatives such as the Production Linked Incentive (PLI) scheme, import bans, and the liberalized Drone Rules, 2021which came as a result of the government restricting the import of foreign drones to promote local manufacturing and easing the rules for exporting drones. These changes are aimed at developing the drone sector into a $20-billion industry by 2030. Some people have questioned the high valuation of ideaForge, but others believe that it is justified considering the company's position in the Indian drone market and the potential of the industry as a whole. 
Sneha Poddar, AVP, Fundamental Research, Broking and Distribution, MOFSL, believes "ideaForge is one of the largest players in the Indian drone market. The high ESOP cost in FY23 would have affected their profitability. For that reason, in terms of price–earnings ratio, it is looking a little expensive—at the higher price band, the company has a P/E multiple of 87.5x (to its FY23 earning)." The average P/E ratio for the industry as stated in the RHP stands at 57.93. 

She adds, "If you look overall potential of the market, the valuation seems justified." 
The company's strong focus on research and development has resulted in cutting-edge technology and innovative solutions. ideaForge's drones are equipped with advanced features such as autonomous flight, high-resolution cameras, and real-time data transmission capabilities. These capabilities enable their drones to perform a wide range of tasks with precision and efficiency.
Backed by esteemed investors such as Infosys, Qualcomm, Celesta, Florintree, EXIM Bank, Indusage Technology Venture Fund, and Infina Finance, ideaForge has enjoyed steady financial growth. In fiscal 2023, the company reported a 16% YoY increase in revenue from operations, reaching Rs 186 crore. Their profit after tax stood at Rs 31.99 crore during the same period.
The IPO of ideaForge, which attracted substantial investor interest, demonstrated the market's confidence in the company's potential. Despite its relatively high valuation, ideaForge's market leadership in the Indian UAS drone market and its lack of direct peers in the listed space contributed to its strong IPO response.
ideaForge's journey from an experimental project to a market leader showcases the founders' passion and determination. Ankit Mehta, Rahul Singh, and Ashish Bhat, all graduates of IIT-Bombay, embarked on their entrepreneurial journey driven by a shared vision of harnessing drone technology to solve real-world challenges. Their expertise in aerial robotics and unwavering commitment to innovation set the foundation for ideaForge's success.
As the drone industry gained momentum in India, ideaForge quickly recognized the immense potential of unmanned aircraft systems. Their focus on addressing the specific needs of mapping, security, and surveillance applications propelled them to the forefront of the industry. By continuously pushing technological boundaries and delivering reliable solutions, ideaForge carved a niche for itself.
ideaForge's drones are renowned for their cutting-edge technology and exceptional performance. They are designed to cater to a wide range of industries, including defense, agriculture, infrastructure, and disaster management. 
Celesta Capital first invested in ideaForge in 2016 because they saw a clear alignment of demand for drone technology in India's defense and enterprise markets, and a significant gap in the market to meet this need. With the defense market, particularly, 'Make in India' drones started getting a big push. 
"Given the perceived risks associated with imported drones, we recognized the urgent need for domestically manufactured ones, which could help to quickly position ideaForge as a key player in the market with the advanced capabilities they were developing," explains Gani Subramaniam, senior partner at Celesta Capital. 
The drone sector in India is at a point of inflection, believes Mehta.
"Given the push from the government and the policy changes that are being implemented, we felt this was the right time for an IPO," he says.
It was the pandemic that really triggered the change in mindset—where drones were being used to spray sanitizers, surveillance, delivering medicines, and many more use cases.
"Before the pandemic, drones were known to be a 'good-to-have' technology, which was getting adopted at a very sluggish pace. But with the onset of the pandemic, it became a 'must-have' technology," reckons Mehta. 
The success of ideaForge's IPO is a testament to the growing demand for drone technology and the market's confidence in the company's capabilities. The government's initiatives to boost domestic manufacturing and promote the adoption of drones have created a favorable environment for ideaForge's growth. With the Indian drone sector projected to reach $2.71 billion, ideaForge is well-positioned to capitalize on the expanding market. so, the potential to grow is immense. 
"We have been slightly late adopters, but we are there now," says Mehta. 

"The government wants India to become the drone hub of the world by 2030, and to drive that potential home, induction in technology and ease in policy is growing." 
Expansion Plans and Impact on Industries
Looking ahead, ideaForge has ambitious plans for expansion and global outreach. The company aims to enhance its product portfolio further and extend its market presence beyond India. With a subsidiary already established in the United States, ideaForge is actively pursuing opportunities in the North American market.
Ankit Mehta envisions a future where ideaForge's drones play a pivotal role in industries such as agriculture, infrastructure development, disaster management, and surveillance.
He emphasizes, "We are committed to pushing the boundaries of drone technology and exploring new possibilities. Our mission is to make a lasting impact on the world by providing innovative solutions that revolutionize the way industries operate."
In conclusion, ideaForge's listing success and strong investor response underscore its position as a game-changer in the drone market. With its innovative solutions, market leadership, and a team of visionary founders, ideaForge is reshaping industries, unlocking new possibilities, and revolutionizing the future of drone technology.
Also Read: