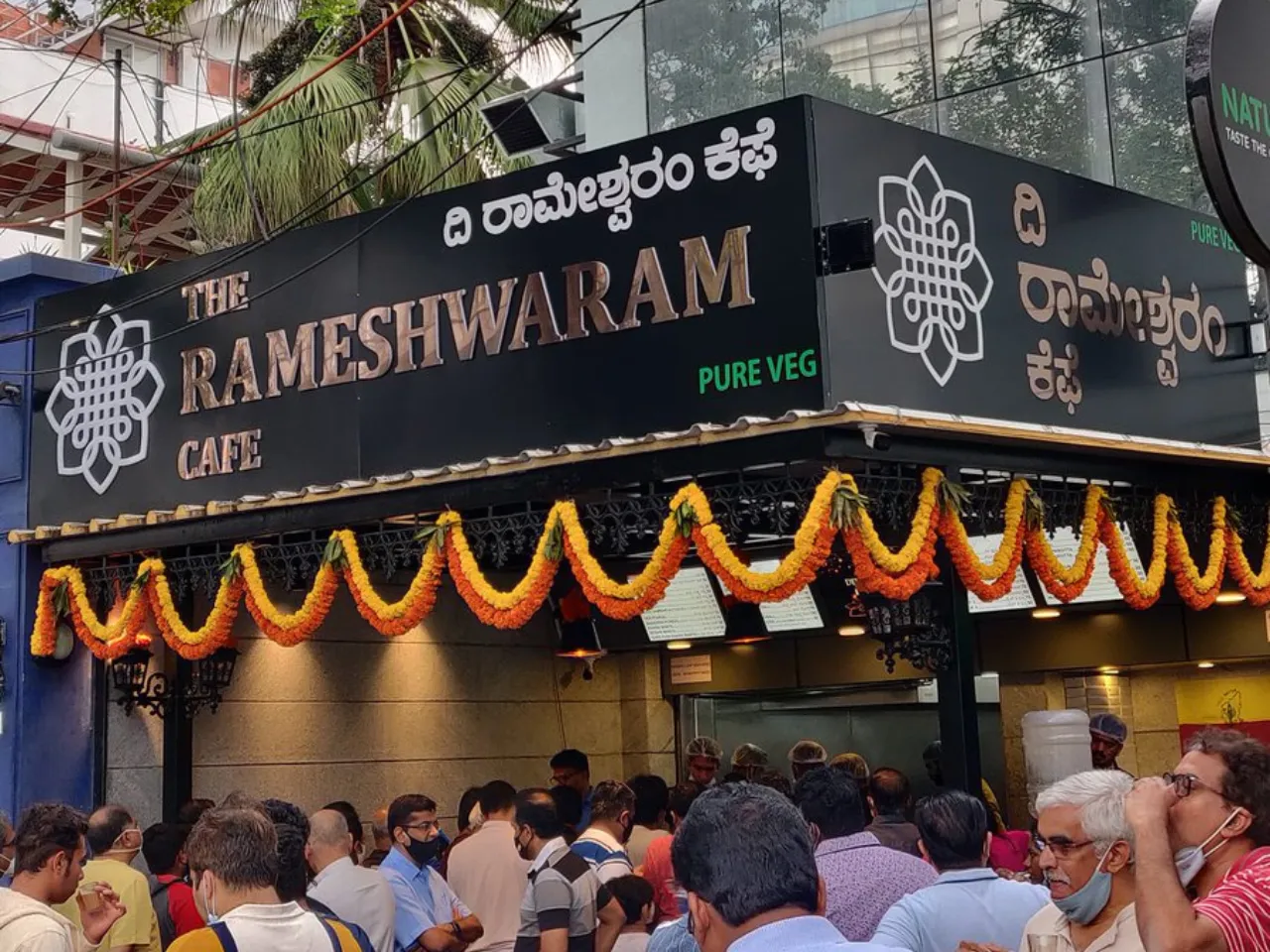 Rameshwaram Cafe: A Journey of Passion and Innovation
Nestled in the heart of Bengaluru, Rameshwaram Cafe has emerged as a beloved quick-service restaurant (QSR) that has won over the taste buds and hearts of food enthusiasts across the city. Founded by the dynamic duo of Divya Raghavendra Rao and Raghavendra Rao, this unassuming eatery has become renowned for serving delectable and lip-smacking South Indian cuisine. While patrons have relished their spicy and flavoursome snacks, many might not be aware of the cafe's staggering monthly revenue of ₹4.5 crores, a financial feat that has propelled it to the forefront of the city's QSR scene.
Drawing inspiration from the tranquil town of Rameshwaram in Tamil Nadu, celebrated for its rich cultural heritage and traditional culinary delights, Divya and Raghavendra Rao created an immersive dining experience that seamlessly blended traditional and modern elements. The cafe's interior boasts beautifully handcrafted art, vibrant colours, and classic themes, immediately transporting visitors to the enchanting surroundings of the southern coastal town.
The Recipe for Operational Excellence
What truly sets Rameshwaram Cafe apart is its thoughtfully curated menu, an exquisite fusion of traditional Tamil Nadu cuisine and contemporary culinary trends. Led by skilled chefs with an unwavering commitment to authenticity, each dish is meticulously prepared using historic recipes passed down through generations, resulting in a delightful and memorable dining experience for every customer.
The menu at Rameshwaram Cafe offers a tasteful blend of authentic South Indian flavours and contemporary culinary innovations, catering to the evolving preferences of food enthusiasts. From classic favourites like Ghee Podi Idlis and Ghee Thatte Idlis to innovative delights like Garlic Roast Dosa and Vada, the cafe tantalizes taste with its exquisite flavours and excellent service. Moreover, the cafe serves a wide range of beverages, including traditional, comforting filter coffee, providing a complete and satisfying dining experience for its patrons.
Remarkably, Rameshwaram Cafe manages to cut an astounding 7,500 bills daily, all within the confines of a modest ten by 10 or 10 by 15 square feet space. This operational prowess translates into a monthly revenue of ₹4.5 crores and an annual turnover of ₹50 crores, making it an exemplary success story in the highly competitive QSR industry.
Despite the challenges posed by the limited space, the cafe has implemented efficient systems to ensure quick and seamless service to its customers. From the moment they step into the cafe to the moment they savor their favourite dishes, patrons can expect an unparalleled dining experience that is both enjoyable and efficient.
The dynamic duo behind Rameshwaram Cafe brings a diverse range of expertise. While Raghavendra Rao, a mechanical engineer with over two decades of experience in the food industry, navigates the operational aspect of the business, Divya Raghavendra Rao, a Chartered Accountant and MBA graduate from IIMA, contributes her financial acumen and strategic insights. They have garnered numerous accolades for outstanding contributions to their respective domains.
The name "Rameshwaram Cafe" carries profound significance, paying tribute to the esteemed Dr APJ Abdul Kalam, former President of India, whose birthplace was Rameshwaram. This thoughtful choice reflects the cafe's commitment to preserving the rich flavours of South India and upholding traditional values exemplified by Dr Kalam.
Beyond its financial success, Rameshwaram Cafe takes pride in upholding its core values of quality and authenticity.
The cafe maintains high standards in all aspects of its operations, creating a unique QSR experience that caters to customers from all walks of life. With a diverse menu encompassing signature dishes such as Ghee Podi Idlis, Ghee Thatte Idlis, Garlic Roast Dosa, Vada, and more, Rameshwaram Cafe tantalizes taste buds with its exquisite flavours and excellent service.
The founders' commitment to authenticity and quality has resonated with food enthusiasts from different socio-economic backgrounds, contributing to the cafe's widespread popularity. This approach ensures that every customer, whether a local resident or a Bengaluru visitor, experiences authentic South Indian cuisine in a warm and welcoming ambience.
Paving the Way for India's Thriving QSR Market
The success of Rameshwaram Cafe exemplifies the thriving Quick Service Restaurant (QSR) market in India. Indian QSRs have successfully embraced local flavours, prioritized branding, and focused on delivering high-quality offerings, catering to consumers' evolving preferences, and seeking authentic, home-cooked meals with minimal waiting time.
The flourishing QSR market in India holds immense growth potential. According to Statista, India's quick-service restaurant market was valued at about 188 billion Indian rupees in the financial year 2020. This was further estimated to grow to over 500 billion rupees by 2025. The sector has attracted significant investments, reflecting investors' confidence and the market's vibrancy.
As consumer preferences evolve and the demand for quick, flavorful, and authentic dining experiences grows, the future of QSRs in India appears bright. According to rating agency ICRA, the Quick Service Restaurant industry is projected to witness robust revenue growth at around 30-35% YoY for FY2023 and a sustained growth rate of 20-25% in FY2024. This projected growth reflects the industry's potential to continue expanding and innovating to meet the needs of discerning consumers.
The remarkable success of Rameshwaram Cafe and the surging acceptance of Indian QSRs indicate the immense potential and opportunities awaiting visionary entrepreneurs in this dynamic and evolving industry. Aspiring restaurateurs can carve a niche in India's bustling QSR market and contribute to its thriving growth story with a focus on quality, innovation, and a harmonious blend of tradition and modernity.
Moreover, Rameshwaram Cafe has become more than just a QSR; it has become a beloved community spot where people from all walks of life come together to share their love for South Indian food. The cafe's warm and welcoming ambience fosters a sense of togetherness, making it a go-to destination for families, friends, and even solo diners.
The cafe's success has also inspired other aspiring entrepreneurs to venture into the QSR space. Its journey from a modest establishment to a flourishing QSR powerhouse is a testament to the potential of innovative ideas, passion, and perseverance in the food industry.
As Rameshwaram Cafe continues to redefine the QSR landscape in Bengaluru, its success story offers valuable lessons for aspiring restaurateurs and food enthusiasts alike. The cafe's commitment to delivering authentic flavours, maintaining quality standards, and offering exceptional customer experiences has undoubtedly been the key to its triumph in the bustling QSR market.
Conclusion
Rameshwaram Cafe has carved a niche as Bengaluru's thriving QSR, garnering immense popularity and accolades for its delightful South Indian cuisine. Founded by the visionary duo of Divya Raghavendra Rao and Raghavendra Rao, the cafe has grown from strength to strength, achieving a remarkable monthly revenue of ₹4.5 crores.
Drawing inspiration from the town of Rameshwaram, the cafe embodies the rich cultural heritage of South India, celebrating its flavours and traditions. With an innovative menu, efficient operations, and a commitment to authenticity, Rameshwaram Cafe has won the hearts of food enthusiasts from all walks of life, becoming more than just a QSR but a beloved community spot.
As the QSR industry in India continues to flourish, Rameshwaram Cafe stands as a shining example of success, offering valuable lessons for aspiring entrepreneurs and food enthusiasts seeking to make their mark in the ever-evolving food landscape.