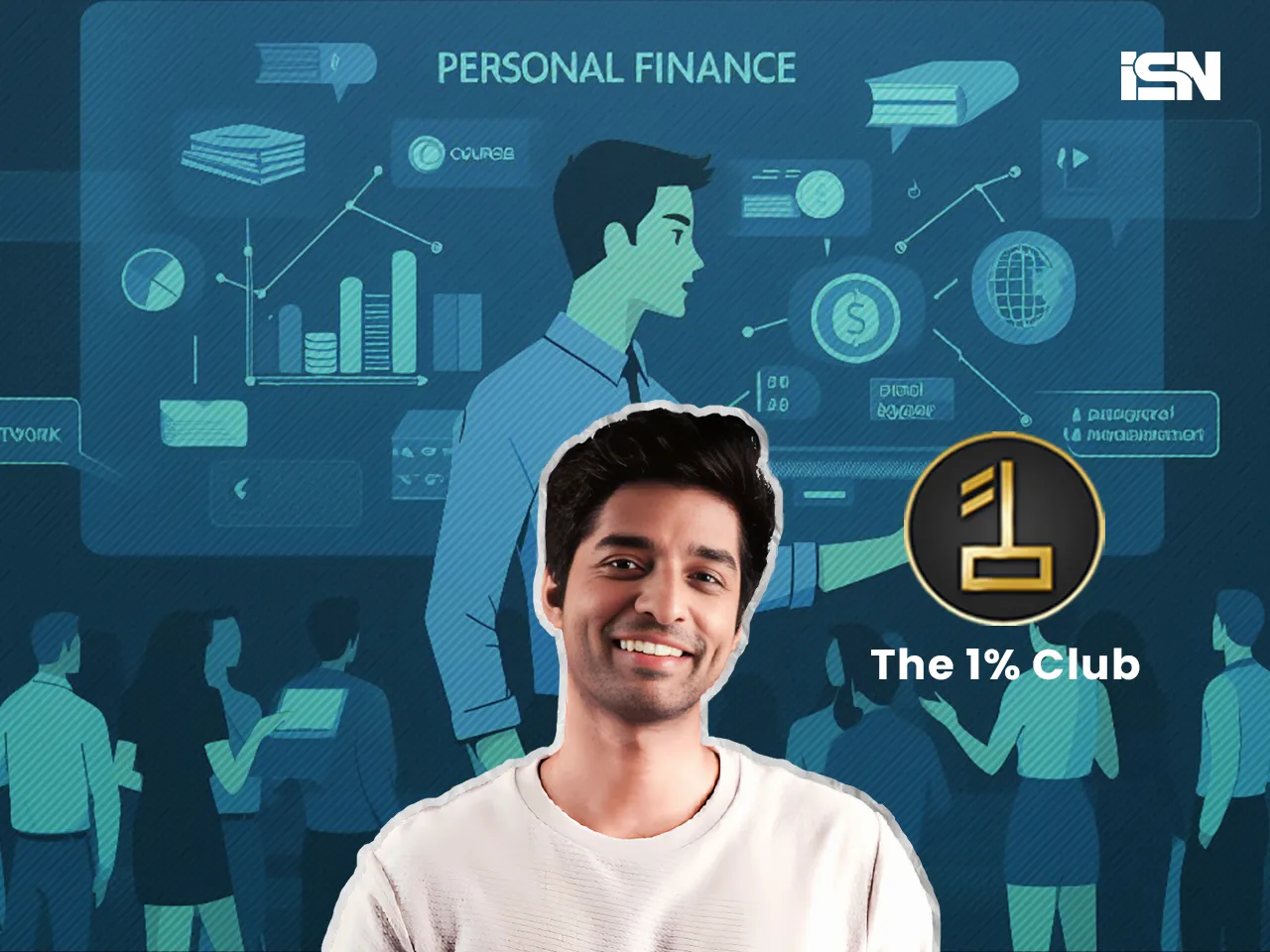 Financial jargon can be overwhelming, and making financial decisions without knowing much can be even more overwhelming.
To rescue people from this dilemma, Sharan Hegde, famous for his "Hello, Sharan. This is your man." A catchphrase that has resonated deeply with nearly two million individuals!
Sharan is a  Renowned financial expert and has become well-known to the public due to his unwavering dedication to making the complex world of finance and investing more accessible to understand and grasp.
He started his journey by creating content about finances to educate the masses. Then, because of his perseverance and dedication, he transformed his community into an educational platform to change lives.
He is the brilliant mind behind "Finance with Sharan" and the powerful force behind "The 1% Club". With nearly 15 years of expertise in the financial sector, Sharan was a seasoned pro who understood the urgent need for easily accessible financial education.
The understanding inspired him to set out on a noble mission, motivated by a deep desire to provide people with the information they need to make wise financial decisions. 
His enthusiasm and knowledge came together to produce a singular platform that acts as a lighthouse of knowledge, providing insightful information and enabling a significant number of people to take charge of their finances.
Sharan Hegde's perseverance paid off when he transformed his finance community into a Startup, that is, The 1% Club, a successful company at present.
The 1% Club, which aims to empower people via unparalleled financial education and coaching, has quickly emerged as a ray of hope for anyone looking to improve their financial situation.
Through his exclusive personal financial tools, which provide members with crucial insights and support to help them become part of the elite 1%, Sharan has demonstrated his commitment to innovation. With more than 30,000 community service projects under its belt, The 1% Club has established a positive ecology that promotes both personal and financial success, making it an inspiration to many.
What does The 1% Club do?
The "1% Club" app is a comprehensive financial education platform that provides a wide range of personalised courses geared to meet the different demands of its customers. These courses, professionally developed by Sharan Hegde and his team of seasoned financial specialists, cover the entire spectrum of financial knowledge, from fundamental concepts to complicated advanced issues. 
Whether you're a beginner hoping to establish a firm financial foundation or an experienced investor looking to broaden your knowledge, these courses are an excellent resource for lifelong learning about money and money management.
The app's Community Hub serves as the active centre of the "1% Club" community, bringing together financial enthusiasts from all walks of life to interact, collaborate, and exchange ideas. 
This platform develops a sense of community among its users, offering a solid platform where their shared interest in financial literacy can bloom. It's a location where beneficial connections are made and professional guidance is readily available, cultivating a welcoming environment where everyone may succeed.
The app's Resource Repository is a knowledge treasure trove, hosting a wealth of articles, news, events, videos, and webinars. This comprehensive library is your constant study companion, keeping you updated on the newest developments in the ever-changing financial world. It's a great place to stay current and receive insights into the ever-changing world of finance.
Sharan Hegde takes app engagement to the next level with his Live Insights sessions. He provides a fantastic opportunity for direct connection with users by hosting live webinars and interactive events. These events offer real-time insights into market trends, investing strategies, and financial updates, expanding your grasp of finance in a fun and participatory setting. It's a once-in-a-lifetime opportunity to learn from the finest and keep up with the financial environment.
Financial independence, often viewed as a superpower that frees people from the chains of financial restraints, remains a goal for the great majority of people around the world. Surprisingly, less than 1% of the world's population has achieved this financial freedom. 
The freedom to enjoy life on one's terms, free from the constant grasp of financial problems, is a transforming experience that few can claim. Joining The 1% Club offers a once-in-a-lifetime opportunity to deconstruct the path to financial independence and acquire the critical methods and insights required to accomplish this elusive objective. By becoming a community member, folks may learn firsthand how it's done while also arming themselves with the skills and knowledge needed to succeed.
The Financial Freedom University offers a variety of courses designed with beginners and seasoned investors in mind. These courses address fundamental ideas and advanced financial issues, providing all members with a solid foundation.
The educational hub, led by Sharan Hegde and a team of financial experts, ensures that members obtain insights from seasoned professionals in the area. It's a perfect platform where you may learn the art of finance from experts.

The Networking Hub
The app acts as a thriving community where people with a common interest in financial literacy can interact, exchange ideas, and seek expert help. It's a perfect space where bonds are created and a sense of unity is fostered.
Collaborative Learning: Members benefit from the community's combined knowledge, creating a supportive environment where questions are answered, experiences are shared, and progress is fostered.
The app gives members immediate access to Sharan Hegde and financial professionals, making it easier for them to seek advice and remain current on economic trends and plans.
Personalised Strategies: Members can put their knowledge into action with the help of realistic financial planning tools. These materials aid in the development of customised strategies and plans based on individual financial objectives.
Real-World Application: It is not enough to simply learn; it is also necessary to put that knowledge into practice. The tools enable users to manage their funds actively and progress toward financial independence.
The 1% Club hosts events and workshops where members can interact with industry experts. These lectures offer up-to-the-minute insights into market trends, investing techniques, and financial planning.
Interactive Learning: These events provide members with a one-of-a-kind opportunity for direct involvement, allowing them to connect with specialists, ask questions, and learn practical information.
Participating in personalised events and workshops provides hands-on experience.
Members expand their understanding of finance and take actual steps toward reaching their financial objectives by participating in personalised events and workshops.
The 1% Club takes a complete approach to financial education and empowerment, combining comprehensive education, community support, practical tools, and real-world contact to help people achieve financial independence.