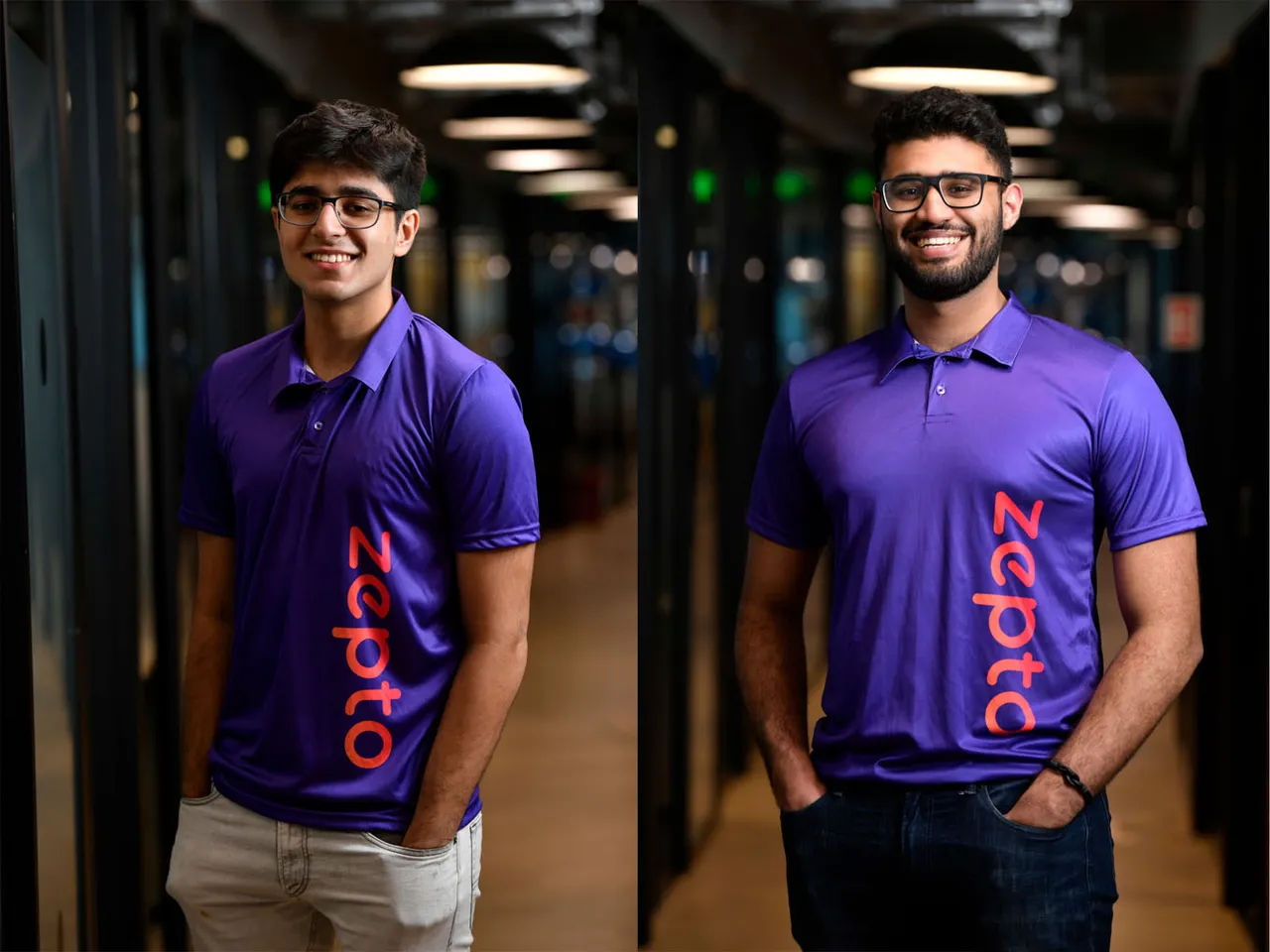 For Indians, online grocery delivery seems to have been a real game-changer. With the extensive and favorite level, having your favorite groceries delivered directly from their source is far more convenient! You can order one or two items at a time if necessary, eliminating the need to make multiple trips as there were when there were only physical stores around town that accepted all denominations of currency. 
The convenience is what makes this such an appealing option among consumers here; they can get anything they want without any hassle, which means less money spent on food expenses each week as well as happier shoppers because, let's face it, nobody wants to waste their time going out every day and coming home with nothing but regrets.
Over the last year or so, the grocery app delivery platform has exploded in popularity. Yes, the COVID-19 pandemic and healthcare institute regulations played a significant role. However, the overall trend of ordering food online is now more of a fad.
According to a survey conducted by 'Inmar Intelligence Co.,' approximately 78.7 percent of consumers actively use grocery app delivery tools. This percentage is current as of the most recent COVID statistics shared by global online food shopping companies.
However, this does not imply that grocery app delivery platforms were exiled before the pandemic. Millennials, as opposed to Baby Boomers and Generation X, have been shown to do the majority of their shopping online. The current generation has a short attention span, necessitating the need for instant access to online shopping stores without ever having to go through the walk-in experience.
This does not, however, imply that grocery app delivery platforms were banned before the pandemic. In comparison to Baby Boomers and Generation X, Millennials have been shown to do the majority of their shopping online. Because today's generation has a short attention span, they require instant access to online shopping stores without having to go through the walk-in experience.
According to RedSeer Consulting, India's online food grocery retail market is expected to reach $10.5 billion (1.2 percent) by 2023.
During the COVID-19 pandemic last year, online grocery players gained traction. To gain market share, they must look beyond the availability of new products or discounts. The competition is now based on how fast deliveries are made.
Zepto is an online grocery delivery app and platform that guarantees 10-minute grocery deliveries. It was created to fundamentally change the selling and delivery of groceries. Customers can use Zepto to comfortably purchase from 2500+ products and have them delivered to their doorstep using Zepto's 10-minute e-grocery delivery app.
Overview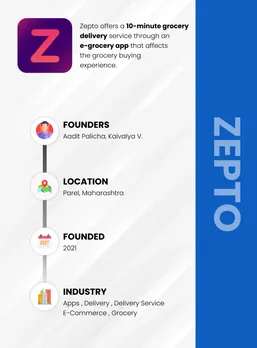 Zepto Grocery is India's fastest grocery delivery company, with deliveries as fast as ten minutes. Fresh fruits and vegetables, meat and seafood, household essentials like soap and detergent, and personal care items like shampoo and deodorant are all available. They offer free home delivery in Mumbai and Bangalore, with their logistics partners delivering your order within 10 minutes of placing it.
Zepto promises : 
Guaranteed delivery time of 10 minutes.
All grocery and everyday items are available.
Prices are genuine.
The Inception
The 10 min grocery delivery platform is the brainchild of two 19-year-old Stanford dropouts who decided to follow their dream and become entrepreneurs. As their second venture, they chose Zepto, a 10-minute grocery delivery startup backed by Y Combinator. Their first venture, KiranaKart, was forced to close due to a lack of market fit for its good or service.
Palicha and Vohra are childhood friends who both enrolled at Stanford to study Computer Science but decided to drop out to continue pursuing their entrepreneurial interests. During the pandemic, the idea for Zepto arose in the bounds of their homes. A surge in demand for home deliveries meant that grocery shopping and other necessities would arrive in a matter of days, creating a void for instant delivery. As a result, Zepto was created with that consideration in mind.
KiranaKart and Zepto's CEO and Co-Founder are Aadit Palicha. Palicha earned a Bachelor's degree in Computer Science from Stanford University after earning an IB diploma in Mathematics and Computer Science from GEMS Education. Aadit then completed Y Combinator Grade: W21 and began working as a Project Lead for PryvaSee. Aadit Palicha then founded his first startup, GoPool, when he was only 17 years old. He left the company in April 2020 to start KiranaKart and then Zepto.
Kaivalya Vohra is the Co-Founder and CTO of Zepto as well as the Co-Founder and CTO of KiranaKart. He, like Aadit, graduated from Stanford University with a degree in computer science and participated in Y Combinator.
During the Covid-19 outbreak, the idea for Zepto arose from the confines of their homes. Because of an increase in supply for delivery services, groceries and other essentials would turn up in a couple of days, leaving a void for fast delivery. As a consequence, Zepto was born with all of this knowledge.
These teenagers were abruptly detained in their Mumbai homes due to Covid norms, after substantial cooperation on many projects, including a ride-hailing commuting app for kids. Even though grocery delivery, which has been considered significant by authorities, was still allowed across much of the country as the virus spread, the duo struggled to get their supplies.
Through a network of dark stores and micro warehouses, Zepto guarantees grocery delivery in 10 minutes (up to 90% of orders). Aadit claims that the startup's median delivery time is 8 minutes 47 seconds to provide a smooth delivery experience.
The Mumbai-based startup uses a hub-and-spoke model with a system of dark stores or retail fulfillment centers to cater solely to online shopping.
Business Model
Zepto delivers groceries in ten minutes or less via a network of dark storefronts and mini-warehouses on up to 90% of orders. Zepto operates in India's quick commerce sector. It is intended to be customer-centric and is based on the instant service model.
Aadit claims that their average delivery time is 8 minutes and 47 seconds to ensure a flawless delivery experience. The Mumbai-based company uses a hotspot method to cater primarily to digital purchases through a chain of dark stores or retail distribution centers.
A dark store is a small neighborhood warehouse where customers cannot enter and must order online for home delivery. While the concept of dark stores is not new to the Indian market, it has yet to be fully explored.
Zepto optimizes its connectivity by utilizing population, traffic intricacies, terrain, road patterns, weather patterns, last-mile operational improvement, real estate prices, and other geographical information and local intelligence. Moreover, the startup's dark warehouses and cool rooms are specially designed to meet specific requirements such as ease of travel, allowing packers to fill orders as quickly as possible.
Terrain, population, road patterns, traffic dynamics, climate, last-mile supply availability, real estate values, and other geographic data are said to help Zepto optimize its network.
"The magic of this model is how we pack and dispatch goods in under 60 seconds. The last mile is like any other delivery model"

Aadit Palicha
Growth
Zepto is gaining traction in Bengaluru, Mumbai, and Delhi-NCR, with Hyderabad, Chennai, Pune, and Kolkata expected to follow in the coming months. Its technical headquarters are in Bengaluru, and its operations are in Mumbai. Zepto has hired key executives from Dream11, Flipkart, Pharmeasy, Uber, and Pepperfry.
Zepto also has engineering, operations, marketing, and financial positions available. Palicha claims a 200 percent month-over-month growth rate and a 78 percent monthly retention rate.
The grocery delivery startup's management team includes senior executives from some of India's most successful startups, such as Flipkart, Uber, Dream11, Pharmeasy, and Pepperfry, to name a few.
When Zepto was five months old, it had a valuation of $570 million after having to raise $100 million in a Series C round led by Y Combinator's Continuity Fund, a 2X increment from its prior valuation of $60 million only 45 days earlier. Zepto raised another round of funding led by Y Combinator, increasing its valuation to $900 million.
One of the reasons that several entrepreneurs have chosen Zepto, according to Palicha, is that it has empowered individuals who had relocated from Mumbai to Bangalore to return to their homes. Nonetheless, he claims that the startup's explosive growth, rigorous implementation, and ambitions have enthralled others with similar interests.
Competitors:
In the country delivery service platforms are not a new concept but it has room for improvement and the potential to create disruption.
Many businesses compete with Zepto and have already pioneered fast-paced grocery delivery, such as:
Instamart 
swiggy
Big Basket
Blinkit
Swiggy and Big Basket already have begun delivering groceries in 10-15 minutes, and Blinkit is preparing to launch ten-minute grocery delivery services in 10 cities, all of which compete with Zepto. Dunzo, another startup that competes with Zepto, uses its Xpress Mart dark shop network to deliver groceries in Bengaluru in 19 minutes.
Future
The funds will be used by the Mumbai-based company to expand the number of dark stores in new locations, expand its client base, and hire more employees. It is currently available in Bengaluru and the Delhi-National Capital Region, with Hyderabad, Chennai, Pune, and Kolkata following in the next 30 days.
It hopes to have 100 dark businesses open by the end of the year, serving roughly 100 pin codes. According to a research group, quick commerce will reach $300 million by the end of this year and will grow to $5 billion by 2025.
Also Read:
Follow IndianStartupNews on Facebook, Instagram, Twitter for the latest updates from the startup ecosystem.