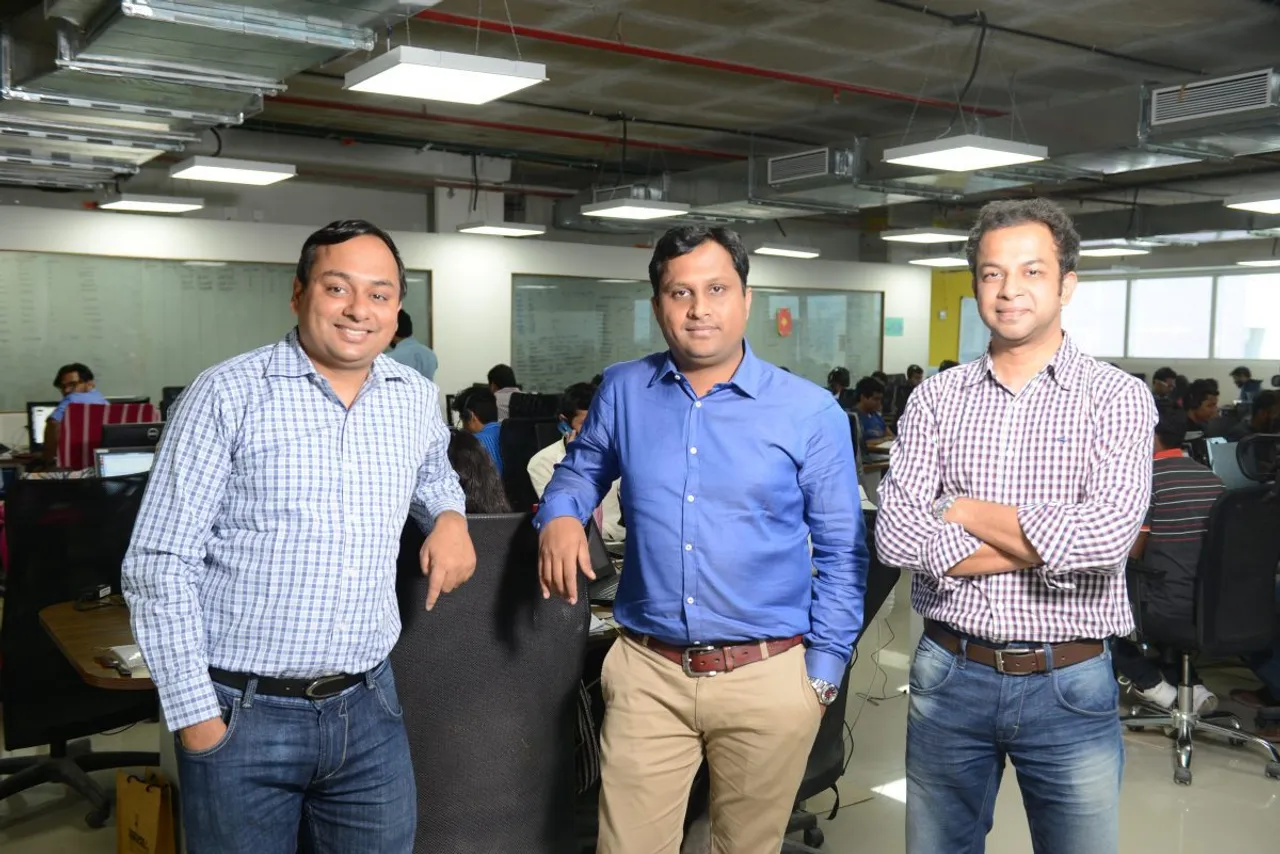 The real estate industry has assimilated technology in such a way that it has become more resilient, invincible, and vibrant in the recent times of technical advancements.
The real estate industry has been incorporating technology into its daily operations in order to improve efficiency and quality. 
Building Automation, Artificial Intelligence to ensure timeless delivery, improved market access, marketing, and the use of Augmented Reality (AR) and Virtual Reality (VR) for marketing and site visits are just a few examples of areas where technology adoption has been rapid. 
Companies are now incorporating Big Data and Blockchain into various stages of project execution as well as client service.
Technology has permeated almost every business and industry, including real estate. On the one hand, the real estate industry has been quick to identify opportunities in technology adoption.
while on the other hand, the government has been launching various initiatives to encourage the same among the other industries that can be benefited from the technology if leveraged to its full extent.
Some of the government's campaigns include 'Digital India,' "Global Housing Technology Challenge," 'Smart Cities," "IndiaChain," and many others that make technology more accessible and multidimensional.
According to The Future of Real Estate in India, an Elara Group-owned online real estate advisory portal, investments in the PropTech segment in India have also increased in recent years. To date, $2.4 billion has been invested in India's PropTech industry through 225 transactions.
According to the report, the segment's growth can be attributed to a rapidly growing middle class, rapid urbanization, technological adoption, an increasing internet user base of over 500 million users, a young demographic base, and a gradually consolidating real estate canvas.
There are a number of start-ups in the industry that are not only disrupting the status quo through the use of technology but are also ushering in global best practices in construction and sales and marketing functions.
Many activities, such as property listing, are being undertaken by the industry in a novel manner, benefiting both developers and property buyers. With the use of technology, these startups are bringing a lot of innovation and value to the table.
The investment inflow into real estate is growing at a CAGR of 10%, with PropTech being a blue-chip segment since 2010, growing at a robust CAGR of 57%.
This can be viewed as a demonstration of the utility of technology in the modern real estate business.
Proptech during the lockdown period.
Technology has aided the real estate industry in quickly recovering from the challenging period of lockdown, and sales are now nearly back to pre-covid levels. 
The industry invested heavily in technology, particularly during the initial period of the lockdown, allowing it to reap the benefits almost immediately after the government lifted the lockdown. 
The lockdown accelerated the entire process of technology adoption even further. According to data, the majority of buyers completed their property transactions through virtual mediums during the lockdown period and subsequent opening. The fact that businesses have already made significant investments in Proptech has aided matters.
Since the pandemic's outbreak, new platforms for searching and discovering possible properties have emerged. The platforms enable buyers to track all aspects of property purchases from the comfort of their own homes. 
The coronavirus pandemic would have affected the real estate market much harder if it hadn't been for the country's PropTech industry's continual growth and maturation in the last several years.
The segment is expected to increase significantly in the near future as a result of the increasing usage of technology in house purchases such as virtual reality, drones, big data, and artificial intelligence. This is demonstrated by the fact that the country's real estate market is expected to reach $1 trillion by 2030.
Another significant way that technology is assisting the industry is in cost-effectiveness. With the use of current instruments, industry participants may control expenses much more easily. They can now keep costs under control more effectively.
This enables them to pass on the benefits of cost optimization to their clients, who profit from cheaper property prices.
The usage of technology is making the real estate business more ethereal while also ushering in new professionalism. Technology is assisting in the completion of new tasks that the sector could not have imagined attaining, say, ten years ago.
Apart from achieving project deadlines and improving building quality, developers might introduce new paradigms in customer service.
There are startups that are taking full advantage of technology by leveraging it to its complete extent and revamping the real estate sector.
Overview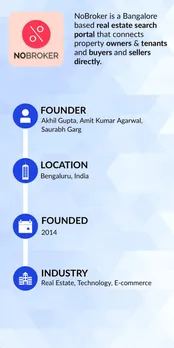 NoBroker is a real estate game-changer that employs innovative technology to link property owners, purchasers, and renters through a single platform. The goal of the startup is to eliminate the brokerage system.
They wish to empower Indian home-seekers to locate a property of their choice in a hassle-free manner without having to pay a costly brokerage fee with NoBroker. It was difficult to get into the market with such a radical answer.
The concept was basic yet bold, and they thought it had a lot of potentials. In March 2014, the founders created the website. There was no turning back for NoBroker once the customer understood the unique proposition.
NoBroker has a team of 1000+ highly driven professionals who are constantly striving to provide better services to over 1.25 crore satisfied consumers across Bangalore, Mumbai, Pune, Chennai, Hyderabad, and Delhi-NCR.
NoBroker was founded after the founders noticed that the real estate search and discovery process was fragmented, opaque, inefficient, and full of customer difficulties.
The concept arose when Saurabh Garg (Co-founder and the CBO of NoBroker) had a negative and bitter experience with brokers while hunting for a home.
All of the other internet channels are also marketing platforms for brokers, and contacting the owner/seller directly is quite difficult.
Because brokers are frequently biassed and manipulative, the clients' experience was ruined as a result of their reliance on the broker.
NoBroker bridges the information asymmetry gap that Indian homebuyers encounter in the country's real estate sector.
Its revolutionary approach connects property seekers with property owners, a procedure that previously cost as much as 1-2 months of rent or 4% of the transaction price in brokerage fees.
Based on real-time data, the platform also gives individualized recommendations and assists with decision-making.
Founders
Amit Kumar Agarwal has previously worked for large corporations such as Cognizant, PwC, and ANZ Bank before deciding to take a chance and leave his well-paying job to pursue his entrepreneurial goals.
With ten years of expertise, he co-founded NoBroker in 2014 with Akhil Gupta and Saurabh Garg, a real estate search platform that eliminates the broker and connects flat owners and tenants directly.
Amit had a comfortable and safe position at ANZ Bank, but his heart desired something different, so he set a time schedule for his entrepreneurial journey, allowing himself two years to get started. Even if he failed or ran out of money, he would still have 90 percent of his working life to return to the corporate sector.
But destiny had something else planned for him, Seven years later, NoBroker handles $2 billion in transactions on its platform each year and claims to have saved Rs 1,100 crore in brokerage last year. Its goal is to guide India's real estate market toward a time when real estate transactions are simple and free of commissions.
The platform provides a one-stop solution for property seekers, including rental agreements, movers and packers services, house loans, interiors, special packages for NRIs, corporate relocation services, remote property management services, and so on. It also allows you to pay your rent online using credit cards, debit cards, net banking, and UPI wallets.
NoBroker also offers to be a one-stop shop for all paperwork and documentation related to leasing agreement registration, bank franking, police verification, and society approvals.
NoBroker House Services - In addition to being an outstanding solution for home purchasers and renters, NoBroker also provides a range of important home services, which include:
Services for painting
Services for cleaning
Cleaning services for the home
Services for air conditioning repair
Services for pest control
Services for carpentry
Services for plumbing
NoBroker Furniture - NoBroker also provides a large choice of furniture for purchase or rental, making the procedure easier to complete online. It aids in the installation and free relocation of furniture, as well as the replacement of old items with new ones and their maintenance.
NoBrokerHood, the platform's visitor and community management super app, is now optimising society living in 10,000 societies across Bangalore, Mumbai, Pune, Hyderabad, Chennai, Delhi-NCR, Kolkata, Ahmedabad, Nagpur, Jaipur, and Kochi.
Hurdles faced by NoBroker
The real estate industry relied on traditional practices that engaged the third party for aeons. Brokerage services can also be traced back to the earliest real estate establishments.
As a result, the team concentrated on the most fundamental issue confronting real estate customers. It was hard in the beginning for the startup to gain trust because the client base highly relies on the age-old brokerage system, so it was difficult to break the chain.
The model is different from other startups because other online real estate platforms do is they essentially partner up with property brokers to get them to advertise properties on their platforms.
NoBroker, on the other hand, directly paired owners with sellers and tenants with purchasers. Customers responded positively to NoBroker's value proposition as a result of this approach. The most owner-listed properties are found on NoBroker.
Business Model
NoBroker is a digital platform that connects homeowners/sellers and prospective tenants/buyers without the participation of a broker. It offers a subscription business model to customers wishing to purchase, sell, or rent a home.
There are three revenue models used by NoBroker:
Freemium model for tenants
Freedom plan
Relax plan
MoneyBack plan
The startup also provides a variety of home services such as packers and movers, house cleaning, house painting, interior design, and much more. These are also significant revenue generators for the startup NoBroker.
Growth & Future of NoBroker
so far, NoBroker has assisted Indian real estate customers in saving over INR 5000 crore in brokerage fees. Every month, over 20,000 people use NoBroker to find a home.
It has 1.25 crore registered users spanning Bangalore, Mumbai, Pune, Hyderabad, Chennai, and Delhi-NCR, making it the largest P2P real estate marketplace in the world. The site also serves the commercial real estate market.
The company is now collaborating with new-age insurance companies to create customised insurance products for homeowners on its platform. It also intends to improve the discoverability of services and commerce on its platform for residents.
NoBroker is destined to break boundaries and go places. With the rising population, there will be more demand for real estate and also due to digitization, NoBroker will keep growing and will never have to turn back.
Also Read:
Follow IndianStartupNews on Facebook, Instagram, Twitter for the latest updates from the startup ecosystem.