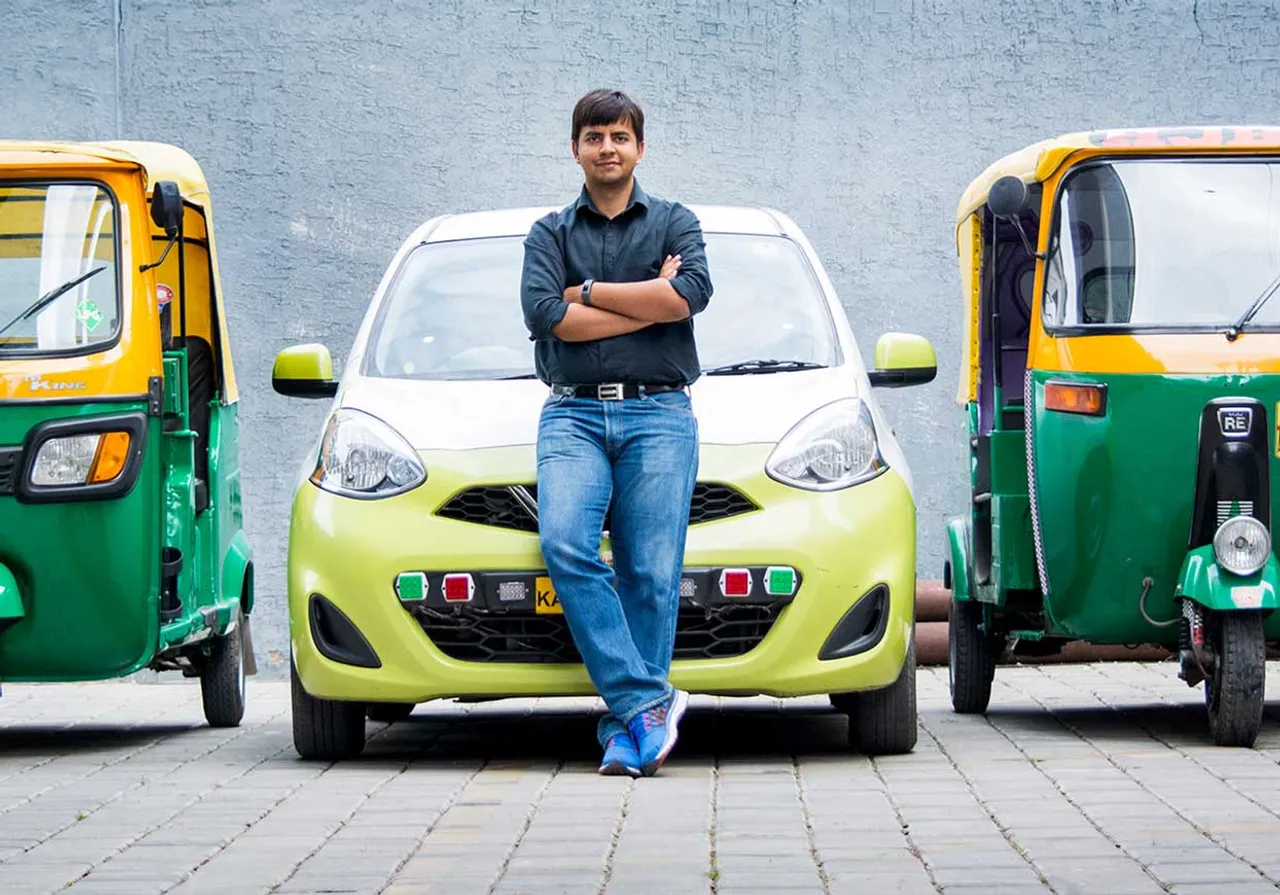 The inception of the billion-dollar idea:
How would you feel if your taxi driver suddenly renegotiates the fare and when you say no the driver leaves you grounded in the middle of nowhere? Traumatic experience right? Well, the same thing happened with Bhavish Aggarwal, he was left on his own by his taxi driver in the middle of his journey from Bangalore to Bandipur. He felt helpless, and at that moment an amazing business plan cropped up in his brain.
Bhavish Aggarwal with his friend Ankit Bhati founded Ola Cabs, a Bengaluru-based ride-hailing startup with an aim to make public transportation easy in the country. The startup with the collaboration of drivers and cab owners provides various cab services to commuters. In 2015, OLA reached over 50 cities across India, and with over 200,000 rides, everyday business was growing at a rate of 40%.
"Entrepreneurs are not driven by fear; they are driven by the idea to create impact."- Bhavish Aggarwal.
OLA at the beginning: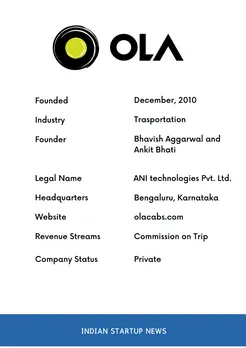 In 2015, OLA launched an OLA fleet in which individuals with multiple cars can get attached as an OLA fleet operator. By functioning as a business entity and not just as an individual driver under OLA. Hence, the revenue is higher. Looking at the great success of its new launch, OLA came up with another service called OLA play in 2016, providing in-cab entertainment for a personalized and interactive experience.
OLA is currently operational in over 160 cities across India, providing 11 services in over 250+ cities, and also launched its services in Australia, New Zealand, and the UK, providing mobility solutions by matching the drivers to potential customers. Olaa is backed by global venture capital firms like SoftBank, Tencent, Microsoft, eBay, among others.
Bhavish and Ankit, the owners of Ola, spotted a significant gap in Mumbai in 2010. Previously, cabs sat idle. Cab drivers charged a high rate regardless of the distance to compensate for the time they sat idle. Poor service and delays were regarded as if they were unavoidable.
To bridge that gap the duo came up with new solutions to make the cab-hailing and riding process smoother.
They scheduled 700,000 daily rides in October 2015. They considered putting tracking devices in each cab but abandoned the idea in January 2012. Ola expanded its operations to Bangalore and Delhi in April 2012.
Challenges:
Ola's founders, like any other young firm, had to deal with a slew of hurdles and challenges. They had to work long hours, and Ankit had to code for 48 hours straight at times, while Bhavish had to ride the cab himself and finish the cab booking.

Another issue they encountered was a lack of networking connectivity. In 2010, internet access in India was subpar. The majority of the people did not have internet access and those who did use 2G connections.
As a result, they needed to create an app that could be simply utilized on the 2G network. However, this did not dampen their enthusiasm.
Business model:
Ola's business strategy is straightforward. It serves as a middleman for cab booking services. Customers can use the app to book taxis. None of the cabs are owned by Ola.
Only drivers with valid permits that have been allowed and validated by transportation authorities are eligible to join Ola; they may be self-employed or hired by a company that owns many cars.
On average, Ola charges a 15 percent commission on all bookings made through the app.
Funding: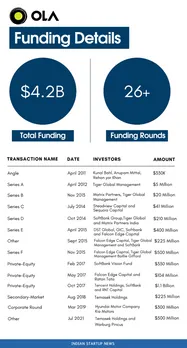 So far, Ola has raised a total of $4.3 billion in 26 rounds of investment. Their most recent funding came from a Private Equity round on July 9, 2021.
Ola is backed by a total of 49 investors. The most recent investors are Temasek Holdings and Bhavish Aggarwal.
Ola has made a total of four investments. Their most recent investment was in Vogo, which raised $100 million on December 18, 2018. Ola has bought six businesses. Pikup.ai was their most recent acquisition, which occurred on August 13, 2019.
OlaCabs has raised funds from SoftBank Corp. and other investors in two rounds of venture capital funding since its founding. They have recently announced a goal to charge 'less than an ordinary autorickshaw' by selling cabs at outrageously low rates of Rs.10/km. With the debut of OlaAuto, OlaCabs has expanded its collaboration with automobiles.
SoftBank Group (Japanese), Tiger Global (US-based), Tencent (Chinese Venture Capital), Matrix Partners (US-based), and DST Global are among Ola's significant shareholders/investors (Russia).
Future plans:
OLA's future is luminous in the upcoming years as the company is working towards placing India on the EV world map. The startup is crafting an electric scooter that will be completely AI automated and it has already started building a mega factory in Tamil Nadu to faster its process of EV manufacturing. Spread across 500 acres, the fully automated factory has the capacity to build 10 million electric two-wheelers by June 2022, with its core engineering managed by OLA itself. They will also produce batteries, vehicle computers, and software. Also, generating employment for over 10,000 people. They envision it to be the world's largest scooter factory, bringing forth an electronic revolution in India.
"This will be the world's largest scooter factory. Ola Electric aims to bring India to the world stage of this electrification revolution," said Bhavish while addressing a press briefing at the Ola Future Factory land space. 
Ola's vision is to build a sustainable electric product that will disrupt the market. Ola also plans to sell two-wheelers, three-wheelers, and cars in the near future.
"Our ambition is to build a global business, and we are building a global first business. This factory is going to be exporting a lot of products as well." "All of us have an entrepreneur in us. Entrepreneurs are not driven by fear; they are driven by the idea to create impact." Said Bhavish Aggarwal, Founder & CEO of Ola.
With this AI automated electric scooter, Ola will introduce itself in the retail sector they said they will have a capacity ready of two million by June 2021. By the end of 2022, they would have produced 10 million vehicles, building an electric vehicle ecosystem in India in the near future.
With the entry of top EV companies in India is likely to increase the adoption of EV vehicles in the country. Earlier this year, Tesla announced that it will be selling its electric cars in India. Indian automobile companies like TVS Motor Company Ltd are also joining the EV lineup by acquiring shared mobility startup Intellicar Telematics Pvt Ltd. Another startup Ather Energy, which manufactures a two-wheeler EV scooter, is also working to bring more electric two-wheeler vehicles through its Hosur factory.
From a humble beginning, OLA became a multi-billion dollar startup with a turnover of $360 million (FY 2019) led by Bhavish and Ankit, which proves that anything is possible if one is determined.
OLA growth:
Ola has formed a partnership with Siemens to construct its upcoming electric vehicle production facility. This statement comes as OLA has reached an agreement with the Tamil Nadu government to invest around INR 2,400 Cr towards the construction of this facility.
The factory is planned to generate roughly 10,000 employment, with an initial capacity of 2 million units per year, making it the world's largest scooter manufacturing facility. This will be Ola's global manufacturing base, serving customers in India as well as Europe, the United Kingdom, Latin America, and Australia and New Zealand (Australia and New Zealand).
This plant will be incredible and technologically advanced, with 5,000 robots stationed across diverse functions and designed on Industry 4. o principles. Ola will be able to use Siemens' integrated Digital Twin design and manufacturing solutions to digitalize and validate product and production prior to launch.
Ola's unique AI Engine and tech stack will be intimately integrated into every stage of the manufacturing process. As a result, the operations will have unprecedented control, automation, and quality.
Ola - Competitors.
Ola competes directly with Uber, the world's most well-funded startup, which has raised over $24 billion in equity on a current valuation of $82 billion. Meru Cabs Company Pvt. Ltd., which owns Meru Cabs, Carzonrent (India) Pvt. Ltd., which owns Carzonrent, and Zoomcar India Private. Ltd., which owns Zoomcar are among the other participants in India. Rapido is gradually eclipsing Ola's market share in the bike taxi industry.
Also Read:
Follow IndianStartupNews on Facebook, Instagram, Twitter for the latest updates from the startup ecosystem.