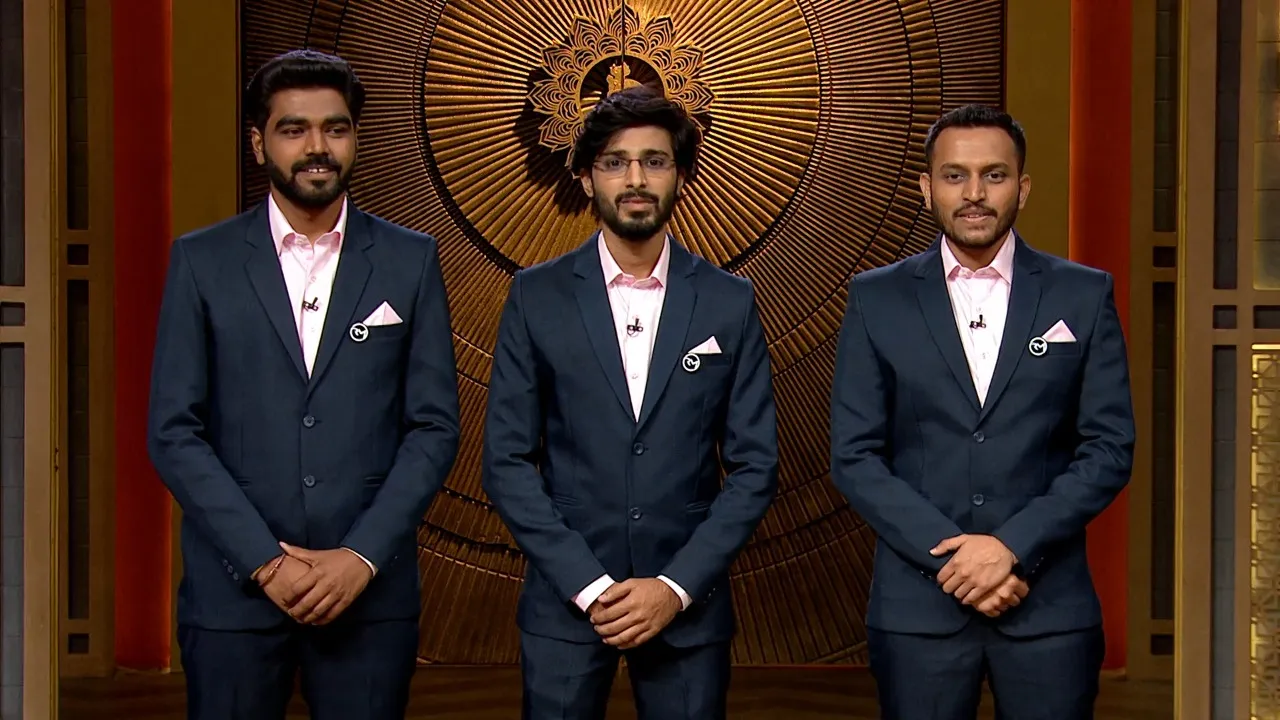 When we were kids, we used to imagine that in the future we will have cars that will work without any fuel, and also the fascinated with flying cars. For flying cars, we still have to wait but guess what? We already have vehicles that run without any fuel which means a step towards a more sustainable future.
Electric vehicles (EVs) provide a way to replace fossil fuels in the transportation industry. Electrification of the transportation sector can also result in better energy efficiency and lower local pollution. 
EVs are a sustainable choice but research has shown that the production of EVs can cause some environmental issues as well. There are legitimate concerns about fulfilling future energy demand for charging EV batteries with clean and renewable sources.
 More critically, the supply risks of essential material resources used in EV batteries highlight the question of the long-term sustainability of EVs. The extraction of some of these material resources is associated with substantial environmental consequences as well as social and ethical concerns.
The EV Ecosystem In India
The automotive industry at a global scale continues to invest substantially in EVs, following in the footsteps of governments and regulators who believe that EVs are the future of passenger vehicles. Volkswagen, for example, said in late 2020 that it expected to spend 73 billion euros ($86 billion) over the following five years on digital and EV technologies.
5 e-mobility and related fields such as autonomous driving features and embedded software would receive nearly half of its investment budget. And now India is also following its footsteps, holding hands with various EV-centric startups.
According to the report by Indiaesa.info, the EV industry in India has acquired substantial traction. Total EV sales in 2018 were 365,920 units, with a CAGR of 36% predicted until 2026. The EV battery market in India is predicted to be worth US$ 520 million in 2018 and is expected to develop at a CAGR of 30% through 2026. The total MWh addition in 2018 was 4.75 GWh, with a projected increase to 28.0 GWh by 2026.
Revamp Moto Overview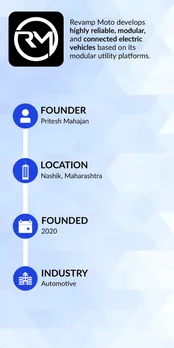 Location: Nashik
Founders: Jayesh Sahebrao Tope, Pritesh Prakash Mahajan, and Pushkaraj Narendra Salunke
Founded: 2020
Revamp Moto says it creates extremely Efficient, Versatile, and Connected Electric Vehicles based on its Modular Utility Platforms. The EV startup's objective is to empower India's hustlers while hastening the transition to a zero-emission society.
Revamp Moto hasn't yet launched its products in the market and is planning to do so this year. The EV startup mainly wants to focus on and cater to the people of the unorganized sector of India like Last-mile delivery businesses, Micro-entrepreneurs, Farmers, etc.
The Inception
Just like any other startup Revamp Moto also had a humble beginning. It was founded in the year 2020 and is headquartered at Nashik in Mumbai. The seed of the idea was sown when the founders met for the first time and clicked.
In 2019, Jayesh began developing basic electric car concepts. He opted to gain some product development expertise and was hired by the Mahindra Group. Pritesh and Pushkaraj, on the other hand, got professional experience in Management and IoT, respectively.
When they met, they were all working on their separate startups. The concept of creating a multi-utility EV bike took off right away. They were able to collaborate and create a vision for Revamp Moto.
Founders Story
They had all previously worked on their own startups and thus were able to cooperate and integrate working together to establish a vision for Revamp Moto in their first meeting.
Each of the three co-founders has a diverse industrial and entrepreneurial background. Jayesh worked on the THAR project (launch team) at Mahindra Nashik and has extensive knowledge of the automotive product development cycle. Aside from that, he previously worked on his firm Vegito farms, which specialised in the agri-tech supply chain.
Pritesh is an IIM Sambalpur alumni who has worked as an assistant vice president at SBI for over three years. He has also previously worked on an online pharmacy firm named Mycarenest. Aside from that, he has managed his family firm, Narmada Udyog, which is involved in the service and maintenance of renewable energy plants.
Pushkaraj brings extensive industry experience in IoT, robotics, and automation. He has travelled across India for his employment while implementing Robotics projects across the country. He has previously worked on his startup, backslashN. It worked on consultancy projects for several of the world's largest automakers.
How Revamp Moto is solving the problems in the EV industry?
The founders noticed that in India most people work in the unorganized sector and they tend to use two-wheelers for their daily commute. Every microentrepreneur in India, whether they are chaiwallahs, idli wallahs, delivery partners, farmers, etc finds it tough to select the perfect bike for their special purpose.
As a result, they end up customising the bike in an unsafe manner, which leads to catastrophic accidents and inefficiency in operation. The bikes they ride are also uneconomical in light of rising fuel prices. Furthermore, present electric mobility solutions lack customizability, have limited space, are durable, and have a restricted range.
Thus, after seeing these problems the founders sat together and brainstormed and brought their brainchild into existence which is yet to be launched in the market.
The brainchild is an all-electric bike with a range of 130-140 kilometres and a payload capacity of 150 kilogrammes. It is a linked car because it is equipped with an IoT telematics unit.
The crazy and unique thing is that the battery not only powers the bike but also have the ability to charge a variety of low-powered equipment, making it a shop on wheels.
It has swappable battery packs and an 0-40 time of 6.7 seconds. The bike is extremely modular and adaptable. Using Revamp Moto's proprietary attachment modules, users may transport crates, milk cans, food delivery bags, parcel bags, large boxes, water cans, and other items. The various modules might be exchanged in a matter of minutes.
Basically, like a lego model the bikes can be customised as per the users' choice by attaching and arranging the module. Thus making it a multipurpose bike used for multiple activities.
Products:
Revamp Moto's purpose is to empower microentrepreneurs in India while also catalysing the transition to a zero-emission society. The creators blew away the sharks with its flagship products, the Revamp Mitra and the RM25, which are electric bikes designed on modular utility platforms that are easily customizable, networked, and dependable.
With their functional accessories, these electric motorcycles enable small-time vendors as well as e-commerce giants to deliver and sell their items with great convenience and comfort while remaining within a reasonable budget.
Bikes built by Revamp comes along with separate accessory modules that can be arranged and attached to the vehicle in a jiffy thus, making it a multipurpose bike. As of now, Revamp has come up with two versatile models :
Revamp Mitra
140-kilometre range
Loading Capacity: 200 kg
Maximum Speed: 65 km/h
Swappable battery (Comes with 2 batteries)
Registration: This is required.
The price range has yet to be announced.
It can be used and monitored with the Revamp app on a mobile device.
The bike can be customised as per requirement and each bike will come with panniers, siderack, backseat, delivery basket, food box, modular shop, and a sturdy multi-purpose folding table.
RM25
70-kilometre range
120 kgs of load capacity
Maximum Speed: 25 km/h Battery: Swappable
Registration is not necessary.
This model will come with a Back rack, base plate, food box, panniers, and a delivery cage. The price is yet to be disclosed.
How It Earns Money?
The startup intends to make revenue in two areas.
1) B2C: Revamp Moto will offer bikes for a one-time fee as well as on a subscription basis. Other revenue streams will include attachment modules and electric low-powered appliances.
2) B2B: Revamp Moto will provide the bike at a one-time set cost or on a subscription basis, whatever best matches their needs and requirements. The startup further intends to generate recurring revenue through the subscription of SAAS technologies.
As per their calculations in the first three fiscal years, the revenue from bike sales would be Rs. 42.4 crores, Rs. 106 crores, and Rs. 212 crores, respectively.
Other revenue streams will include bike and battery subscriptions, SaaS platform subscriptions, sales of accessories and appliances, engineering services, contract manufacturing, and selling indigenously developed components.
Revamp Moto recently closed a pre-seed round of funding from Shark Tank India, venture capital funds, government organizations, and famous angel investors. And the EV business is eager to meet with investors for its Seed round, which is set to take place in March 2022.
Competition
TVS super xl:
The TVS XL Super is the smallest two-stroke model in the XL lineup. The XL Super, positioned as the most affordable two-wheeler, is primarily used by commercial establishments.
TVS is the only manufacturer in the country that still manufactures mopeds. The TVS Heavy Duty Super XL is the last of the vanishing species of two-stroke mopeds. Mopeds were formerly quite popular in India, but sales have steadily fallen over the years, and they are now largely offered in the country's rural marketplaces.
The TVS Heavy Duty Super XL is a heavy-duty, dependable, and trouble-free moped aimed at the rural market. Users in communities require a low-maintenance form of transportation.
Hero NYX:
Hero Electric NYX is an electric scooter that starts at Rs. 67,432 in India. It is only available in one variant and two colors. The motor in the Hero Electric NYX produces 250 W of power. Hero Electric NYX has both front and rear drum brakes, resulting in a combined braking system for both wheels.
Achievements
Revamp Moto recently pitched itself at the Shark Tank India. The startup raised Rs 1 crore on Shark Tank India, presenting India's first Modular Utility Electric Vehicles. Aman Gupta, Co-Founder of BOAT, and Anupam Mittal, Founder & CEO of People Group contributed to the financing.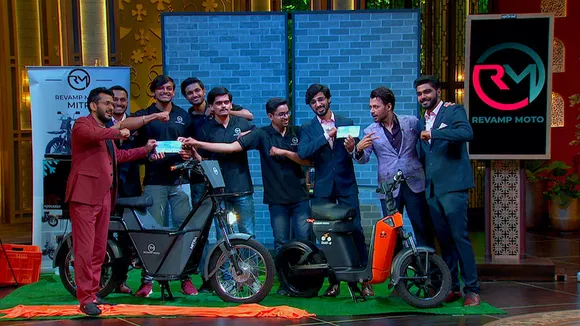 "We are fortunate to have investors that are aligned with our vision to empower society with adaptive and sustainable change.

Pritesh Prakash Mahajan
"Our mission is to impact 1 Million lives in the next 5 years and we're most happy to have the support of our investors in doing so," Pritesh adds.
The founders told they always loved and were inspired by Shark Tank US so when they got the chance to pitch their startup they were beyond grateful and ecstatic. Revamp Moto has been able to interact with a large number of people who believe in their purpose and vision all thanks to Shark Tank.
Shark Tank India has assisted Revamp Moto in presenting itself to all potential clients. People now understand their offerings considerably better, which has resulted in a 2X increase in growth for the EV startup.
"We are very excited to have Aman and Anupam as investors in Revamp Moto. Aman has made boAt into such a legendary brand in a very short period of time and Anupam is a pioneer in the online space with platforms like Shaadi.com. We believe with their network and expertise in building powerful homegrown brands, we'll be able to scale our distribution and build our brand across India." said Jayesh Sahebrao Tope, Co-founder, Revamp Moto.
Future of Revamp Moto
Revamp moto wants to focus and cater towards the people who work in the unorganised sector in the country. The EV startup wants to impact 1 million lives in the next 5 years.
Revamp Moto plans to become the largest automotive brand focussed on building vehicles for commercial applications. The future is luminous for the startup because it is based on two good missions one to aid the people working in the unorganised sector with their daily commute and the other one is to create a safe zero-emission environment by reducing the use of fossil fuels thus making the world a more sustainable place.
Also Read:
Follow IndianStartupNews on Facebook, Instagram, Twitter for the latest updates from the startup ecosystem.