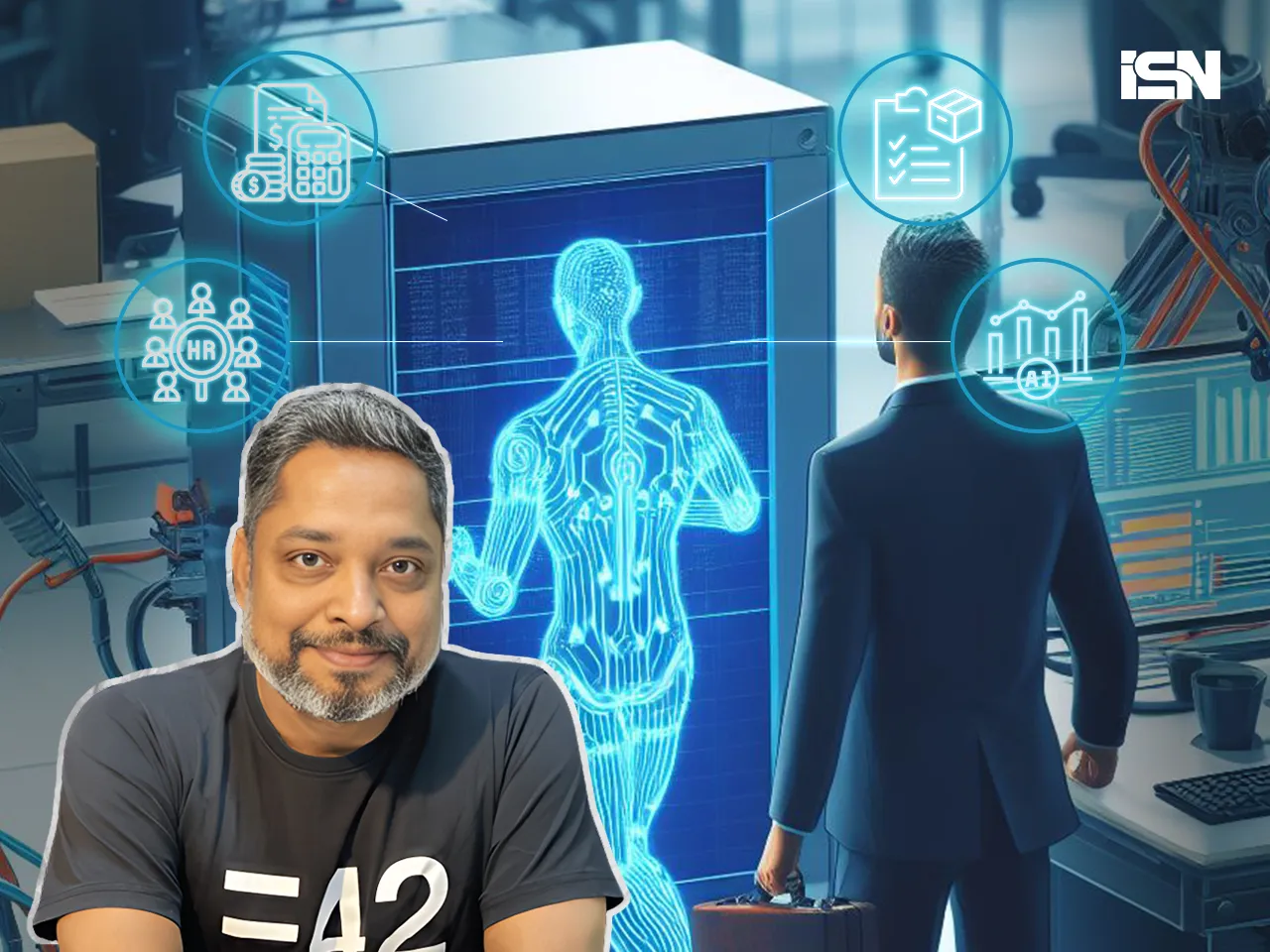 In today's fast-changing business world, companies need to operate efficiently to stay competitive. However, many core processes still depend on slow, mistake-prone manual work. Pune-based startup e42.ai provides a solution - their intelligent automation platform creates AI "coworkers" to take over tedious tasks, making enterprises smarter.
Enabling businesses to build AI workers
Most large companies rely heavily on data to run operations. However, extracting insights from data is difficult with outdated manual processes. Doing repetitive work by hand, like data entry, document processing, responding to queries, etc., takes up employee time and leads to mistakes.
Animesh Samuel and Sanjeev Menon realised intelligent automation could transform these inefficient workflows. The duo launched e42.ai, a startup that has developed a platform that allows for the building of AI co-workers through cognitive process automation (CPA), streamlining various enterprise processes.
The founders' vision
Animesh and Sanjeev make a strong leadership pair with complementary skill sets. Animesh brings over 23 years of experience building AI and cloud products for global giants like Microsoft. Sanjeev is an R&D expert with 25 years of work in fields like natural language processing and machine learning.
The startup's team includes industry leaders like Srikanth Tanikella, Jaya Mahajanam, Wasim Karani, Vikrant Karande, and Swanand Khaladkar.

"We saw businesses needed smarter systems, not just basic automation. Our bots act like virtual coworkers understanding context, reasoning, and communicating naturally with human teammates," explains Animesh. "Our goal is to make every enterprise intelligent with AI workers augmenting human abilities."
Smarter bots that can converse
A major differentiator for e42.ai is its focus on building bots that can hold intelligent conversations using natural language, unlike most process automation that follows rigid rules.
e42's virtual assistants incorporate sophisticated NLP and machine learning algorithms to understand natural language, interpret requests correctly and respond appropriately. The bots can extract context and meaning from conversations to execute the right workflow actions.
For example, when processing a customer query, the bot can analyse the ticket history and specifics of the issue based on the dialogue. It provides the most relevant resolution or gathers additional information seamlessly through conversational back and forth.
E42's bots also display cognitive skills like reasoning, perception and dynamic learning, which are typically human capabilities. The assistants can make logical inferences to solve problems. As they handle more transactions, the bots continuously improve their domain knowledge and language processing skills with mechanisms like transfer learning.
These AI coworkers automate a wide range of enterprise tasks by working 24/7. They take over high-volume repetitive jobs like processing customer/employee requests, generating insights from data trends, completing financial reports, managing HR notifications, updating inventory records, etc.
By automating these tedious functions round the clock, e42's conversational bots enable human employees to focus their time on creative, strategic priorities like developing new products, improving customer experiences and building workplace culture.
Notably, Its human-like AI solutions have earned prestigious awards from Microsoft and Oracle. 
Use cases across industries
e42.ai caters to a diverse enterprise client base spanning banking, insurance, pharmaceuticals, auto manufacturing and more. The startup claims that leading private banks like ICICI HDFC and insurers like Bajaj Allianz use their solutions to drive intelligent automation.
For banks, e42 built AI chatbots managing IT service desk tickets, quickly resolving repetitive tech queries. Additionally, A pharmaceutical firm uses e42's AI to monitor social media for adverse drug reactions and alert safety teams. A major insurer automated policy document processing using e42's AI agents.
A key priority for this startup is to make AI and automation accessible even to employees without a technical background. Interstingly, Its user-friendly no-code platform allows anyone to build customized AI bots for business process automation through an intuitive drag-and-drop interface.
The platform also provides pre-built frameworks and templates so users don't need to code models from scratch. Someone from the HR team can easily train a bot on sample employee data to automate tasks like leave approval, onboarding, generating offer letters, etc.
Subject matter experts can use interactive visual tools to map out the end-to-end workflow and dialogue steps. The bot can be regularly trained by HR on new policies or requirements using example conversational scenarios.
As the bot handles real employee requests, it continuously improves its language processing and ability to execute appropriate responses. Techniques like transfer learning help quickly ramp up bots even with limited training data.
Easy-to-understand performance metrics provide visibility into the bot's accuracy, such as query resolution rate. This enables teams to identify areas for improvement and retrain the models.
With this user-centric approach, e42.ai is focused on unlocking automation for domains beyond IT, like HR, customer service, finance, etc. 
Rapid growth fueled by funding
Since its launch in 2019, e42.ai has expanded rapidly, acquiring over 50 major enterprise customers across geographies within a few years. The profitable startup has leading banks, insurers and pharmaceutical companies as clients.
In October 2021, It raised $5.4 million in funding from investors like Pavestone Ventures with the aim of scaling the presence of its automation platform capabilities and the pace of developing virtual assistants.
The startup is exploring integrating next-generation technologies such as computer vision, voice interfaces, and blockchain into its bots to enable multi-channel interaction, including handling customer inquiries through phone calls or mobile apps in addition to text-based channels. 
Additionally, it invests in pre-built solutions specifically designed for various sectors such as manufacturing and healthcare. It is also accelerating its regional expansion with plans to develop multilingual bots that support global customers in their local languages.
Conclusion
AI startups are transforming workplace automation by creating customizable and conversational AI agents tailored for complex business processes. The startup's no-code platform enables easy adoption across functions. With innovative technology and a vision, this startup is paving its way in building an automated yet humanised future of work powered by AI.