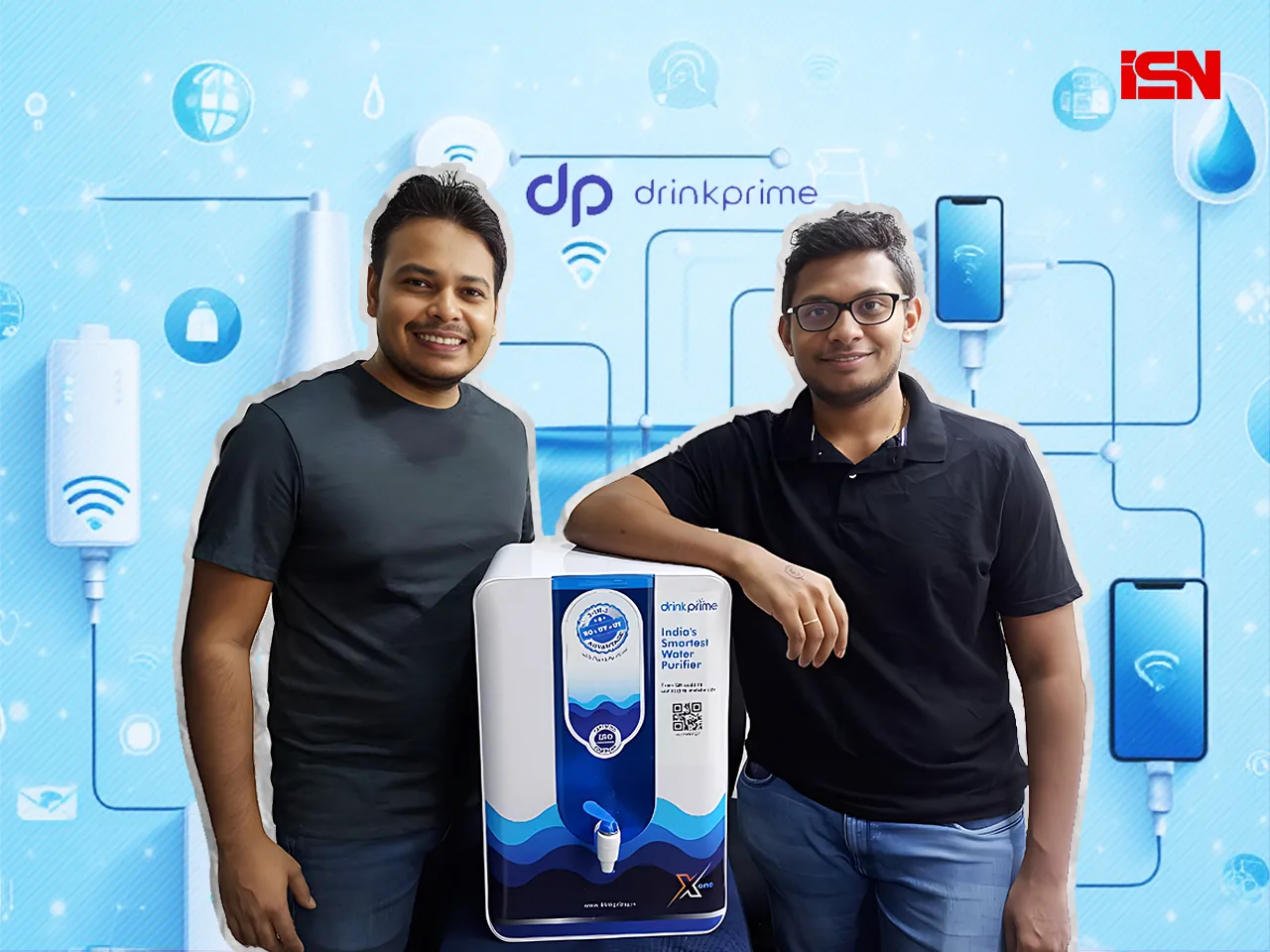 Access to clean, potable water remains an ongoing struggle for millions of households across India. According to a report by water.org, data shows that out of India's population of 1.3 billion people, 91 million (6% of the population) lack access to safe water.
Contamination, floating particles in cans, and unreliable vendors make the daily search for safe drinking water fraught with challenges. DrinkPrime is tackling this crisis head-on through an innovative subscription model for purified water delivery.
Identifying the Need
The seed for DrinkPrime was planted when roommates Vijender Reddy Muthyala and Manas Ranjan Hota experienced firsthand the frustration of delayed and irregular water can deliveries. This prompted them to look deeper into the quality and reliability of existing drinking water suppliers.
Their survey revealed that 8 out of 10 water cans failed to meet safety standards, containing unacceptable contamination levels. Especially for middle-class families in India, traditional water purifiers were unaffordable.
Vijender brought technical expertise as a senior developer adept at designing solutions. Manas, with a background in marketing, understood the consumer psyche and observed widespread reluctance among his peers to adopt water purifiers due to cost concerns and a lack of trust in available options. These shared experiences led them to delve deeper into the issue of water quality and accessibility.
Their shared experiences living together, coupled with the desire to solve a real-world problem, motivated them to create an accessible, technology-enabled platform for safe drinking water. They envisioned a company that would not only provide high-quality water purifiers but also offer a seamless customer experience, from installation to maintenance. This led to the start of DrinkPrime.
The Idea of the Subscription Model
The startup idea was born from the need to make safe water affordable and available to all through a subscription model. This pay-as-you-go approach meant no large upfront investment for a purifier, just a small monthly fee based on usage and family size.
The founders spent time designing flexible subscription plans tailored for individual households and couples, all the way up to large families. Their Solo, Couple, Family, and Unlimited plans provide customized and budget-friendly access to purified water.
Along with cost-effective plans, they offer free delivery, installation, and maintenance throughout the purifier's life, annual filter replacements, and even relocation services when subscribers move. This unprecedented level of service sets a new benchmark for the 30-year-old water purifier industry.
For subscribers, it means no more hassles tracking filter conditions or calling repair personnel. DrinkPrime proactively monitors systems and schedules servicing based on actual usage. Customers can relax knowing their water supply is taken care of. The peace of mind and convenience lead to remarkable satisfaction and retention rates.
Advanced Technology for Timely Supply
The startup utilizes cutting-edge IoT, AI, and machine learning to monitor real-time water quality. Purifier sensors detect TDS levels and alert DrinkPrime to schedule maintenance checks and deliver fresh filters proactively when needed. This preventative servicing ensures customers consistently receive clean water.
Their mobile app provides full system visibility and immediately detects leaks or outages through smart algorithms. DrinkPrime deploys automated supply chain technologies for inventory management. This enables quick dispatch and delivery with industry-leading SLAs.
The founding duo knows that for a water company, timely supply is paramount. Even a single day's delay betrays customer trust. They continually optimize the drinking water experience across purifier design, mobile interface, delivery infrastructure, and support channels.
Standing apart in the market
DrinkPrime stands apart from traditional water suppliers through four key differentiators:
Mission-driven rather than profit-focused, DrinkPrime measures success by lives impacted and regularly launches social initiatives like #DonateWithDrinkPrime to expand access.
As a founder-led direct-to-consumer brand, DrinkPrime has greater ownership over brand, product, innovation, and the end-user relationship, enabling greater agility and customer-centricity.
DrinkPrime purifiers are customized based on the local water profile using proprietary IoT and machine learning technology, a unique hyperlocal approach.
The subscription model makes it affordable to millions who cannot pay a lump sum for a purifier, setting them apart with this innovative approach to financing.
Major milestones on the startup journey
In its 7 years since inception, DrinkPrime has achieved noteworthy milestones:
Serving over 100,000 households across metros, including top hospitals and schools.
Attaining profitability and becoming EBITDA-positive.
Recognition among Asia's top innovative companies by FastCompany.
Awarded as a Challenger Brand by YourStory.
Garnering funding from marquee institutional investors like Sequoia Capital.
DrinkPrime has raised over Rs 77 crore in funding from marquee investors to fuel its growth plans. In 2017, the startup raised angel funding, which helped set up operations and product development. It is also in the process of raising Series B to fuel its further expansion plans.