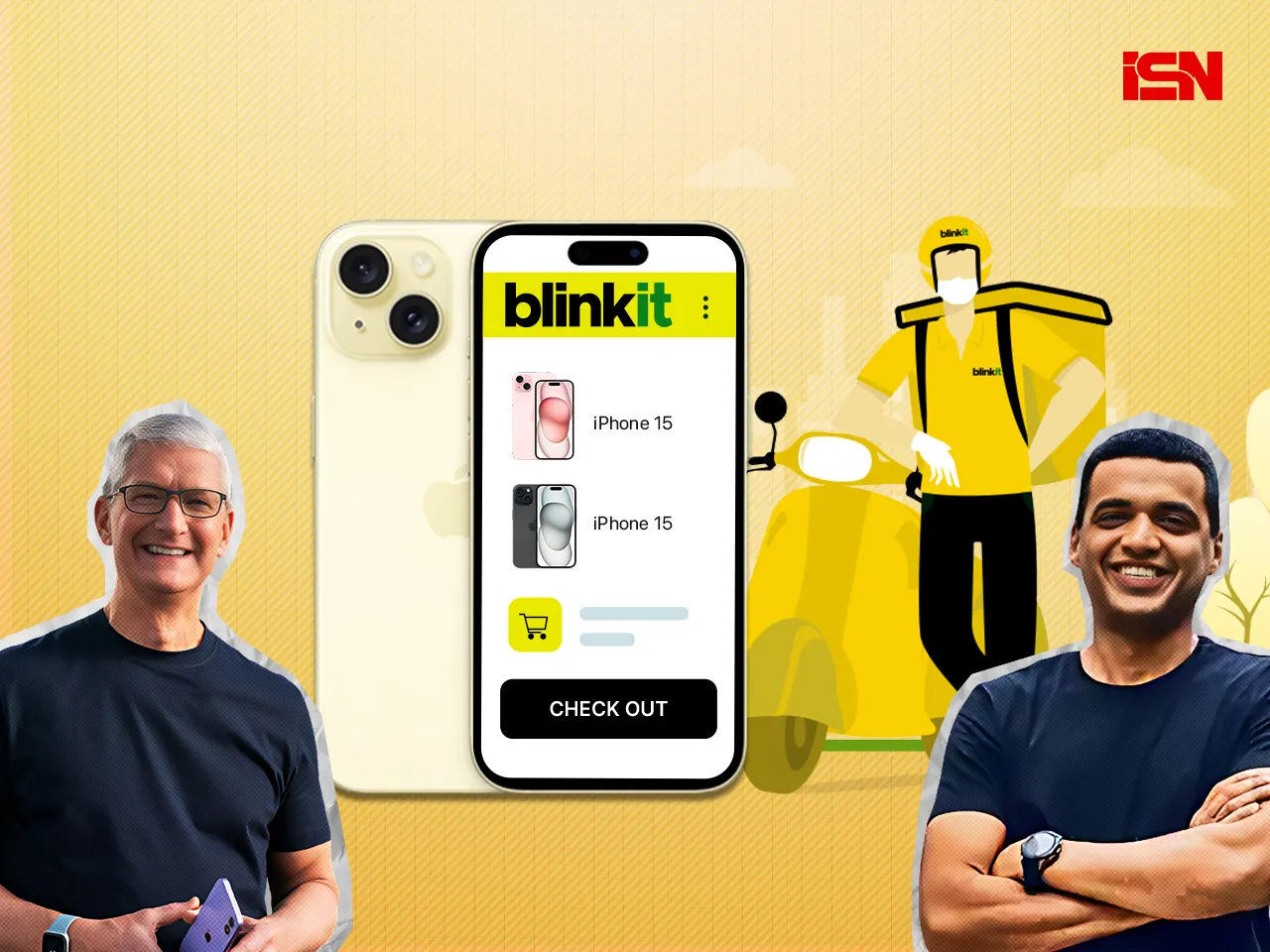 US-based Apple has recently launched its new iPhone 15 series at the 'Wonderlust' launch event on September 12. The series includes four models: iPhone 15, iPhone 15 Plus, iPhone 15 Pro, and iPhone 15 Pro Max, each boasting aesthetic enhancements and substantial hardware upgrades, such as a new 48 MP lens camera.
Alongside, Apple also launched the Apple Watch Series 9, Ultra 2, and the new AirPods Pro with USB-C functionality.
Blinkit to deliver iPhone 15 in 10 minutes
Zomato-owned quick commerce delivery platform Blinkit has partnered with Unicorn, a premium Apple reseller, to deliver the newly launched iPhone 15 and iPhone 15 Plus to customers in Delhi NCR, Mumbai, Pune, and Bangalore within just 10 minutes. 
The partnership would allow Apple iPhone buyers to receive the newly launched iPhone 15 almost instantly at their doorsteps, as stated by Albinder Dhindsa, Co-Founder and CEO of Blinkit.
The all-new iPhone 15 is now available on Blinkit!

We've partnered with @UnicornAPR again to make this a reality for Blinkit customers in Delhi NCR, Mumbai & Pune (for now).

Super proud of the platform that can put the new iPhone in your hands on launch day in 10 minutes!💛 pic.twitter.com/QTFYkJ2nFL

— Albinder Dhindsa (@albinder) September 22, 2023
"We are thrilled to partner with Unicorn APR this year as well to deliver iPhone 15 within minutes! This unique association is global first and we are certain this will lead to pure joy for our customers who appreciate the convenience of getting highly anticipated products delivered to their doorstep, almost instantly", said Albinder Dhindsa, Co-Founder and CEO of Blinkit.
How much does the iPhone 15 cost on Blinkit?
The pricing for the new iPhone models in India starts at Rs 79,900 for the 128GB iPhone 15 model, with the iPhone 15 Pro Max going up to Rs 1,99,900.
Customers can choose from five colour options: Blue, Pink, Yellow, Green, and Black, and avail various offers, including no-cost EMI, low-cost EMI, and cashback up to Rs 5,000 on eligible HDFC cards through the Blinkit platform.
This isn't the first time Blinkit and Unicorn have partnered. Earlier, They collaborated for the launch of the iPhone 14 and iPhone 14 Pro last year to deliver the iPhone 14 to customers' doorstep.
The ease of ordering through the Blinkit app, coupled with the promise of quick delivery, is poised to redefine the customer experience, eliminating the need for long queues or constant browser refreshing, Blinkit said in a statement.
Quick commerce sector in India
Quick-commerce has emerged as a game changer in India by finding the right level of balance between delivery promise time and availability of resources. The Quick-commerce model consists of a mother hub, distribution centre, and last-mile delivery stores playing a major role in providing its service to customers.
According to a Statista report, The Quick Commerce sector is anticipated to see substantial growth in the coming years. It is projected that by 2023, revenue in this segment will reach US$1,578.00 million. This growth is not a fleeting trend, as revenue is expected to continue to grow at an annual rate of 49.52% from 2023 to 2027. By 2027, the market volume is predicted to be US$7,886.00 million.
In terms of user numbers in the Quick Commerce segment, it is anticipated that by 2027, there will be 52.1 million users. User penetration, which will be at 0.9% in 2023, is expected to reach 3.5% by 2027. The average revenue per user (ARPU) is projected to be US$117.70.
When viewed globally, China is expected to generate the most revenue in this sector, with projections reaching US$67,290.00 million in 2023. This indicates the growing significance and potential profitability of the Quick Commerce sector worldwide, with particular emphasis on the booming market in China.
Also Read: