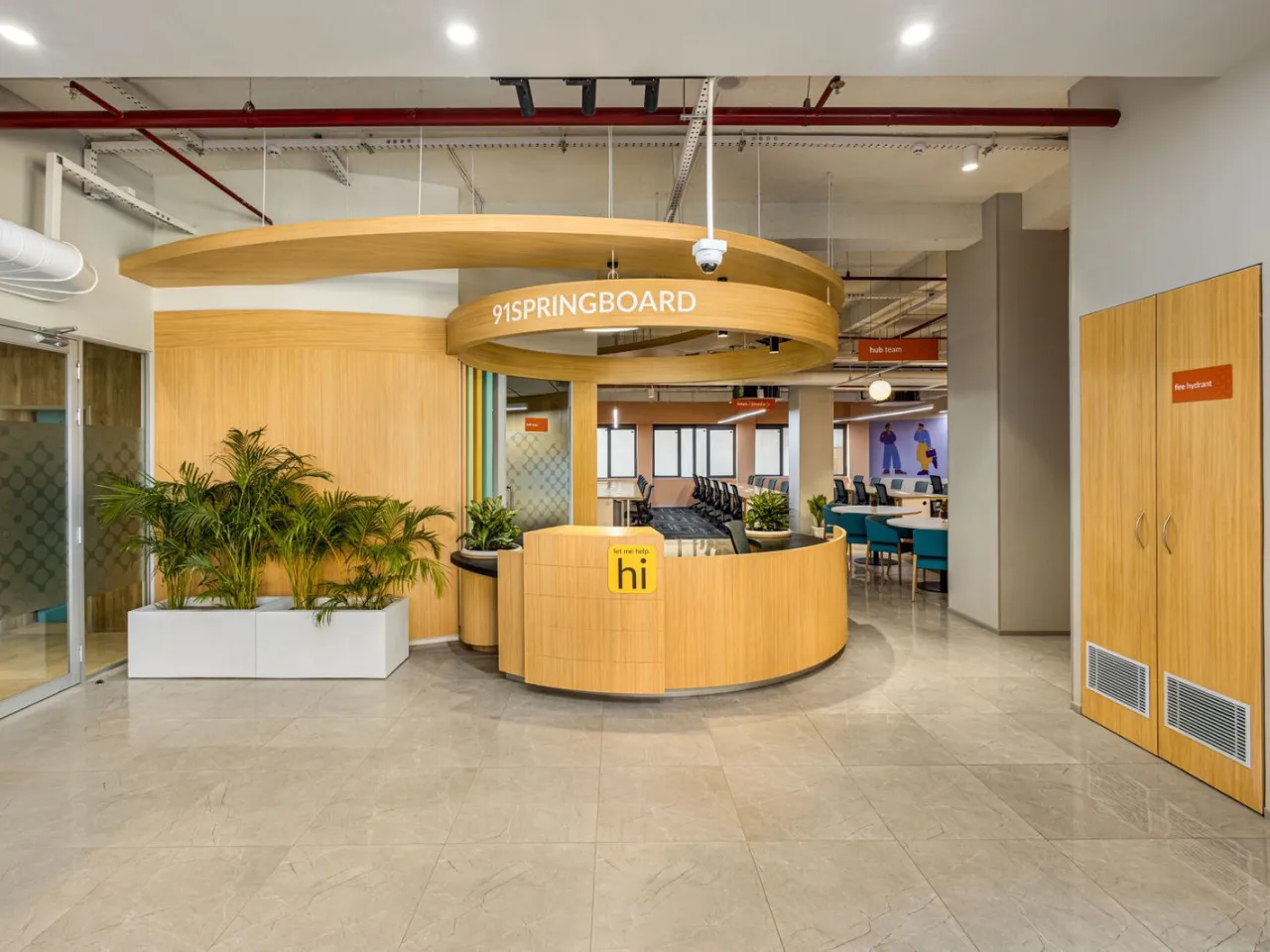 91Springboard, India's leading provider of coworking spaces, has announced the opening of its newest hub, a 1000+ seater Platinum hub at 21B Udyog Vihar, in Gurugram. The coworking space spans 40,000 square feet and is designed to meet the growing demand for luxurious and efficient workspaces in the area.
Located in Gurugram, the Platinum hub is 91Springboard's fourth hub in the city, joining existing spaces in Sector 44, Vatika Triangle (MG Road), and Udyog Vihar. The company's expansion in Gurugram reflects the increasing demand for coworking spaces in the region, driven by the growing population of startups and entrepreneurs.
91Springboard's 21B Platinum hub offers a range of flexible options for startups, small and large companies, and freelancers, with monthly membership ranging from Rs 10,200 to Rs 12,000.
The coworking space is equipped with ergonomic tables and chairs, meeting rooms, a cafeteria, and lounges designed to enhance productivity and creativity.
The ultra-modern coworking space is situated in an innovative and contemporary building that incorporates curves and undulating shapes into its design, creating a fluid and dynamic visual effect. It also creates a sense of movement and energy, which helps it stand out in this urban environment.
The hub sprawls over two floors and offers state-of-the-art facilities like soundproof cabins, LED lighting, visually pleasing colour schemes, brighter, innovative ventilation, and open spaces for smooth mobility. These features echo the brand's promise to deliver a superior workplace experience to its members.
Anand Vemuri, CEO and Co-Founder of 91Springboard, said, "Our goal is to create spaces that inspire innovation and foster collaboration, and we are thrilled to bring our latest Platinum Hub to Gurugram. We are constantly looking for ways to offer more value to our members and are committed to providing them with an unparalleled workplace experience."
The 21B Platinum hub is located 10 mins from Sikanderpur metro station and 6 mins away from DLF Phase II (Block L) bus station, providing easy accessibility to its members. The hub has direct accessibility from the NH8 motorway via a recently created entrance that opens immediately next to the new co-working space, allowing members an easy commute.
With the opening of the Platinum Hub, 91Springboard now offers over 20,000 desks across 8 cities in India.
Also Read: