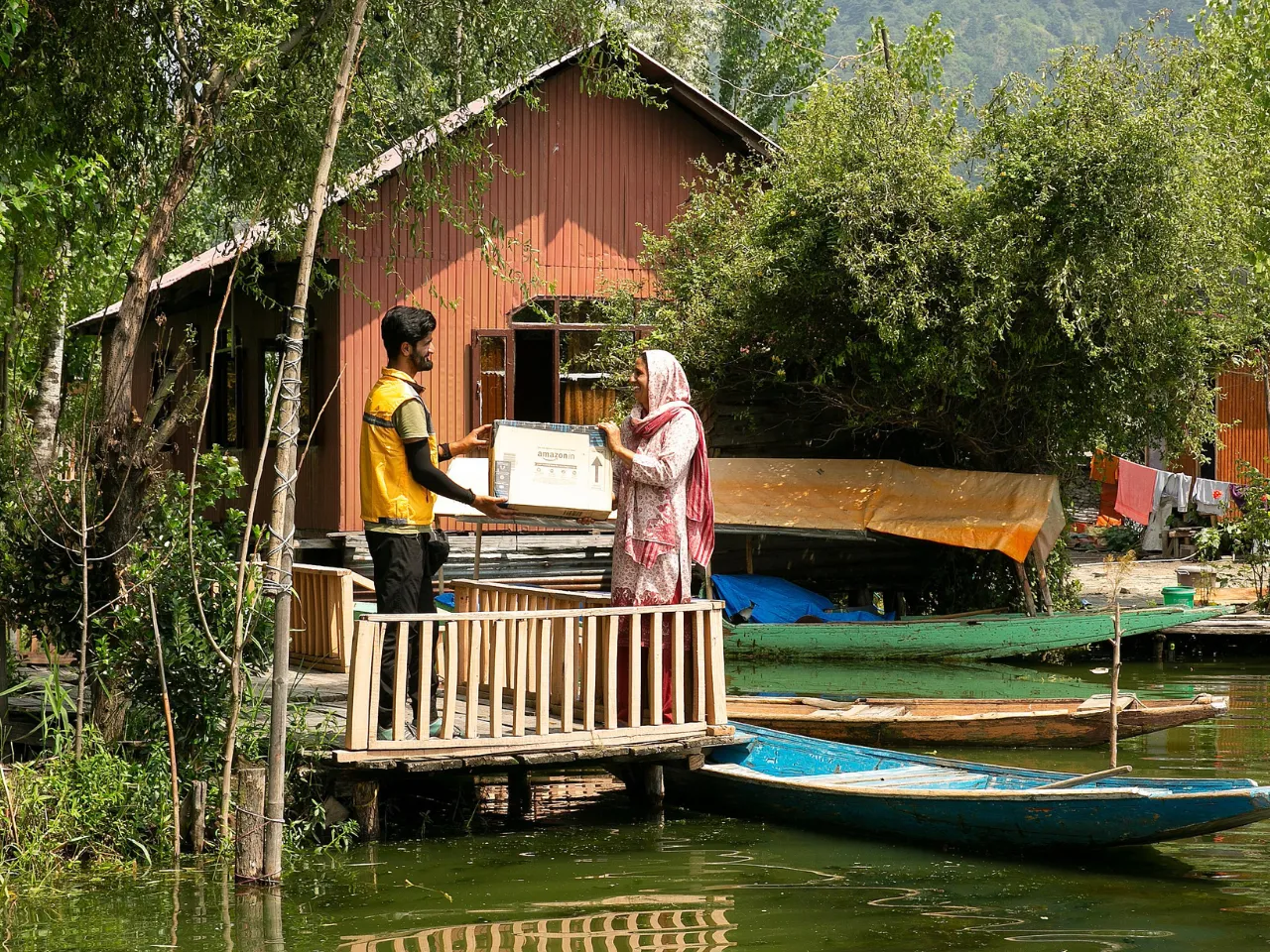 Ecommerce giant Amazon India has announced the launch of its first floating store in Srinagar's Dal Lake as part of its 'I have space' programme.
Through 'I Have Space', Amazon partners with local stores and business owners to deliver products to customers within a 2-4 kilometres radius of their store, enabling them to earn additional income.
Launched in 2015, The company claimed that it has more than 28,000 neighbourhood and kirana partners in close to 420 towns and cities across its network in the country.
Announcing the launch, Amazon shared an image of the floating store as it wrote, "We have onboarded the first ever floating 'I Have Space' Store on the Dal Lake, Srinagar. With this store, we will further expand our delivery network while enabling small businesses to earn additional income."
"I have always relied on Amazon's reliable delivery over the last three years. While my orders have always been delivered on time, I had to embark on a journey by using my own shikara towards the Ghat no. 7 at Dal Lake to receive the package," said Burhan Farooq.
"It used to be a time-consuming process that called for careful planning to ensure orders are not missed. But things changed swiftly when Amazon India onboarded a floating 'I Have Space' store in June. "This development has made my life so convenient. I no longer need to trek to Ghat no. 7. Amazon's 'I Have Space' Partner, Murtaza ensures that my packages are brought directly to the doorstep of my houseboat," Farooq added.
"While I have a houseboat as my primary business, it only brings in seasonal income with the inflow of tourists in Srinagar. However, the cost of managing the houseboat is very high, which has made it very difficult for our family. In order to address the increasing expenses, I began looking for additional income opportunities," said Murtaza Khan Kashi, Houseboat owner and 'I Have Space' partner.
Karuna Shankar Pande, Director of Amazon Logistics, India, says, "We are thrilled to onboard India's first floating 'I Have Space' store on Dal Lake, Srinagar. This will enable us to provide customers across Dal Lake and Nigeen Lake with reliable, efficient, and fast deliveries."
Also Read: