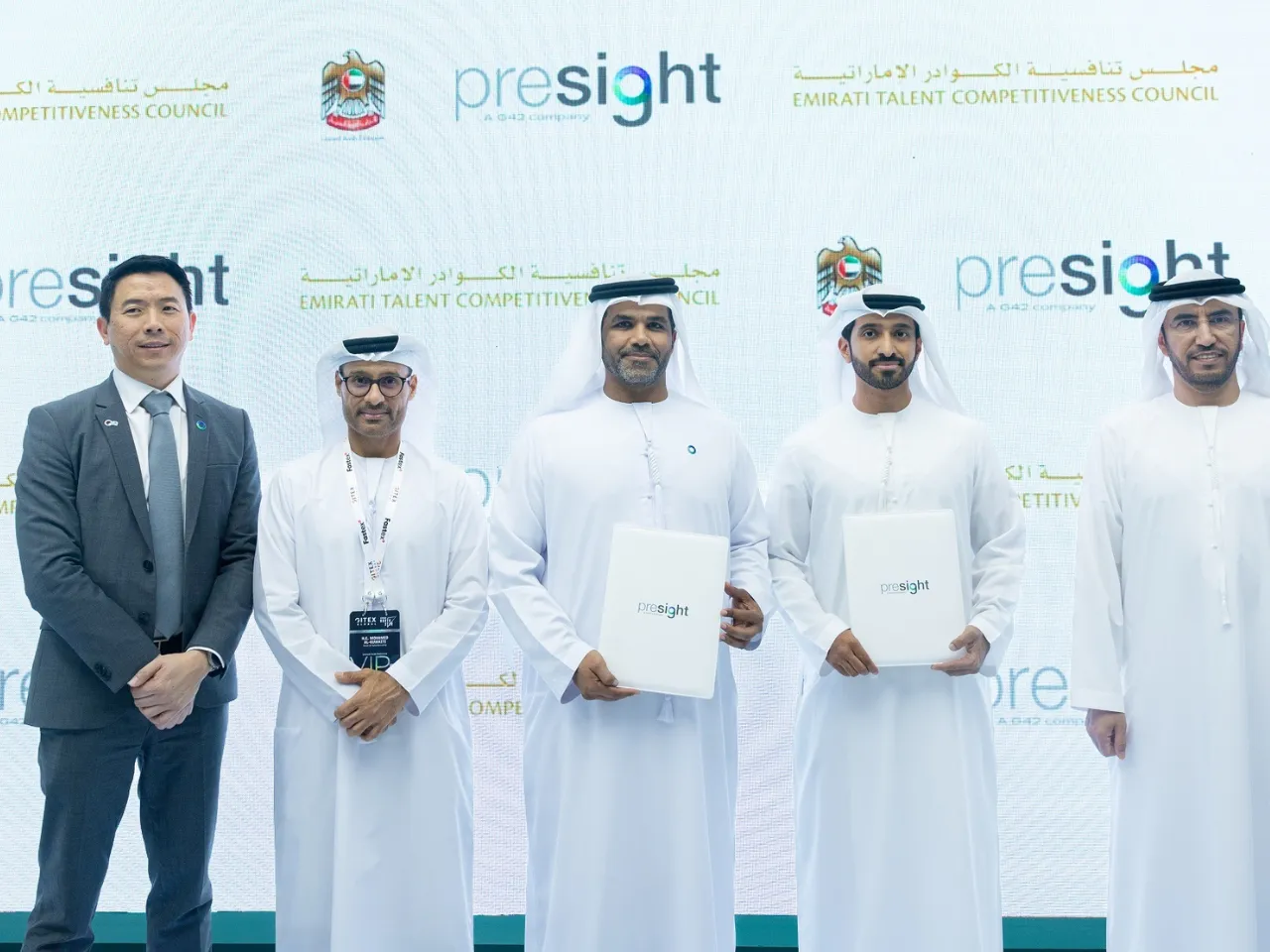 The Emirati Talent Competitiveness Council (ETCC) has announced the partnership with Presight, the region's leading big data analytics company powered by generative artificial intelligence (GenAI), during GITEX Global 2023.
Creating a data platform for the Emirati workforce
Under this partnership, Presight will create a single, easy-to-use, comprehensive, and holistic data platform for the Emirati workforce for ETCC that will integrate multiple large sets of workforce data, combined with advanced AI analytics to predict trends and make forecasts across various labour market areas.
According to the company's statement, The platform will include predictive analytics and forecasting integrated into ETCC systems, to enable insights that are focused on identifying market demand and improving the skillsets of the Emirati workforce. This will enable ETCC to identify specific areas to develop partnerships and initiatives with an aim to increase employment opportunities in specialized and technical roles.
Gitex 2023
The partnership was signed during Gitex 2023 between Mohamed Al Alawi, Research & Studies Director, ETCC and Dr Adel Alsharji, Chief Operating Officer, Presight, in the presence of H.E. Dr Mohamed Al Kuwaiti, Head of Cyber Security, UAE Government, H.E. Ghannam Al Mazrouei, Secretary General, ETCC and Thomas Pramotedham, CEO of Presight.
"Through this partnership with Presight, we will work to enhance the ETCC's digital infrastructure and AI capabilities, with the aim of gaining insight into and adapting the specialties of the Emirati workforce in the private sector by utilizing big data analysis to measure supply and demand, which would contribute to forecasting the future about the available opportunities, skills and competencies required," said H.E. Ghannam Al Mazroui – Secretary General of Emirati Talent Competitiveness Council.

Al Mazrouei added, "Under this partnership, a comprehensive and user-friendly data platform will be created for the Emirati workforce to help analyze labor market trends in the near future to enhance the decision-making process based on data analysis to increase job opportunities and fulfill the training needs of our youth so that they are fully prepared to contribute to the national economy."
The partnership is aimed at strengthening the UAE's socio-economic structure through strategic national initiatives and technological advancements.
What does Presight do?
Presight, an ADX-listed is the region's leading big data analytics company powered by Artificial Intelligence ("AI"). It combines big data, analytics, and AI expertise to serve every sector, of every scale, to create business and positive societal impact.
With its world-class computer vision, AI and omni-analytics platform as its engine, Presight excels at all-source data interpretation to support insight-driven decision-making that shapes policy and creates safer, healthier, happier, and more sustainable societies.
Also Read: