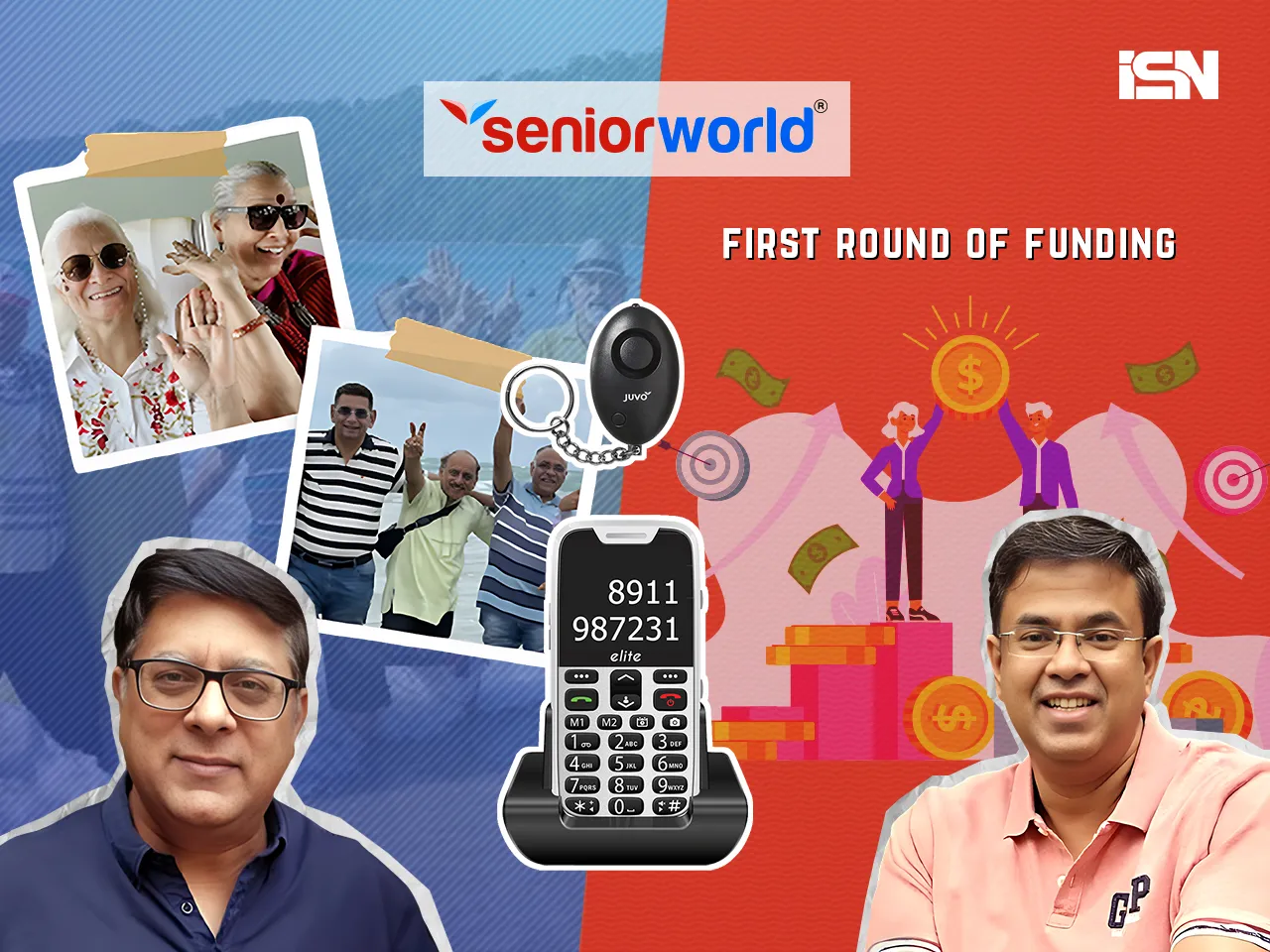 In a nation where the elderly population is soaring, reaching approximately 138 million in 2021 and expected to increase by 56 million by 2031, the need for products and services catering to senior citizens is getting more crucial than ever.
Recognizing the growing needs of this demographic, several companies have emerged in the age-tech market, focusing on enhancing the lives of the elderly. 
Among them is SeniorWorld, founded in 2014 by Rahul Gupta and MP Deepu, aiming to help seniors live active and independent lives by offering a diverse range of products and services.
How does it work?
SeniorWorld provides a variety of solutions designed specifically for the elderly. The startup offers products like Easyfone, a user-friendly phone equipped with features such as location and health monitoring and an SOS button, and Juvo Safety, a range of safety and alarm devices designed to reduce the risk of injury. 
Additionally, SeniorWorld provides SilverWings Holidays, offering assisted and customizable travel plans predominantly focusing on international packages, and the SilverWings app, a platform emphasizing the growth of its online community for seniors. 
The startup has organized numerous offline and virtual meetups, featuring activities like games, light yoga, and dance classes, fostering mental and physical enrichment. SeniorWorld claims to have built a community of 10,000 active members from over 1,000 pin codes across the country, with 20% based out of Delhi. While the startup is bootstrapped, It's in the midst of securing its first round of funding with plans of closing it before the end of this financial year.
"We hold a fundamental belief that forms the core of our mission. It's not just a perspective; it's our driving force. We believe that 60 is the new 40 and we are committed to fostering communities that help like-minded Seniors connect, while also providing them with tools and resources to live life to the fullest. It's not just how long they are living, but also how they are living that's changing. More and more families are going nuclear," the founders said.
"Seniors are therefore increasingly staying away from their children. Technology and the internet have never been as important as they are today, in keeping families connected. While these changes are making some Seniors more vulnerable and hesitant, they are also opening doors for others who are reclaiming their retirement to 'refire' – carving out active retired lives, pursuing passions they never had time for earlier, travelling and contributing to society," they added.
How SeniorWings is enabling social engagement for seniors?
The SilverWings app, developed by SeniorWorld, aims to enhance social engagement for seniors, offering a platform where they can connect, share, and learn.
Rahul Gupta, the CEO and Co-Founder of SeniorWorld, explains that the app is designed to empower seniors to live fulfilling lives and inspire others, based on feedback from their extensive senior community on Facebook.
"With SilverWings, we aspire to give our beloved elders the wings to soar even higher and live their lives to the fullest - inspiring each other and younger generations along the way. The app has been designed based on the feedback received from our three lakh plus seniors community on Facebook, which has one of the highest engagement scores among all FB communities," Rahul said.
The app offers daily content, allowing seniors to share and discuss their views and experiences, and connect with others who have similar interests, whether it be music, poetry, hobbies, or travel. It also provides special classes to help seniors learn new tech skills, explore new hobbies, and even organize events to showcase their talents. Group vacations are also organized for seniors with similar interests.
SilverWings also focuses on health and wellness, offering daily fitness and meditation sessions, live talks with doctors, and informative articles on health. It allows seniors to set medicine reminders and monitor their vitals.
For safety, it features a digital SOS button, sending distress messages to emergency contacts with crucial information like GPS location and medical history, ensuring help is received promptly.
Also Read: