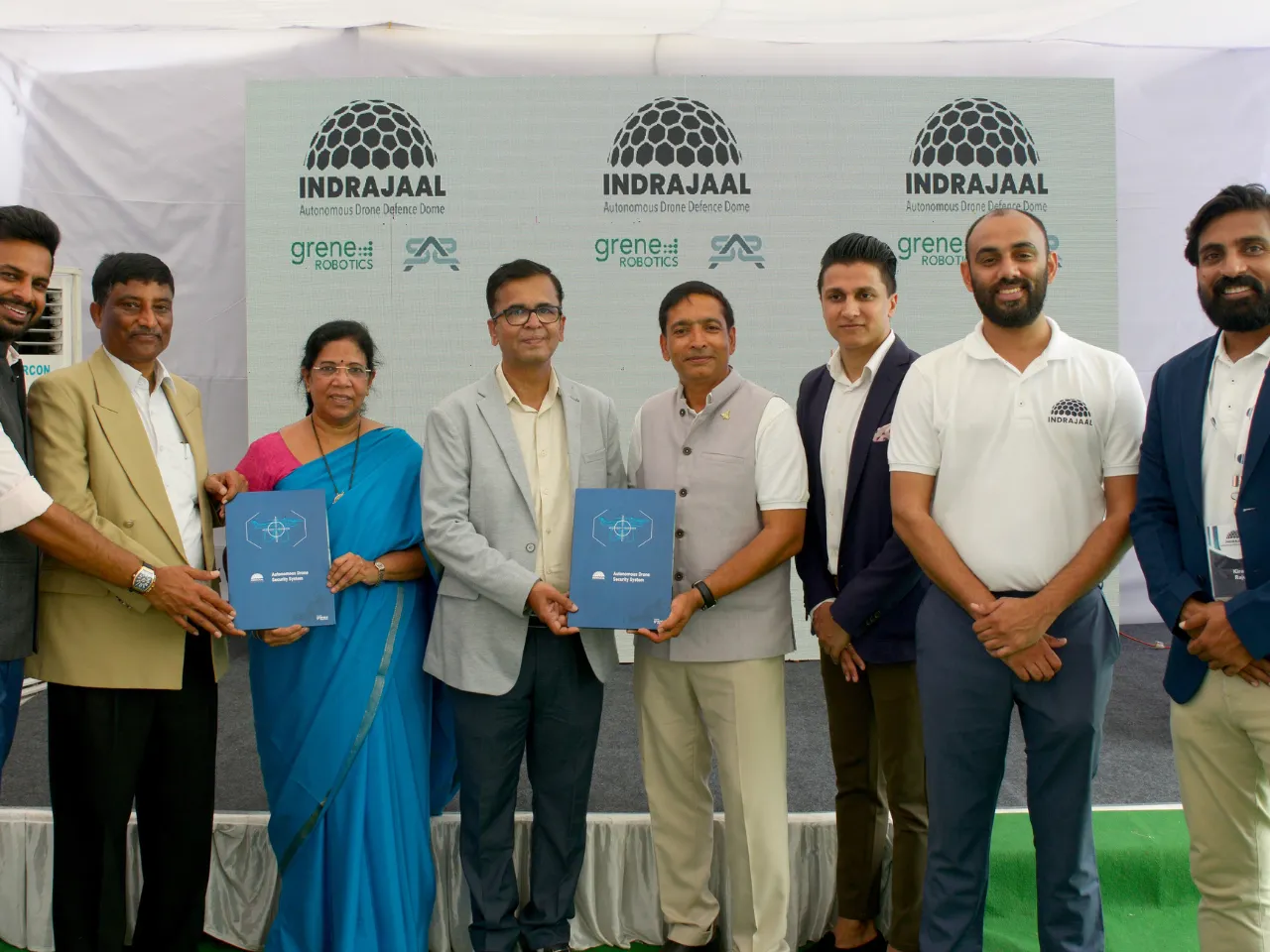 Indrajaal, an autonomous wide-area anti-drone and Counter-Unmanned Aircraft Solutions company, today said it has entered into a strategic manufacturing partnership with Sigma Advanced Systems (SAS), a defence technology manufacturer.
What is the aim of the partnership?
According to the company's statement, The partnership aims to enhance the indigenous manufacturing capabilities of anti-drone defence systems in India, addressing the growing need for homegrown solutions to counter emerging drone-related security challenges.
"We are thrilled to embark on this journey with Sigma that provides world-class products and services for National and International Defence & Aerospace Industry," said Kiran Raju, Co-Founder of Indrajaal.

"Their expertise in manufacturing aligns perfectly with our commitment to delivering high-quality, indigenous counter-drone solutions. This partnership reinforces our dedication to bolstering India's security infrastructure," Kiran said.
What does Inrajaal do?
Indrajaal said it specialises in countering various classifications of drone threats.
The company offers comprehensive solutions across multiple industries, including defence, critical infrastructure, and public safety.
Sigma Advanced Systems will indigenously manufacture critical hardware systems for Indrajaal's advanced drone countermeasures, aligning with Indrajaal's commitment to delivering high-quality, indigenous counter-drone solutions and reinforcing India's security infrastructure.
The current landscape of the anti-drone market in India
The global anti-drone market is anticipated to witness substantial growth, expected to rise from $1.47 billion in 2023 to $3.8 billion by 2027, exhibiting a robust annual growth rate of 24.41% between 2023 and 2027.
Damodar Reddy, Founder of Sigma Advanced Systems, highlighted the company's over 30 years of expertise in manufacturing defence and aerospace products and services. 
"This partnership with Indrajaal reinstates our support in the initiatives Atmanirbhar Bharat and Make in India. We're focused on strengthening our nation's defence capabilities by indigenously manufacturing essential hardware and software systems," Reddy said.
How the partnership will contribute in the anti-drone market
According to the company, The collaboration will ensure that India's defence and security forces have access to cutting-edge, domestically produced technology to defend against evolving threats. 
It underscores the importance of autonomous defence/weapon systems, the third revolution of warfare, in today's world where drone attacks on critical infrastructure and high-profile targets have become a significant concern.
Indrajaal said that its autonomous AI-powered Counter-Unmanned Aircraft System (C-UAS) is capable of identifying, classifying, tracking, and neutralizing threats in real time, leveraging a combination of 12 unique layers of technologies powered by artificial intelligence.
What does Sigma Advanced Systems do?
Founded in 1984, Hyderabad-based Sigma Advanced Systems specializes in embedded system solutions, including hardware and software, and has evolved over the years to be a full system design house and manufacturer for the Indian DPSUs and the armed forces.
Also Read: