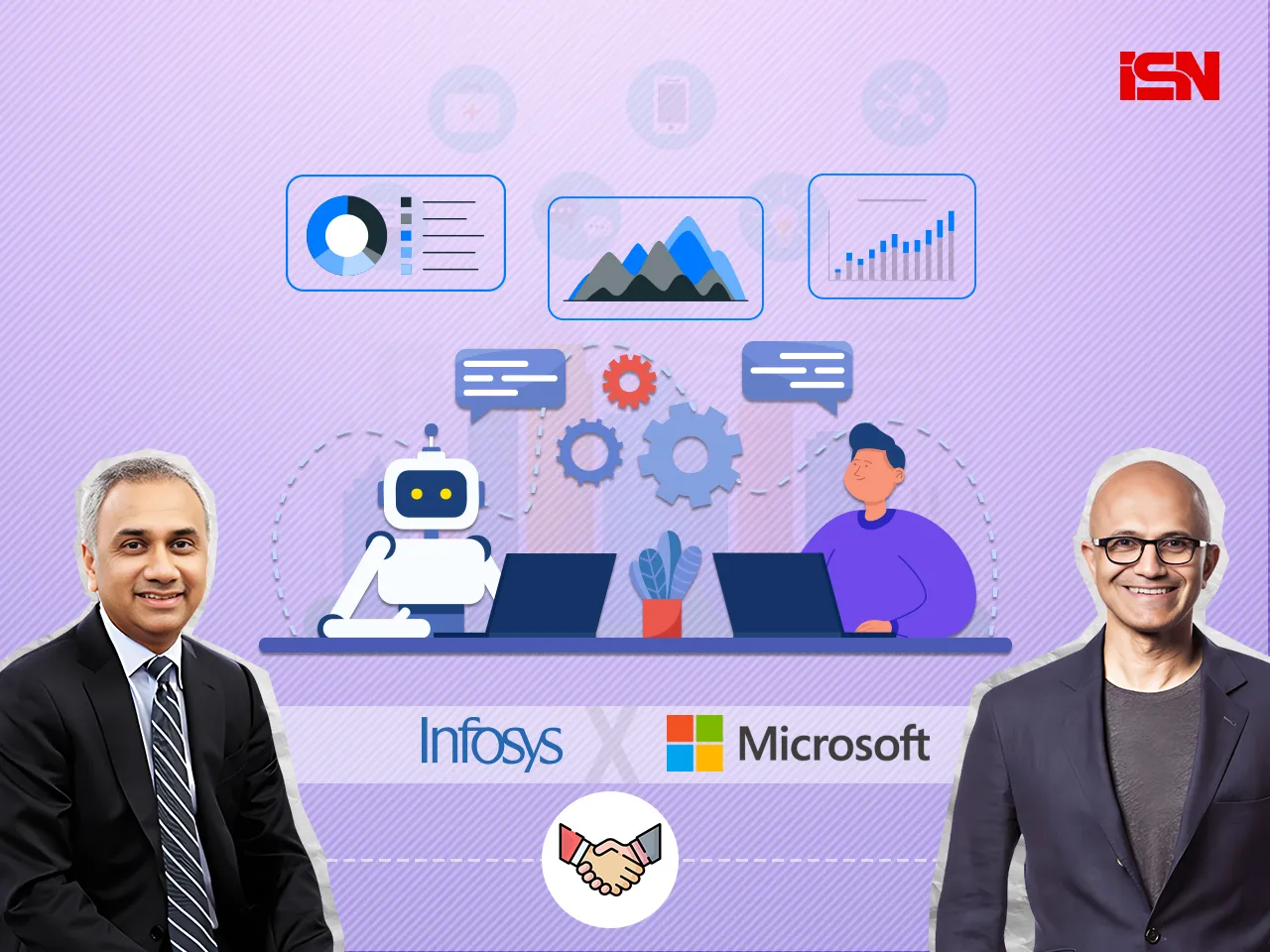 Indian technology giant Infosys today said it has partnered with Satya Nadella-led Microsoft to create advanced solutions utilizing Infosys Topaz, Azure OpenAI Service, and Azure Cognitive Services.
The announcement comes a week after Infosys partnered with NVIDIA to help enterprises worldwide drive productivity gains with generative AI applications and solutions.
What is the aim of the partnership?
According to the company's statement, The partnership aims to merge the artificial intelligence (AI) capabilities of both companies to improve enterprise functions with AI-enabled solutions across various sectors.
Infosys said the partnership will facilitate the widespread adoption of data and intelligence, aiding businesses in enhancing productivity and uncovering new avenues for revenue growth.
Generative AI adoption
Generative AI is revolutionizing AI applications in key enterprise functions across different industries. Looking at this AI revolution, Infosys is offering services, solutions, and platforms in several application areas like semantic search, document summarization, contact center transformation, AI-augmented software development lifecycle (SDLC), and marketing content creation.
One notable implementation by Infosys involved aiding a major financial services company in deploying an AI-based solution for generating document summaries and providing semantic search capability using generative AI.
Infosys said that this has streamlined the organization of documents, minimizing efforts and boosting the productivity of financial advisors.
How the partnership will benefit Infosys?
As part of the partnership, Infosys Topaz will leverage Azure OpenAI Service and Azure Cognitive Services to enhance its capabilities.
According to the company, The enhancement is crucial for assisting enterprise customers in transitioning from digital to AI solutions, aiming to optimize operational efficiency, reduce turn-around-time, secure future investments, and explore new business models.
"Infosys Topaz is empowering businesses with improved operational efficiencies and reduced time-to-market for launching new products and services. It converges the power of Infosys Cobalt and data analytics to AI-power business and deliver cognitive solutions and intuitive experiences that revitalize growth," said Balakrishna D. R. (Bali), Executive Vice President and Global Head – AI and Automation, Application Development & Maintenance, Infosys.
He added that through the strategic collaboration with Microsoft, Infosys aims to continue leading the generative AI revolution, assisting businesses in amplifying human potential and transitioning towards becoming AI-first enterprises.
What is Infosys Topaz?
Infosys Topaz is an AI-first offering by Infosys that helps businesses accelerate growth, build connected ecosystems, and unlock efficiencies at scale.
It is a suite of services, solutions, and platforms that use generative AI technologies to amplify the potential of humans, enterprises, and communities.
Also Read: