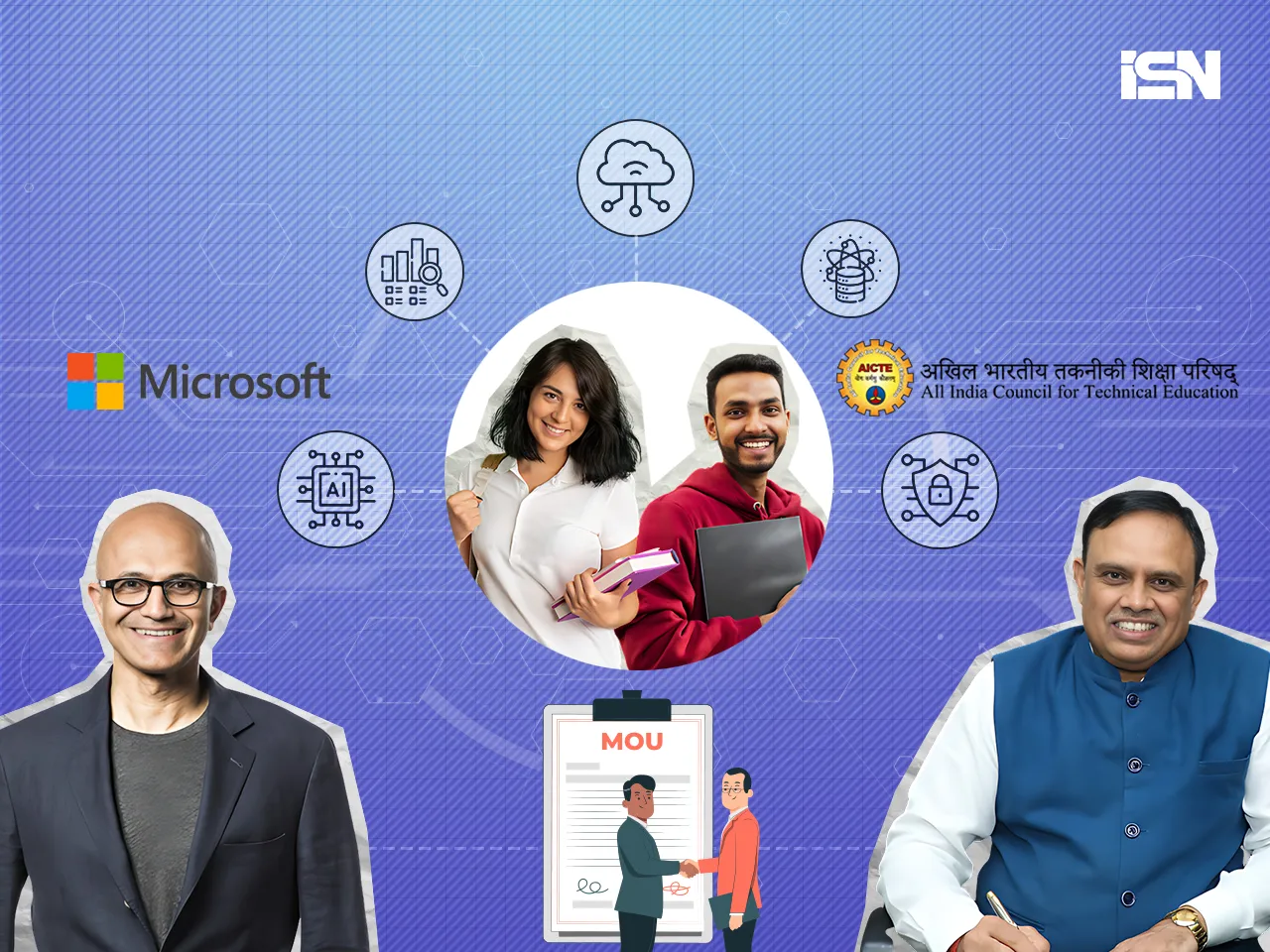 Satya Nadella-led technology giant Microsoft has signed an MoU with the Ministry of Education, the All India Council for Technical Education (AICTE).
According to the company's statement, The partnership aims to foster skill development and ensure job readiness among students and educators affiliated with AICTE and its associated institutions.
How will it benefit students?
Microsoft said the initiative will offer a range of learning paths, certifications, and experiences in fields such as AI, Cloud, data science, analytics, and security, impacting over three million students and educators.
Microsoft will incorporate Microsoft Learn, its comprehensive training and skilling platform, to supplement AICTE's existing curriculum, providing students with practical experience with Microsoft technologies.
The integration will offer students insights and mentorship from the Azure Developer Community in India, the release notes.
Additionally, students and educators will gain access to Azure Handbooks, enabling them to undertake projects addressing challenges in sectors like manufacturing, retail, healthcare, and education.
What will the Future Ready Talent Program offer?
The Future Ready Talent Program will be a pivotal part of this collaboration, offering skill development and virtual mentorship on technology projects to enhance student competencies.
The program is part of Microsoft's commitment to inclusive economic growth and aims to empower India's youth with the necessary technology skills for employability.
It operates in conjunction with AICTE, FutureSkills Prime, Ernst & Young (EY), GitHub, and Quess Corp, reaching over 100,000 students across various disciplines as of June 2022, with a 100% placement rate for more than 3,400 students completing their internships.
Statements:
Dharmendra Pradhan, Union Minister of Education, Skill Development and Entrepreneurship, Government of India, emphasized the transformative potential of such partnerships in setting new standards and benchmarks in education, benefiting students in India and beyond.
Prof. T. G. Sitharam, Chairman, AICTE, said, "We are focused on creating opportunities for our students in the realm of new technologies so they can be empowered when entering the workforce. We are thrilled to partner with Microsoft in aiding our efforts to equip our students as well as our educators with the necessary digital skills and experiences they need to succeed in this digital era."

"Today's youth is key to India's inclusive economic growth, now and in the future. Our collaboration with AICTE is an extension of our commitment to empower students and educators with skills, training, and experiences needed to navigate today's rapidly evolving technology landscape," said Venkat Krishnan, Executive Director, Public Sector, Education and Healthcare, Microsoft India.
Also Read: