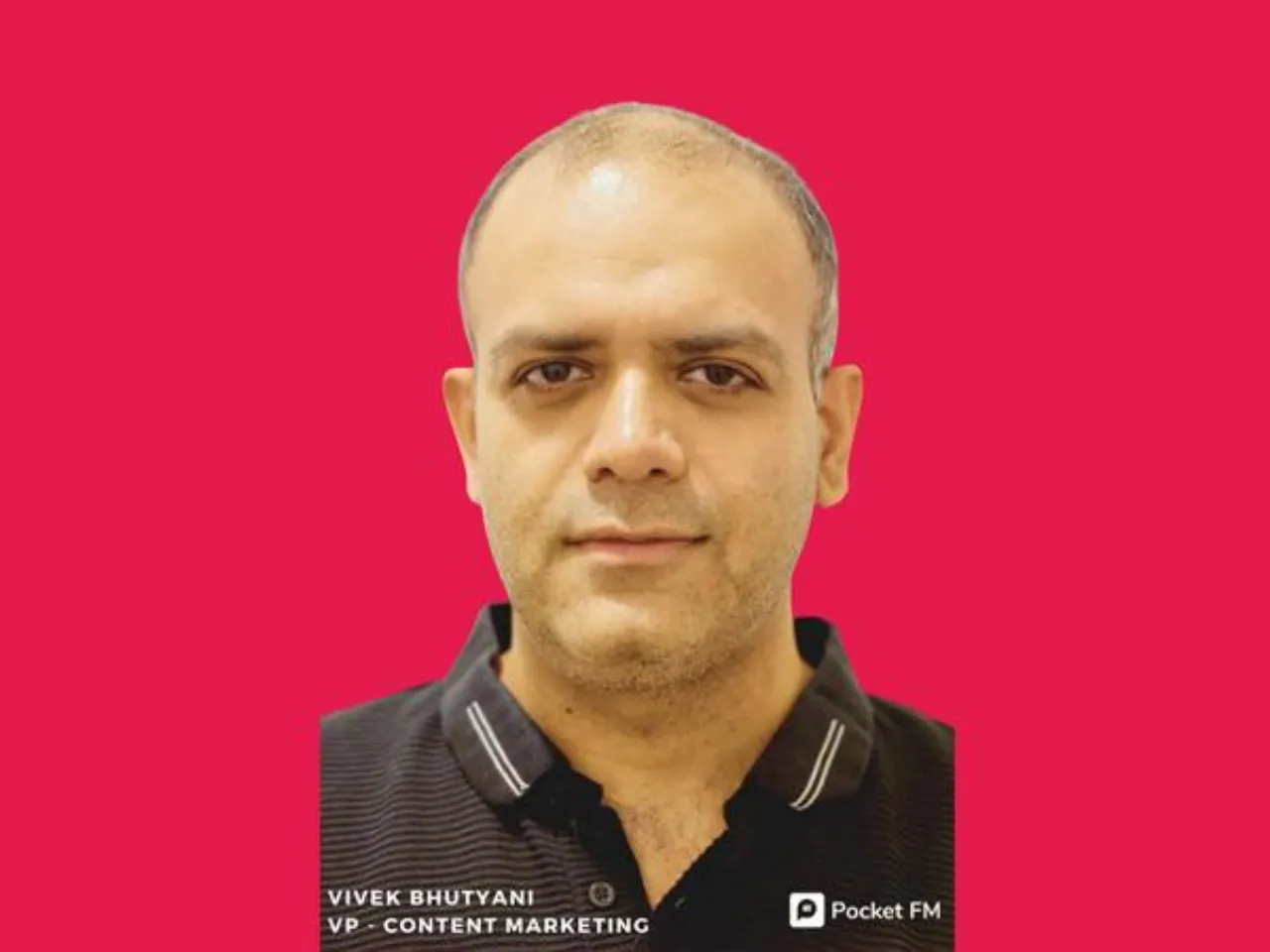 Audio Series platform Pocket FM today announced the appointment of Vivek Bhutyani as the Vice President of Content Marketing. 
Vivek, who has over 20 years of experience spanning across various industries, including Media, Telecom, Retail, and Edtech, will drive the company's content marketing strategy and organic growth.
Vivek Bhtuyani's leadership roles
Prior to joining Pocket FM, Vivek was an integral part of the Vedantu leadership team. He also held several senior leadership roles in Star TV Network, Nokia, and BT Global Services. Apart from this, He is also the co-founder of the digital edtech platform Lattu Kids.
At Vedantu, He was responsible for driving organic growth for Vedantu, where he used to lead the entire YouTube strategy and growth, leading a diverse team of over 100 educators, master teachers, and content production teams and creators.
"I am truly exhilarated to join the Pocket FM team and especially excited for the 0 to 1 journey that we are undertaking on organic content marketing. I see immense potential in the serialised audio streaming space, driven by audio series and believe that we can reshape the way audiences consume content in this segment globally," said Vivek Bhutyani.
Focusing on international growth
At Pocket FM, Vivek will work closely with Rohan Nayak, co-founder & CEO and Lalit Gangwar, VP of international growth to drive the international growth charter.
Commenting on his appointment, Lalit Gangwar said, "Vivek's experience and vision are expected to be instrumental in elevating Pocket FM's position in the audio entertainment space. His passion for results, inclination to challenge the status quo, and proven ability to lead high-performing teams will be driving forces that align perfectly with Pocket FM's mission to deliver high-quality, engaging audio content to audiences worldwide."
Pocket FM's $100M funding round
The development comes a week after Pocket FM reportedly was in talks to raise $80-$100 million in funding from investors, including the Lightspeed growth fund.
A mere four months ago, Pocket FM raised $16 million in debt from the US-based Silicon Valley Bank, a division of First Citizens Bank. The debt came more than a month after Silicon Valley Bank collapsed and subsequently became part of First Citizens Bank.
What are the offerings of Pocket FM?
Founded in 2018 by IIT-Kharagpur graduates Rohan Nayak, Nishanth Srinivas, and Prateek Dixit, Pocket FM provides a variety of long-form audio content, including audio shows, stories, novels, and podcasts.
After its successful launch in the US, the startup is now eyeing to expand its global presence to more countries.
According to a CrunchBase report, the audio series platform has raised over $109 million in funding till date from investors, including Naver, Goodwater Capital, The Times Group, and Tencent, among others.
Also Read: