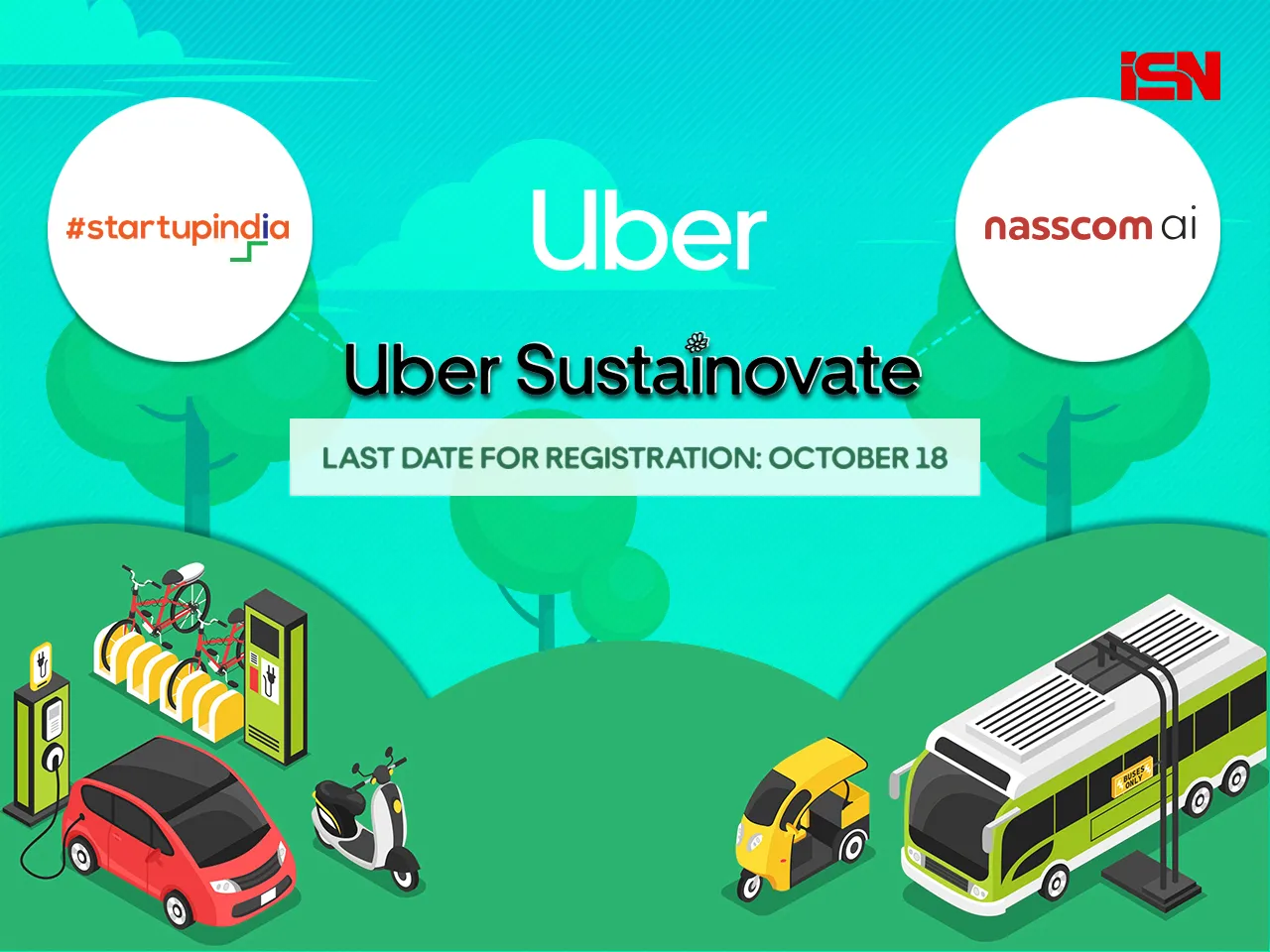 US-based ride-hailing giant Uber, which battles with Ola Cabs in the Indian market, today announced the launch of 'Uber Sustainovate', a startup challenge looking for innovative solutions as it aims to fast-track the adoption of sustainable mobility in the country. 
The development follows recent Uber's partnership with the Indian Navy to offer transportation solutions for official travel and commute of naval officers, staff, and families across the country.
Uber partners with Startup India and nasscom AI
For this challenge, Uber has partnered with Startup India and nasscom AI to organize a competition to award startups that produce the best workable ideas that would help accelerate the transition to sustainable mobility in the country.
Uber said that the winning startup of the competition would be awarded a grant of $120,000 (approximately Rs 1 crore), and the top 3 entries would be awarded mentorship sessions with the tech leadership of Uber in India in order to help them sharpen their skills and competencies.   
Uber is moving towards achieving net-zero emissions by 2040
The latest development is part of Uber's aim of achieving net-zero emissions by 2040 and its ongoing efforts to minimize tailpipe emissions.
Uber Sustainovate aims to foster an ecosystem where startups are encouraged to develop sustainable solutions, providing a platform for forward-thinking startups eager to transform their ambitions into actions, the release notes.
"We have always believed that the energy transition in the mobility sector can only succeed if industry and technology work together. Startups can be the source of new and pathbreaking solutions given the tech talent density that exists in India. Uber Sustainovate is our way to ignite these possibilities as we work together towards building sustainable mobility solutions for India and from India," said Manikandan Thangarathnam, Senior Director of Engineering, and Site Lead for Bangalore, Uber.
When does registration start for the startup challenge?
Uber said that the participating startups would have the option to choose from one of the following four tracks to focus their ideas on:
Smart infrastructure and charging solutions 
Easy discovery of charging infra – better interoperability
Making the economics more viable for drivers/commercial fleet owners
Improving asset utilisation
Entries for the startup challenge are open until 18 October 2023. After registration, shortlisting will occur through several rounds, considering ideas, proof of concept, prototypes, and alignment with Uber's sustainability goals. The winner will be announced in January 2024, after a final jury round. 
What is the Startup India initiative?
Launched on 16th January 2016, Startup India is a flagship initiative of the Government of India, intended to catalyse startup culture and build a strong and inclusive ecosystem for innovation and entrepreneurship in India.
Since its launch, The Initiative has rolled out several programs with the objective of supporting entrepreneurs, building a robust startup ecosystem and transforming India into a country of job creators instead of job seekers.
These programs are managed by a dedicated Startup India Team, which reports to the Department for Industrial Policy and Promotion (DPIIT) under the Ministry of Commerce & Industry. Presently, there are 99,000+ startups registered with DPIIT.
Also Read: