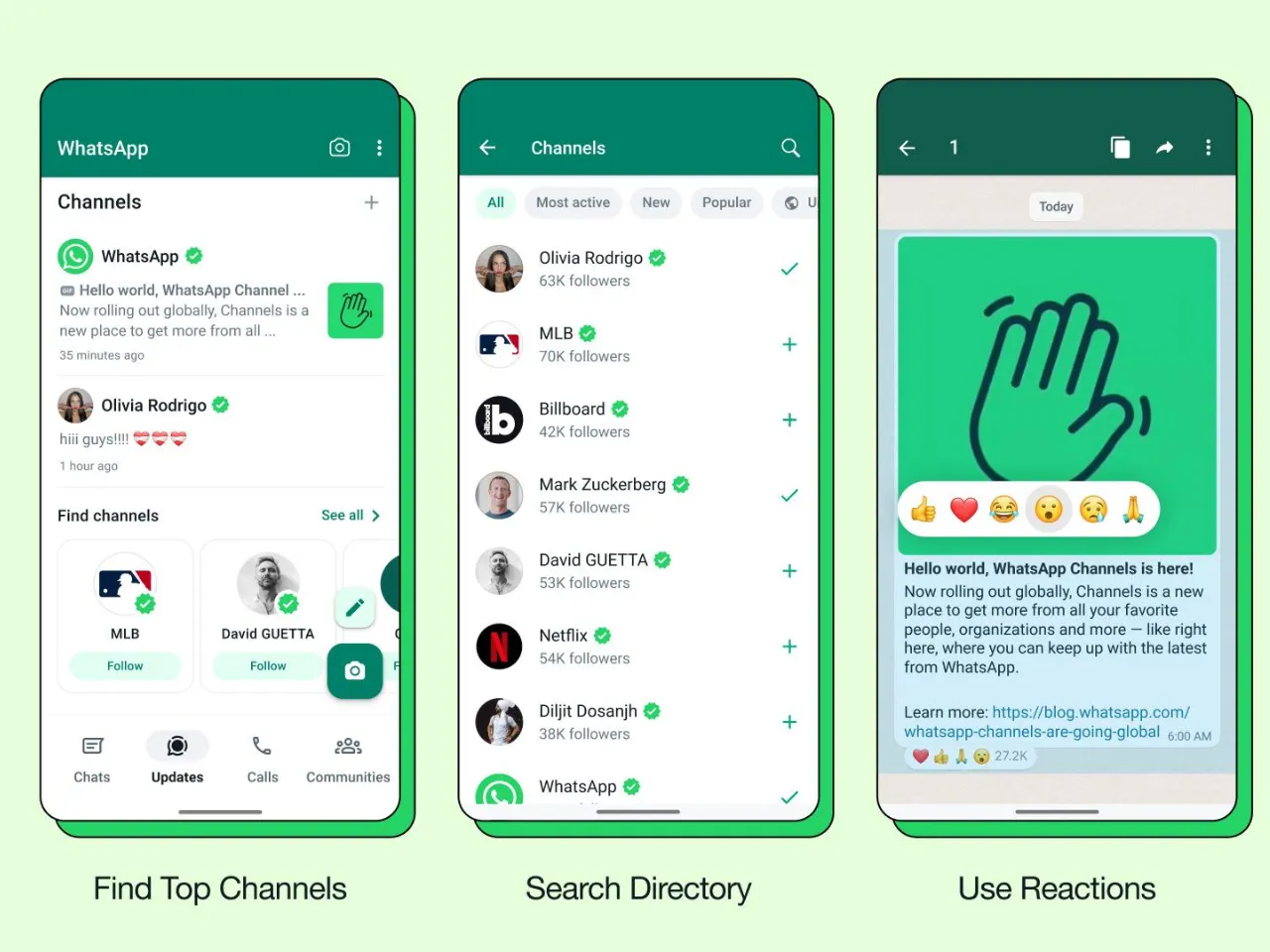 US-based Meta Platforms-owned messaging app WhatsApp today said it has rolled out WhatsApp Channels, a one-way broadcast tool, in India and over 150 other countries. 
WhatsApp said the newly rolled out feature will enable people to receive private updates from organizations, sports teams, artists, and thought leaders that they can follow. 
Celebrities, notable personalities launches their WhatsApp channels
According to the company's statemnet, The Indian cricklet team and celebrities, including Katrina Kaif, Diljit Dosanjh, Akshay Kumar, Vijay Deverakonda have launched their WhatsApp Channels. It's worth mentioning that the personal information of both admins and followers will be protected and who people choose to follow is private, WhatsApp said.
"This platform provides me with an exciting opportunity to connect with those who are interested in various aspects of my life, be it my work in the film industry or my ventures in the business world, all of which I am deeply passionate about. WhatsApp Channels serves as a personalized newsletter through which I can share insights and updates with my dedicated audience, fans, and all those who have consistently shown their support throughout my journey," said Katrina Kaif.
How to use WhatsApp Channels?
Channels allow administrators to share text, photos, videos, stickers, and polls in a broadcast format. To access Channels, individuals will have to go to the "Updates" tab on WhatsApp. Here, users can find and follow various Channels, which are displayed separately from their personal chats with family and friends.
The features of WhatsApp Channels
WhatsApp has introduced a series of features to enhance user engagement on its new Channels platform. The first feature is Enhanced Directory, a tool that facilitates users in finding and following channels that resonate with their interests. This directory is intuitively designed to filter channels based on the user's geographical location, showcasing channels that are not only new but also those that are buzzing with activity or enjoying popularity, as indicated by their follower count.
Another feature is Reactions which allows users to respond to content using emojis. This function not only enables users to express their feedback but also maintains a degree of privacy as individual reactions are not displayed to other followers, although a cumulative count of reactions is visible, fostering a sense of community engagement.
Lastly, WhatsApp has also integrated forwarding function. Users who wish to share channel updates with their chats or groups will find that a link to the original channel is automatically included in their message. 
The company also announced that in the coming months, it will enable the feature allowing anyone to create their own channel.
Also Read: