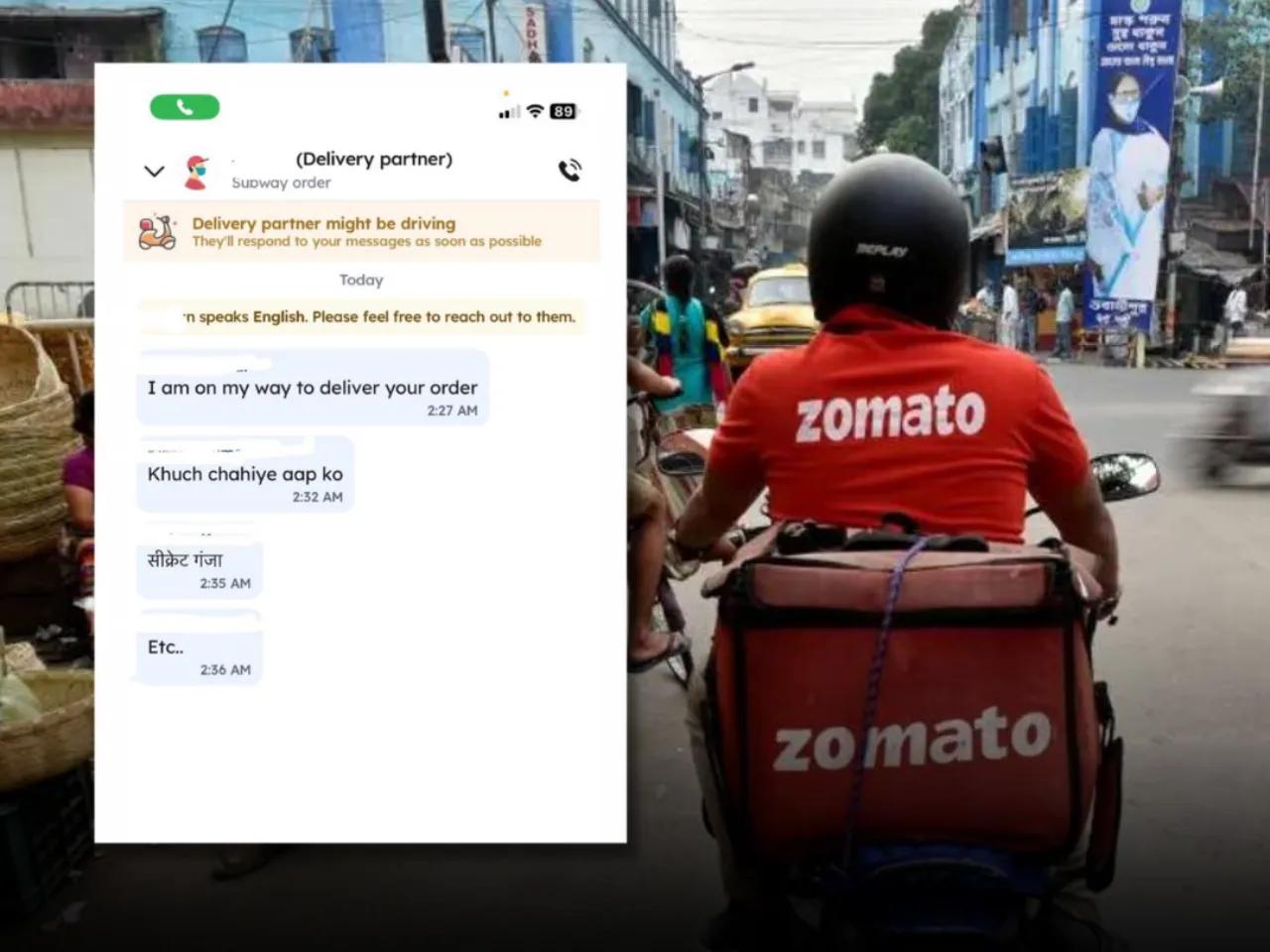 In the digital age, The stories of food delivery agents going above and beyond to cater to customer requests frequently circulate online, often bringing a smile to readers' faces.
However, it is quite rare to encounter a delivery agent who takes the initiative to offer additional items to a customer, especially when those items are unconventional. 
A recent incident involving a Zomato delivery boy has raised eyebrows. A woman customer received an unusual message from the delivery person, as shared by Mumbai-based X (formerly Twitter) user Sakshi Jain.
The message read, "I am on my way to deliver your order. Kuch chahiye aap ko. (Cigarette), Ganja (Weed), etc." The text came in Hindi with cigarette spelled "secret" and weed spelt "ganja (bald).
The user then wrote, "So my roommate had placed an order from Zomato last night, and this is what the delivery guy texted her."
So my roommate had placed an order from @zomato last night and this is what the delivery guy texted her. pic.twitter.com/fEu47gss32

— Sakshi Jain • Content Strategist (@thecontentedge) September 10, 2023
Since being posted, the tweet has attracted a lot of attention from the netizens. Many noted that the late hour of the order, around 2:30 am, might have encouraged the delivery person to ask such an unusual question. This event highlights the strange and potentially worrying conversations that can happen during late-night food deliveries.
One of the users, named CA Shubham Agarwal, wrote, "but why would your roommate want a secret hairless guy?"
Another wrote "Plot twist - he is from kesh Kanti and he's asking if you're secret ganja ( bald ) and need some hair oil"
"Buddy's not at fault. Subah 3 baje khana charsi log hi mandate," a user wrote.
Buddy's not at fault. Subah 3 baje khana charsi log hi mangate. 🫥

— The Chosen One (@VarunRS) September 11, 2023
Also Read: