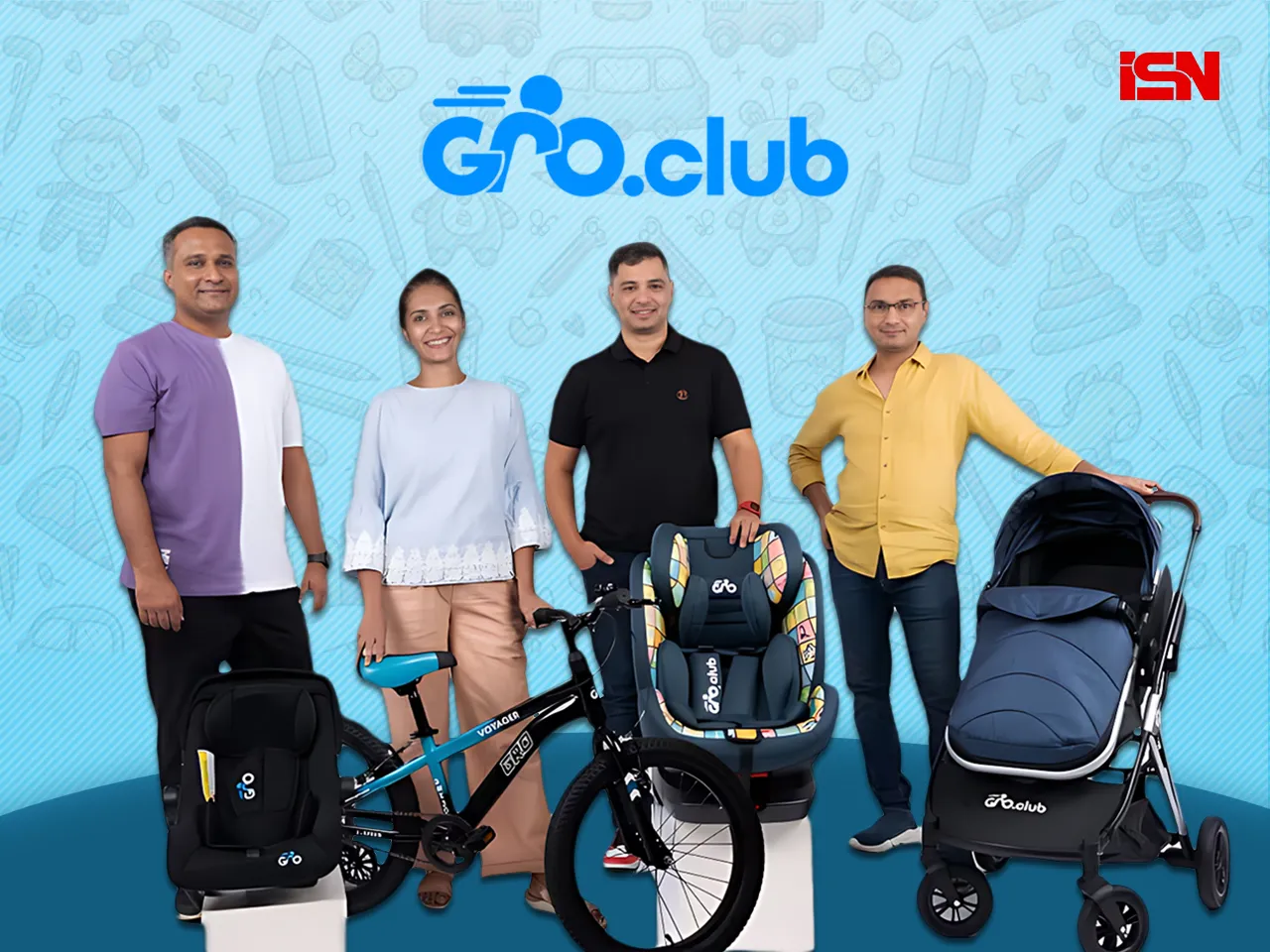 In a world where our kids are constantly growing and evolving, it's only natural that their needs change as well. This transformation isn't just limited to their behavioral and physical aspects but also extends to the products they use.
In a span of six months to a year, kids outgrow their bicycles, leaving parents with the dilemma of what to do with these once-loved, now-unused possessions. The result? A trail of single-use products that not only clutter homes but also contribute to environmental waste.
Pruthvi Gowda, the Co-founder and CEO of Gro Club, recognized this challenge and decided to take matters into his own hands. He embarked on a journey to change the way we think about buying bicycles for kids in India.
In an interview with IndianExpress, Pruthvi said "When you already know that your kid is going to outgrow this product in the next 12 to 15 months, why can't you just subscribe or rent a product instead?"
Who are the founders?
Gowda, along with co-founders Roopesh Shah, Hrishikesh Halekote Shivanna, and Sapna, launched Gro Club in early 2022 with the mission of transforming the way bicycles are acquired and used in India. This shift involves refurbishing existing bicycles and bringing them back into circulation.
The impact is two-fold: it drastically reduces the energy required to manufacture new bicycles and minimizes the carbon footprint, aligning perfectly with the goals of sustainability and eco-consciousness.
"We are making one product for five customers." This innovative approach is not just cost-effective; it's environmentally responsible and represents a positive step towards reducing waste and extending the lifespan of products. After approximately two years of a subscription, when a child outgrows their bicycle, Gro Club takes the product back, refurbishes it, and reintroduces it into the market," the company said.
Gowda emphasizes the need for a shift in mindset. He asserts that many products can be refurbished and reimagined over time, but the prevailing consumer culture often neglects this possibility. The potential is vast, especially considering that over 20 million bicycles were sold in India in 2021, with an estimated market size of $2.7 billion.
The revenue in this industry is predicted to demonstrate a consistent annual growth rate (CAGR) of 5.65% from 2023 to 2028. As a result of this steady increase, the market is anticipated to reach a substantial value of US$3.91 billion by the year 2028.
This means that the industry is expected to experience a significant expansion in the coming years, with a consistent and impressive rate of growth.  This underscores the enormous scope for scaling a business that caters to a product loved by everyone, regardless of income group, and with kids aged two to 15 forming the largest target demographic.

The early journey
Currently operational in Bengaluru, GroClub has quickly gained traction in the market. Within a range of 25 kms, the startup has onboarded over 400 subscribers in just 16 months of operations. It is clocking a monthly revenue rate of Rs 23 lakhs from subscriptions.
This early traction enabled the startup to raise funding to further accelerate growth. The fresh capital will be deployed to expand catalog selection, enhance technology, and widen brand awareness.

While more Indians are buying bicycles online, Gowda identifies a critical issue: the delivery model and limited branded choices. Gro Club is poised to transform this landscape by offering consumers the option to upgrade to a new bicycle for a certain period without the need for an outright purchase. This approach aligns with the growing trend of subscription services that allow customers to access products through convenient monthly payments, similar to popular services like Apple Music or Google Drive.
The product range is serving kids and teens between the ages of 2 and 15. The subscription pricing is flexible, ranging from Rs 250 to Rs 699 per month, and includes doorstep delivery, customer support, maintenance, and free upgrades. 
Gaining traction in Bengaluru
The startup combines domain expertise in education and child psychology to design high-quality activity boxes. Their curation process involves extensive research and feedback from parents on interests, skill levels, and emerging trends. GroClub also works with child psychologists to ensure activities align with a child's developmental needs.
Mythili Ramachandran, co-founder and CEO, said, "GroClub goes beyond just convenience of doorstep delivery. We want to inspire a passion for learning and enable holistic development through purposeful play." 
In June 2023, GroClub raised Rs 4.3 crore in a funding round from Ramaiah Evolute, the startup accelerator arm of MS Ramaiah Group at a valuation of Rs 25 crore.
Other investors in the startup include Deepak Gowda of Ascent Capital, Purushotham R, Chirag Shah of Velvet (Los Angeles), Isaac Reyes of Ravis (Panama), Amit Nanavati of Juicy Chemistry, Sanjay Munirathna of Keerthi Group, Dinesh Talera, Shricharan N J and Sanjay Sunku of Drink Prime.
The startup aims to introduce children's products like carry cots, car seats, strollers, bunk beds, and toys over the coming months.
The move aligns with the rapid growth projected for the toys and baby products market in India. As per industry estimates, the toys market alone is expected to reach $3 billion by 2028, growing at a CAGR of 12.2% from 2023-2028.
The startup aims to launch in major metro cities including Hyderabad, Pune, and Mumbai within the next year. It ultimately targets onboarding around 150,000 subscribers across Bengaluru, Hyderabad, Pune, and Mumbai in the next two years.
This broader product range and geographical expansion will help GroClub scale up its subscription commerce model for kids. The startup aims to become a one-stop brand for children's learning, developmental, and recreational needs delivered to Indian households.