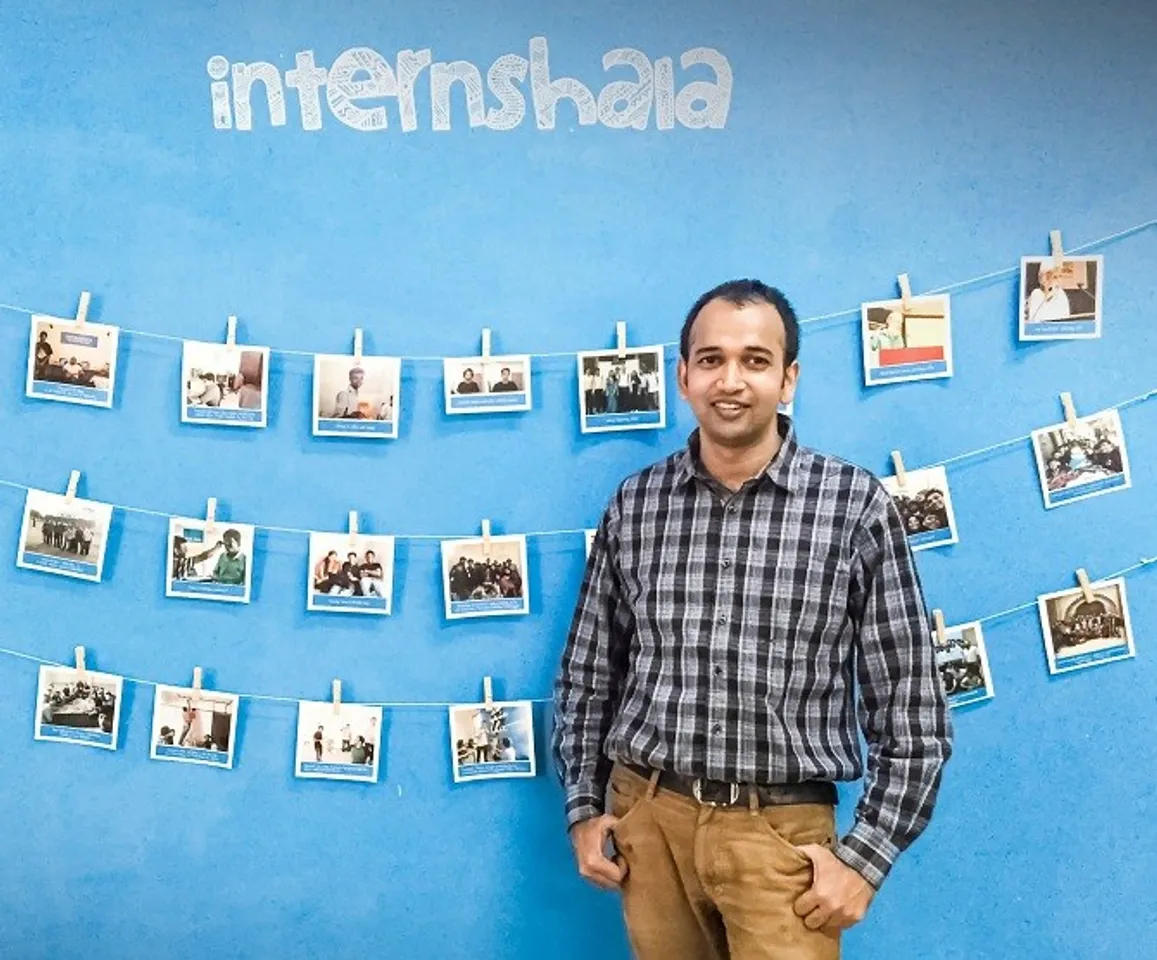 In today's world, having a good degree is no longer enough to earn that all-important graduate job offer. When it comes to developing a successful career, relevant work experience is now just as valuable as your degree and exam scores. As a result, internships have become a vital opportunity for candidates to differentiate themselves.
In this generation, employers rely heavily on resumes that reflect the meaningful work history of the candidate, whether it is from actual job experience, volunteer work, or interning at a company, in today's market.
An internship is a formal program offered by organizations to assist students and recent graduates in training and gaining job experience. The concept of working as an intern dates back a long time, although it has evolved significantly over the years.
Internships began as a laborer who would take on young people and teach them their craft or skill. The trainee would agree to work for the laborer for a set period in exchange for being taught a skill. Even back then, the goal of an internship or apprenticeship was to learn new skills to land future employment.
An intern or trainee might work for a company for a set period in modern interning. Internships can last from one to twelve months or longer, depending on the organization and industry. They are popular among graduate and undergraduate students seeking research or meaningful work experience.
Internships are currently available in almost every industry and type of firm, from huge multinational corporations to small startups. Furthermore, there has been an increase in remote/virtual internships — the possibility to intern electronically for multinational corporations. The abundance of internship options available demonstrates the value of an internship in today's world.
The Indian education system is highly criticized because there is almost no practical approach to the subjects taught. The system focuses on theoretical approaches more than adopting a practical way of teaching. In India students face a lot of competition, to be successful in such a competitive world, one must stand out from the rest. 
An internship also allows obtain real-world experience, expand your knowledge, and assess if you are in the proper professional field if you participate in an internship. Internships not only give you first-hand experience in the real world, but they also help you comprehend the career path for your preferred job title. You can discover how to apply what you've learned throughout your internship to your future jobs.
Internshala is one such platform that is making securing internships super easy and hassle-free.
Overview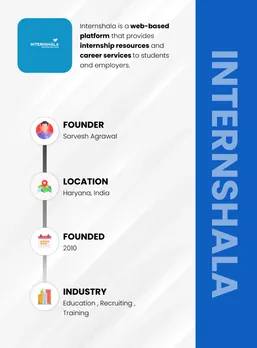 Internshala is a Gurgaon, based internship and online training platform. Sarvesh Agrawal, an IIT Madras alumnus, founded the website in 2011 to help students arrange internships with organizations in India.
The platform also provides courses available which are fee-based, although they can be downloaded together with accompanying materials such as videos for offline use. Internshala's courses are mostly organized into two categories: Summer Training and Winter Training.
It provides a variety of internship opportunities, including full-time, part-time, and work-from-home opportunities. Internshala offers both paid and unpaid internships.
Inception
Internshala had a very humble beginning. It started as a WordPress blog. The blog talked about various topics like education, technology, and skills. It was then repurposed into an internship gateway.
Sarvesh Agarwal the mastermind behind Internshala came from a business-oriented family based in Nawalgarh. So from an early age, he was very much inclined toward business.
In 2006, he received his bachelor's and master's degrees in civil engineering from the Indian Institute of Technology. Following his Master's, he began working as a Business Analyst in the product innovation team at Capital One in Nottingham (United Kingdom).
He returned to India after a year to work with Barclays Bank's credit card analytics group. In 2010, he moved to Aviva Life Insurance in Gurgaon to establish a Business Analytics team for the company.
Being in IIT he realized how powerful education is he wanted to do something in this field but he was confused. Sarvesh always believed that if he can do something in the educational field it will benefit millions of students.
The seed was sown when his friend couldn't find an internship despite being graduated from IIT Madras and the London School of Business. Sarvesh then realized that it's extremely difficult for students to acquire proper internships. He finally discovered a blind spot in the Indian educational sector.
He honed the idea further when he realized just like dating before marriage shows what you want in a person, in the same way, internships help students to get to know themselves better and get to know what they want to do and settle for in their career.
In 2010, Internshala was launched in India its main purpose is to help students find themselves. Thus the name Internshala a place for internships came into existence.
"Internship was one of the ways where it would help lots of students become employable and they would get some idea of what it is like to work in a company environment. It would also help them make a more informed career choice. Many a time, they graduate from college, based on unrealistic expectations of what job is offered." said Sarvesh Agarwal.
Challenges faced by Internshala
Just like every other startup at its nascent stages faces a lot of obstacles, Internshala did that too. For Internshala finding competent people was a major difficulty as the company grew. One of the most significant challenges the squad faced early on was a lack of good technical talent at both the junior and senior levels. Sarvesh came from a non-programming background himself and had the most difficulty in this area.
Another issue for the company was that companies were having difficulty recruiting interns since Indian students preferred in-office internships during summer and winter breaks, making it impossible to hire interns during the rest of the year.
It was difficult to connect the locations and timings of students and employers. It was difficult to get the students to align with the companies offering internships.
Business Model
Internshala's business model is based on the freemium model, so what is a freemium model. I will break it down for you all a freemium model, a combination of the words "free" and "premium," is a sort of business strategy that provides users with basic aspects of a product or service for free and charges a premium for extra or advanced capabilities.
A corporation that uses a freemium model provides basic services for free, frequently in the form of a "free trial" or limited version for the user, while charging a premium for more advanced services or extra features.
Internshala has three revenue streams: marketplace transactions, placement aid services, and higher education services like certificate training classes.
The platform is accessible via its website and mobile app. A student must first register, build a professional profile, and then apply for the various internships featured on the portal. Internshala is a free portal for applying to and searching for internships. However, it generates cash through two channels:
For its online training programmes, Internshala charges a fee. These programs differ in length, category, and cost. Third-party advertisers, such as those who want to put adverts, posters, or email busters on Internshala's website, are also charged fees.
Competitors
Internshala is at the top of the game still, it faces competition from Monster India, Apna, Naukri.com, StuMagz, twenty19, Letsintern, and Interworld. All of them provide internships and job opportunities to freshers.
Future plans
Internshala focuses on assisting students in studying, training, and gaining on-the-job experience. Internshala was founded to provide practical knowledge and real-life skills to 30 million college students in India, allowing them to realise their aspirations.
The Internshala team is continually working to provide internships and training in cities, small towns, and villages around the country. This is the driving force behind Internshala. Internshala intends to take the step of delivering meaningful internships to students and individuals in tier 2 and tier 3 cities in the next years by raising awareness and giving chances to them.
Bottomline
When it comes to the number of graduates who graduate each year, India ranks second only to the United States.
Many experts believe that there is a significant difference between the abilities and exposure levels of fresh students who graduate from institutions.
"Lack of understanding and exposure to kids about the industry is one of the primary challenges"

Sarvesh Agrawal
Also Read:
Follow IndianStartupNews on Facebook, Instagram, Twitter for the latest updates from the startup ecosystem.