"I wanted to stand for those women who want to be beautiful for themselves, not for men or other women. Indian women were ready for that and that's why they related to Nykaa. It was a type of empowerment" 

FALGUNI NAYAR (FOUNDER OF NYKAA).
According to the National Sample Survey, women entrepreneurs own only 14% of all enterprises in India. The majority of the businesses are bootstrapped and operate on a small scale.
According to a survey, approximately 126 million women operate their own businesses worldwide, whereas Indian women account for only about 8 million, despite the fact that India is the world's second-most populated country where women get very less exposure and representation in the business space even today.
With the ongoing expansion of the Indian startup ecosystem, an increasing number of women are pursuing the entrepreneurial dream and succeeding in their companies.
Women entrepreneurs might make 150 million-170 million job positions in India by 2030, according to a 2019 report, Powering The Economy With Her: Women Entrepreneurship In India, distributed together by Google and Bain and Company, a Boston-based counseling firm.
The inception of Nykaa: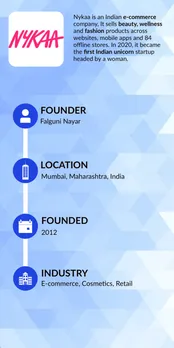 Founded in 2012 by Falguni Nayar, Nykaa is a beauty retail brand that offers cosmetics both online and in-store. In addition, the company provides extensive material such as product evaluations, beauty how-to videos, expert-written essays, and even an e-beauty magazine.
The Nykaa helpline is intended to assist clients in selecting products and services that are tailored to their specific needs. The products that the beauty and wellness brand boasts about are sourced directly from the manufacturing brands and are thus legitimate, as well as ready for delivery.
Falguni Nayar served at Kotak Mahindra Bank for 20 years as a venture investor she then resigned and started Nykaa and it began making history directly all along and the growth hasn't halted at this point. She is a major role model for the whole world proving that a woman is capable of leading and can as well shine in the business universe.
According to her age is just a number when it comes to entrepreneurship, if one wants and has the passion then anything is possible. Throughout the years Falguni has received numerous awards, including the FICCI Ladies Organization (FLO) award for the top female achiever in banking and the Business Today award, which named her one of the top 25 women in business.
Everything started in the year 2012 when Nykaa was set up. Keeping a watch for a promising business opportunity in India Falguni Nayar noticed an irregularity in the beauty and wellness industry in India, which wasn't at standard with the item's extension in different countries like France or Japan, disregarding the appeal, generally inferable from the absence of item accessibility in numerous spots.
This prompted her to start Nykaa. Beginning as an online store it gradually adopted an omnichannel stage in the later years.
Nykaa has established itself as one of the most capable companies in the beauty and fashion field as a result of its strong marketing approach, which is centred on digital marketing. The brand not only markets in Tier 1 cities, but also pitches to potential clients in Tier 2, 3, and 4 locations.
Nykaa had formerly sponsored the popular Femina Miss India event, one of India's largest beauty pageants, and is still associated with the same event.
Business model:
Nykaa follows an inventory-based business model The inventory business model allows for top profit margins with the responsibility of product damages lying with the corporate. Businesses also can ensure product authenticity and follow competitive pricing using the inventory model.
In simple words, Nykaa purchases directly from the warehouses and manufacturers, then the products are sold on their official website and in one of the three offline stores options that they have which are Nykaa Luxe, Nykaa On Trend and Nykaa Kiosks.
Revenue:
Nykaa reported $324.77 million (about Rs 2,440.89 crores) in FY21, a 38.10 percent increase over FY2020. The brand generates its revenues through advertisement and product sales.
Funding and Acquisitions:
In the year 2019, Nykaa generated a revenue of Rs 1,159.32 crore, which was 108% more than the previous financial year. the corporate turned profitable in FY19 with a profit of INR 2.51 crores.
The cosmetics market was worth $1.3 billion in FY2020 and is expected to increase at a double-digit CAGR of 16.39 per cent through FY2026, reaching $2.89 billion.
Nykaa has raised a complete of $341.9M in funding over 13 rounds. Their latest funding was raised on Nov 26, 2020, from a Secondary Market round funded by 15 investors with 6 leading investors, Fidelity Management and Research Company and Alia Bhatt are the foremost recent investors.
To date, Nykaa has purchased three firms. The company recently bought the Kolkata-based skincare brand, Dot & Key, on October 22, 2021, which was the company's last acquisition. Their last acquisition was PipaBella on Apr 12, 2021. The company has also acquired 20Dresses Mumbai based fashion and lifestyle platform.
By the end of the year, 2024 Nykaa wants to scale its offline wing by opening 180 new stores across India.
Nykaa launched its IPO:
FSN E-Commerce Ventures, the parent company of India's largest cosmetics firm Nykaa, launched its initial public offering (IPO) on October 28 with the goal of raising up to Rs 5,352 crore.
An anchor placement of up to Rs 2,340 crore was launched on Wednesday (October 27), and the IPO closed on Monday, November 1. The shares in the Nykaa IPO, which were a mix of new stock and an offer for sale, were issued at a price range of Rs 1,085-1,125 apiece, with the aim of raising up to Rs 5,352 crore at a valuation of $7.1 billion.
The IPO of Nykaa and Nykaa Fashion operator FSN E-Commerce Ventures was subscribed to 81.78 times by November 1, the issue's final day of bidding, which began on October 28.
According to subscription data, the offer received bids for 216.59 crore equity shares, compared to an IPO size of 2.64 crore equity shares.
Qualified institutional investors (QII) bid 91.18 times their reserved amount, while non-institutional investors bought 112.02 times their reserved portion.
A portion put aside for retail investors was subscribed to 12.24 times, while a portion set aside for employees was subscribed to 1.88 times.
The company has shown robust growth without significant cash burn and profitability, as well as a significant improvement in capital turnover ratio from 3.1 times in FY19 to 4.2 times in FY21. The public issue has been given the thumbs up by experts.
Post-IPO, founder Falguni Nayar and her family retain majority ownership. They currently own more than 53% of FSN E-Commerce Ventures.
In FY21, revenue increased by 38% year on year to Rs 2,453 crore. Previously, the business stated that it will spend Rs 130 crore of the IPO proceeds to settle debt and Rs 200 crore to advertise its brands.
The revenues from the IPO will be used to expand the company by opening new retail outlets and establishing new warehouses. It also intends to repay part of its debt, which should reduce interest expenses and boost profitability even further.
Future plans:
"I wanted to replicate that in India—a multi-brand retailer selling the best beauty, plus a lot of education to help customers"

– FALGUNI NAYAR.
Also Read:
Follow IndianStartupNews on Facebook, Instagram, Twitter for the latest updates from the startup ecosystem.