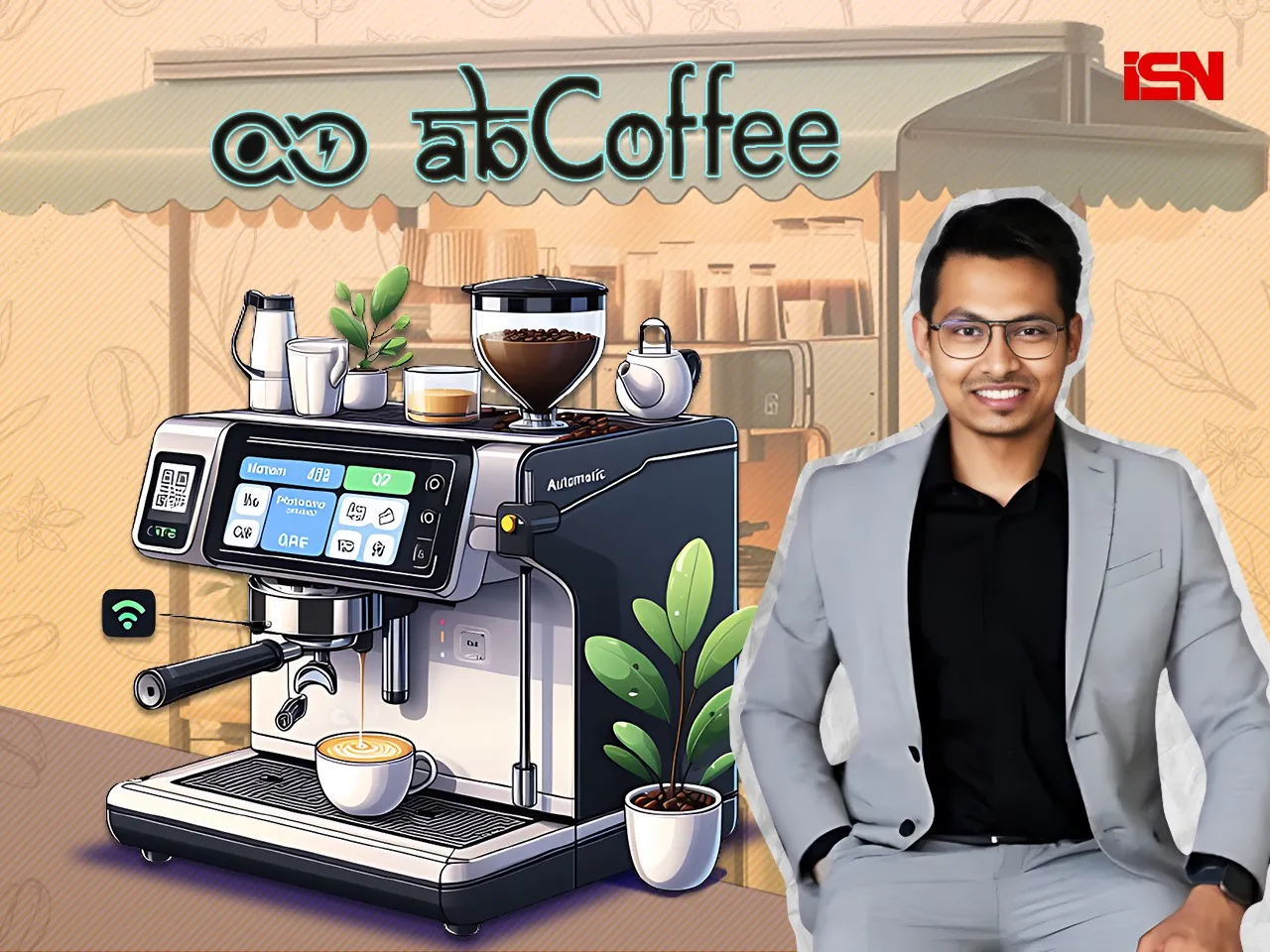 In a world where the rich aroma of specialty coffee often comes with a hefty price tag, abCoffee is shaking up the status quo.
This startup's journey is not just about serving a cup of joe but about rewriting the narrative of coffee consumption in India.
In India, a cup of specialty coffee has long been associated with luxury. Many perceive it as a beverage reserved for the elite. This perception often stems from the high prices of premium coffee offerings. The startup recognized this problem - the inaccessibility of specialty coffee for the masses.
AbCoffee, led by the visionary Abhijeet Anand, embarked on a mission to change this narrative. Their Quick Service Restaurant (QSR) model not only keeps wastage minimal but also ensures that prices remain budget-friendly. 
According to the founder, This model is at the core of their strategy to democratize specialty coffee in India and make a high-quality brew accessible to a wider audience without breaking the bank.
One of the key elements of abCoffee's strategy is offering a diverse range of specialty coffees without the addition of expensive food items.
By focusing solely on coffee, they keep their prices competitive. The startup boasts a wide range of coffee options, with prices that won't strain your wallet.
To maintain quality and consistency, abCoffee leverages automated technology for temperature control and frothing, reducing manual errors and ensuring that every cup of coffee meets its high standards.
Abhijeet Anand, an alumnus of IIT Dhanbad, is the driving force behind this coffee revolution. He was determined to shatter the stereotype that specialty coffee is only for the affluent.
Launched in June last year, abCoffee began its journey to make premium, specialty-grade coffee accessible to the masses without burning a hole in their pockets.
"There is a lack of quality coffee at affordable pricing for the masses, which is pushing people away. We will be using this fund to expand across India, and make quality coffee accessible across the country," Abhijeet Anand, founder, and CEO of abcoffee, told ET in an interaction.
Elaborating on the company's plans, Anand said that abcoffee is adding to its range of products, including food items, along with the coffee menu.
abcoffee currently has 10 outlets in Mumbai and Delhi and plans to inaugurate two more in Mumbai by the end of this month. Anand emphasized that the company's goal is to establish 100 outlets within the next 12 months.
In just a short time, abCoffee has become a symbol of affordable luxury, serving up the aroma and flavor of specialty coffee to coffee lovers from all walks of life. Their story is not just about coffee; it's about breaking barriers and ensuring that a cup of specialty coffee is within reach for everyone.
They serve top-rated coffees starting at just Rs 77 for a 250 ml cup, a fraction of the cost charged by other specialty coffee chains in the country. The startup uses an automated temperature-control frothing system, ensuring consistent quality.
The startup sources its beans from farms in Chikkamagaluru, scoring an impressive 85 out of 100 by certified coffee tasters. 
The startup said it has carefully chosen Chikkamagaluru as its primary source for coffee beans. The decision to source beans from this region has been pivotal to the startup's ability to offer a premium coffee experience.
The quality of coffee beans is assessed by certified coffee tasters, who have given AbCoffee's beans a remarkable rating of 85 out of 100. This score is a testament to the top-tier quality and flavor profile that these beans bring to every cup of coffee brewed at AbCoffee.
Leveraging a technology-backed approach, abCoffee ensures a quick turnaround time of just 1.5 minutes from order to serving. Customers can swiftly place orders through NFC touchpoints, QR codes at the outlets, or online platforms.
abCoffee founder shared that they leverage cutting-edge technology to ensure that their coffee reaches customers with unmatched speed and freshness.
"This is a game-changer in the coffee industry where quick service and quality can sometimes be at odds. AbCoffee defies this convention by maintaining a quick turnaround time of just 1.5 minutes from the moment a customer places an order to the moment the steaming cup of coffee is served," according to founders.
The startup claims to have served over 28,000 cups of coffee with a remarkable customer retention rate of 69%.
With five coffee decks in Mumbai, the startup aims to scale this number to 100 decks across Indian cities by the end of the year. This statistic is a testament to the quality and affordability that AbCoffee brings to the coffee-loving community.
In this age where coffee has become an integral part of daily life, abCoffee's journey is a remarkable one.  Keeping coffee as its focal point, abCoffee plans on opening 10,000 outlets across India.
Working on creating varieties within the beverage, it also plans on going international and adapting to foreign taste palettes as well.
As abCoffee's team says It's not just about brewing coffee; it's about brewing a revolution. The startup's commitment to democratizing specialty coffee is transforming the landscape for coffee enthusiasts, ensuring that they can savor the finest brews without breaking the bank.
Also Read: