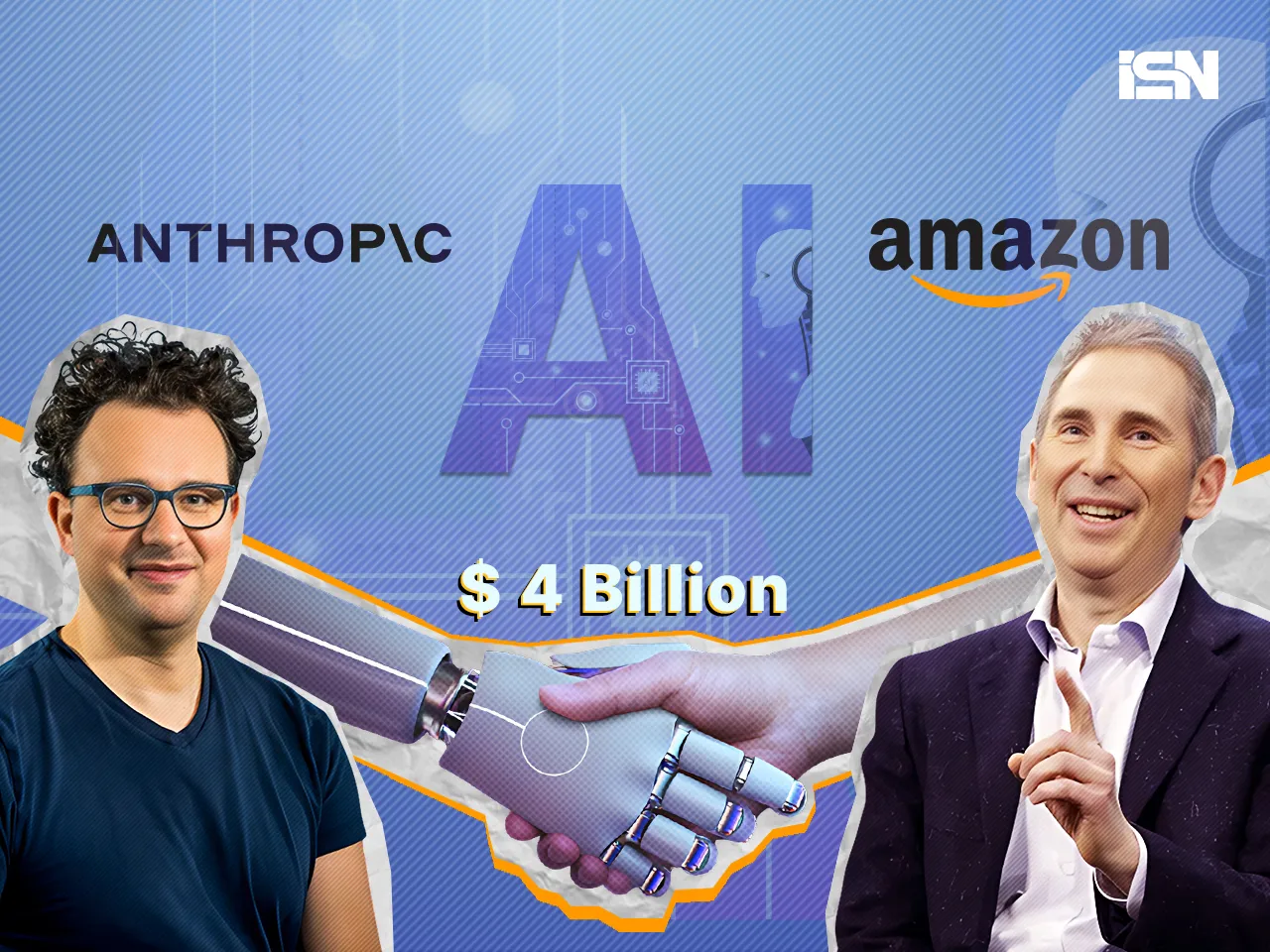 Ecommerce giant Amazon today said it has signed a strategic partnership with Google-backed Anthropic with the aim of advancing safer generative AI technologies.
As part of the collaboration, The ecommerce giant will invest up to $4 billion or around Rs 32,000 crore in the AI startup and will acquire minority stake in the company.
What this partnership meant for Anthropic?
Through this partnership, Anthropic will be able to leverage AWS Trainium and Inferentia chips to develop its future foundation models, utilizing the price, performance, scale, and security of AWS.
The AI startup is also committed to providing AWS customers with access to future generations of its foundation models via Amazon Bedrock, AWS's fully managed service.
"We are excited to use AWS's Trainium chips to develop future foundation models," said Dario Amodei, co-founder and CEO of Anthropic.

"Since announcing our support of Amazon Bedrock in April, Claude has seen significant organic adoption from AWS customers. By significantly expanding our partnership, we can unlock new possibilities for organizations of all sizes, as they deploy Anthropic's safe, state-of-the-art AI systems together with AWS's leading cloud technology," Dario said.
How will it benefit Amazon?
Anthropic said that it will use Amazon-owned Amazon Web Services (AWS) services for critical workloads, including safety research and future foundation model development.
Additionally, Amazon developers and engineers will be able to incorporate Anthropic models via Amazon Bedrock into their work, enhancing applications and creating new customer experiences across Amazon's businesses.
"Customers are quite excited about Amazon Bedrock, AWS's new managed service that enables companies to use various foundation models to build generative AI applications on top of, as well as AWS Trainium, AWS's AI training chip, and our collaboration with Anthropic should help customers get even more value from these two capabilities," said Andy Jassy, Amazon CEO.
Accelerating AI adoption
Through this partnership, both companies will focus on using technology and expertise in AI to accelerate the development of Anthropic's future foundation models.
The partnership aims to make these models widely accessible to AWS customers, focusing on creating safer and more reliable generative AI applications, the release notes.
The collaboration is expected to improve customer experiences significantly, both short and long-term, through deeper integration of Anthropic's foundation models with AWS's new managed service, Amazon Bedrock, and AWS Trainium, AWS's AI training chip.
How will it benefit customers?
The partnership will enable customers to access Anthropic's models via Amazon Bedrock to develop generative AI-powered applications to automate tasks such as producing market forecasts, developing research reports, enabling new drug discovery for healthcare, and personalizing education programs.
Lonely Planet, Bridgewater Associates, and LexisNexis Legal & Professional are some of the firms that are leveraging this technology to create innovative solutions and enhance productivity.
Amazon and Anthropic's focus towards Safer deployment of AI
Amazon said that it is acticely engaging with several organizations to promote the responsible development and deployment of AI technologies.
The company is also aimed at fostering the safe, secure, responsible, and effective development of AI technology, emphasizing the safety, security, and responsible development and deployment of AI.
What does Anthropic do?
Anthropic is an artificial intelligence startup founded in 2021 by Dario Amodei, Daniela Amodei, Tom Brown, Chris Olah, Sam McCandlish, and Jack Clarke. 
Anthropic built a conversational AI chatbot Claude, a rival of OpenAI's popular ChatGPT.
Last month, Anthropic announced it has raised $100 million in a funding round led by SK Telecom Venture Capital (SKTVC), an investment arm of a Korea-based telecom company SK Telecom.
In February 2023, The Financial Times reported that Google has acquired a 10% stake in a San Francisco-based AI startup for around $300 million at a valuation of roughly $5 billion. 
Also Read: