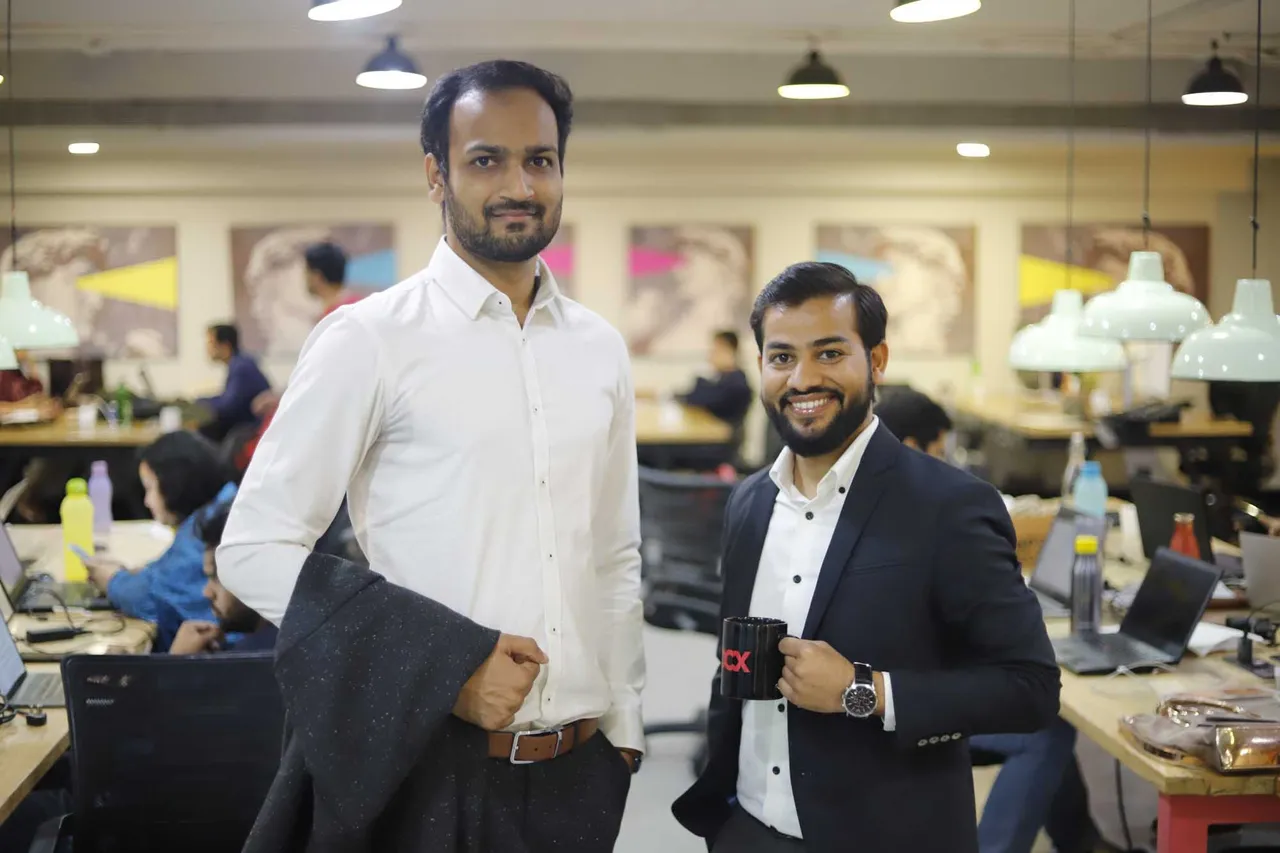 India, a country with a population of over one billion people, has been undergoing an economic revolution in recent years. With more than 40% of its population having access to the internet, our country is not far behind in terms of technological advancement.
History of Bitcoin in India:
Miniature bitcoin transactions were already taking place in 2012 if we go back that far. The term "Crypto" was still in its early stages of development, and only bitcoin enthusiasts were interested in it. But everything changed in 2013 when Bitcoin began to gain popularity and spread across many countries worldwide.
The crypto market in India has come a long way from its humble beginnings as a pastime to what is now regarded as a digital asset, thanks to the rapid growth of crypto trading and exchange platforms.
How cryptocurrencies are creating disruption in the market:
Cryptocurrencies, often known as digital or virtual currencies, are becoming increasingly popular among Indian investors. The central bank transaction and trade model is essentially disrupted by these currencies. Over $6 million has been invested in cryptocurrency by Indians. It is expected that around 1.5 crore Indians have made these investments.
Following the growth, CoinDCX, a Mumbai-based startup, recently became India's first unicorn cryptocurrency startup, which allows users to easily buy and sell Bitcoin and other cryptocurrencies.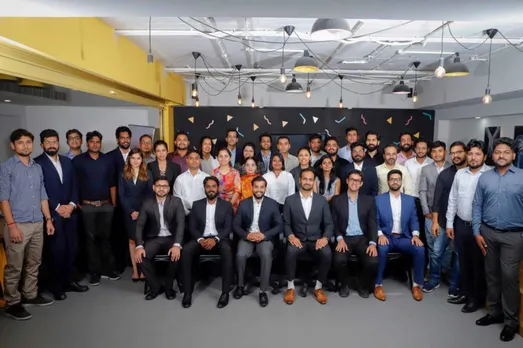 "We have brought all the crypto-trading products under a single roof. The products are designed for all types of traders keeping their experience, risk tolerance, and frequency of trading in consideration," says Sumit. 
According to the firm, it has a daily trading volume of more than $10 million and a monthly trading volume of $400 million.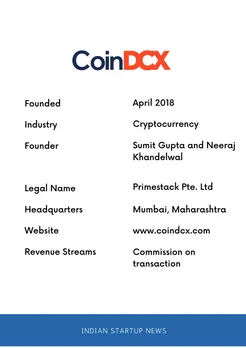 The Inception of CoinDCX:
Sumit Gupta first learned about distributed ledger technology in 2014, when Bitcoin was getting momentum. The notion of bringing together numerous decentralized marketplaces and bitcoins, the medium of exchange in these marketplaces, resonated with him at this point. He then reached out to his buddy Neeraj Khandelwal, with whom he partnered to bridge the critical market gaps between this innovative technology and global consumers.
The two realized that Blockchain traders, who must keep track of hundreds of crypto trades in seconds, need a single trading platform. In March 2018, the IIT-Bombay grads launched CoinDCX as a result of this.
At that time, the Reserve Bank of India (RBI) imposed a banking ban on cryptocurrency and related entities. Furthermore, the crypto business in India was in desperate need of a shake-up. CoinDCX started with a single purpose in mind: 'Cryptocurrency Adoption.' That was enough to keep the momentum rolling.
The Deputy Governor of the Reserve Bank of India started in May 2021 that they were studying ways to introduce a Central Bank Digital Currency (CBDC). Its arrival could be aided by the Bitcoin bill.
The seed of the idea was planted together by Sumit and Neeraj, the founders knew each other since their Kota days who then went to study at IIT Bombay. After college, Neeraj went into his family's business to learn about the intricacies and problems of running a corporation.
 Following that, he partnered with several start-ups to help them with their technical architecture. Sumit worked for a multinational firm in Tokyo, which he claims helped him "understand the technicality and culture of a corporation."
Sumit was quickly introduced to distributed ledger technology, and he met with Neeraj to discuss the concept. They began their DCX journey with a cryptocurrency exchange in 2018, after researching the market and the future of crypto technology.
The CoinDCX team created the entire platform from the ground up. Full-stack developers, blockchain developers, machine learning engineers, app developers, software engineers, and data scientists make up the 50-member team, giving them the expertise to execute any advanced logic or features in our business. The team, which is working on a variety of products, believes it will be able to successfully promote cryptocurrency acceptance in global retail marketplaces.
"In the case of a trading platform like CoinDCX, the key competitive advantage we wished to have was to develop an advanced trading terminal that outperforms any current offering available to traders on the market. In addition to challenges on liquidity (we initially faced), the other big challenge was to connect fragmented cryptocurrency capital markets within a single trading terminal," says Sumit.
The CoinDCX Platform
CoinDCX is a cryptocurrency trading network that is currently in development. The company's primary goal is to offer the best financial services that assure a seamless and uninterrupted flow of funds. Because of its liquidity, powerful wallet, and unbreakable security, trading is rapid, dependable, and simple. CoinDCX has made several industry-first products available to its traders, allowing them to trade using exchange liquidity.
CoinDCX was ecstatic when it announced the debut of CoinDCX Go earlier this year. A future Bitcoin software that allows users to buy Bitcoin and other popular cryptocurrencies legally and quickly.
CoinDCX Go offers INR pairs for Bitcoin (BTC), Ethereum (ETH), Bitcoin Cash (BCH), Litecoin (LTC), Binance Coin (BNB), Chainlink (LINK), EOS (EOS), Tether (USDT), Cardano (ADA), Stellar Lumens (XLM), Ripple (XRP), Basic Attention Token (BAT), Matic Network (MATIC), Tron (TRX), and others.
The services are customized to meet the trading styles of all traders, taking into account their trading history, risk tolerance, and trading frequency. The objective of the company is to democratize finance by making investing more accessible to the general people.
CoinDCX Funding:
CoinDCX is backed by a group of 18 investors. The most recent investors are Block. one and Jump Capital.
CoinDCX raised $90 million in a Series C round led by Eduardo Saverin's B Capital Group and a slew of current investors, including Coinbase Ventures, Polychain Capital, Jump Capital, and others, on August 10, 2021. This increased the startup's valuation to $1.1 billion, making it the first unicorn cryptocurrency firm and India's 22nd unicorn so far in 2021.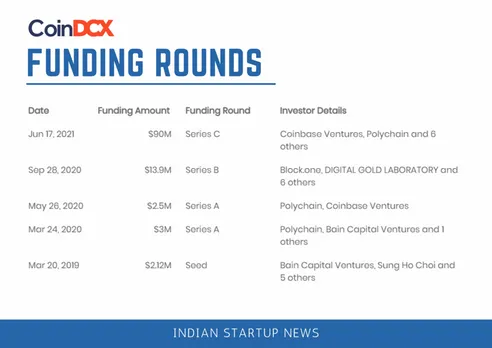 CoinDCX co-founder & CEO Sumit Gupta stated, "We will be joining hands or enter into partnerships with key fintech players to expand crypto investor base, set up a research & development (R&D) facility, strengthening the policy conversations through public discourse, working with the government to introduce favorable regulations, education, and ramping up the hiring initiatives."
He further added "The funds raised will be allocated to expand (bring more Indians to crypto and make crypto a popular investment asset class in India) and strengthen our workforce that will cater to our growth story. We will hire talent across multiple functions, and focus on new business initiatives."
CoinDCX intends to use the freshly generated capital to increase crypto acceptance in India through new products. The funding will also help to attract and retain new talent, as well as sustain the "hockey stick" growth in 2021 and in the forthcoming years.
In March 2019, the cryptocurrency exchange raised $3 million in Series A funding from Polychain Capital, Bain Ventures, and Bitmex. It secured $2.5 million in a strategic round in May from the aforementioned companies as well as Coin.
CoinDCX has raised about $19.4 million via three rounds of funding this year.
CoinDCX Business Model
CoinDCX's business model allows easy access to all cryptocurrency instruments available in over 500 marketplaces. It claims to have created a one-million-transaction-per-second trade machine engine. A transaction charge is applied to any transaction or trade on CoinDCX. CoinDCX, like every other cryptocurrency exchange, makes money by charging deposit fees, withdrawal fees, trading commissions (0.01 percent) of the whole transaction is standard on any exchange), and listing fees.
The trader will use DCXInsta to convert INR to Cryptos and vice versa, as well as DCXlend, to lend their holdings and DCXmargin to leverage trades on DCXtrade's 500+ marketplaces. CoinDCX wants to be the largest cryptocurrency exchange in the world. Users can obtain liquidity from the world's biggest cryptocurrency exchanges thanks to its proprietary liquidity aggregation technology.
The Competitors
Alongside CoinDCX in the game, there are many others like WazirX, UPHOLD, Binance, Coinbase, Poloniex, LocalBitcoins, HitBTC, Kucoin, NiceHas, etc.
DCX Derivatives are also on the way from the CoinDCX team. The business claims to be the first in India to provide cryptocurrency futures. Traders will be able to leverage up to 20x on trades on this platform, which will introduce Bitcoin and other crypto futures.
In the coming years, both the crypto industry and our renowned crypto exchanges in India have a bright future.
"CoinDCX envisions to enable global financial inclusion of billions of people around the planet with a crypto-based financial services. We aim to make decentralized financial services accessible to the common man on their palms and tips."
Also Read:
Follow IndianStartupNews on Facebook, Instagram, Twitter for the latest updates from the startup ecosystem.