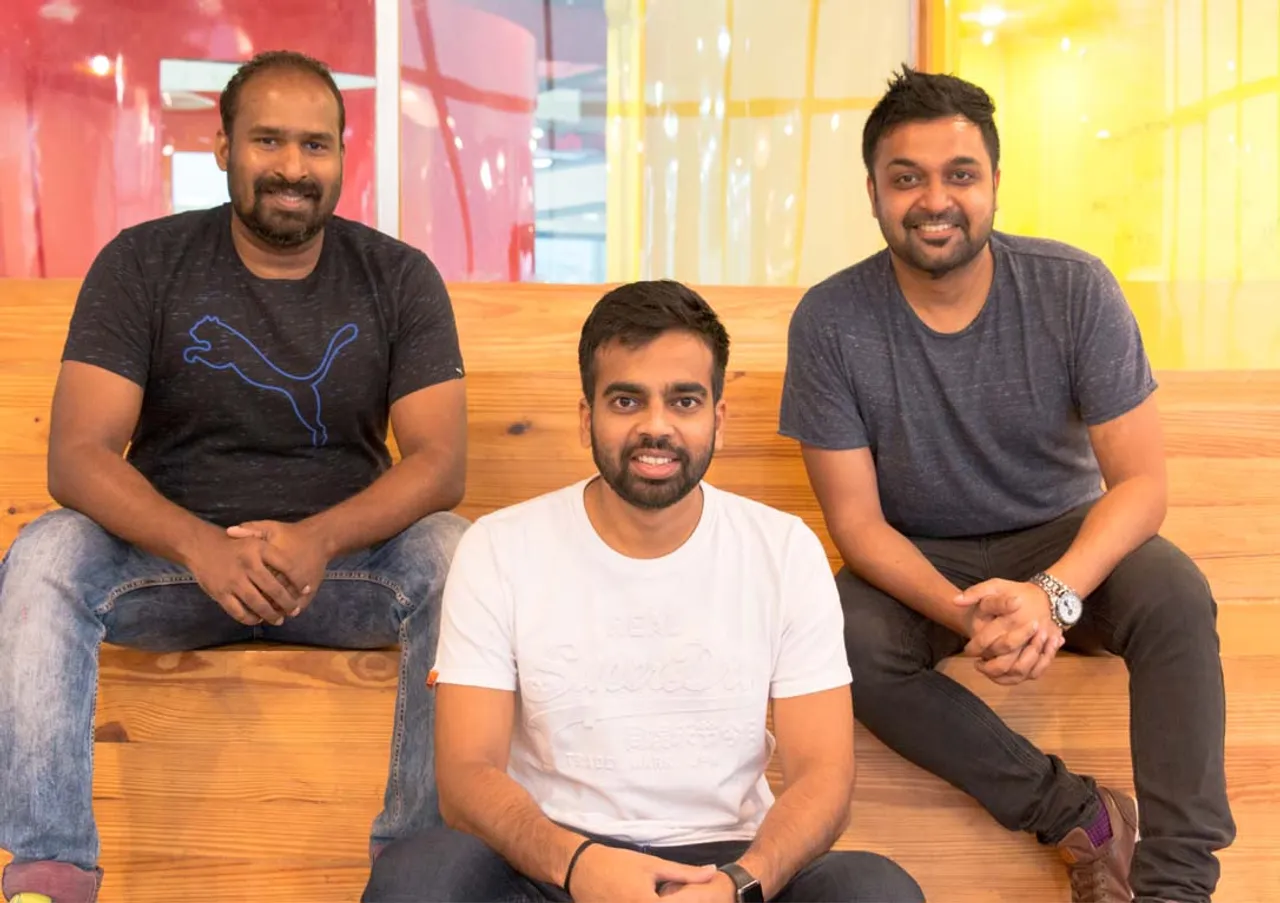 India, a country with a population of over 1 billion people, is experiencing a revolution in its economic spectrum for the past few years. With more than 40% of its population having access to the internet our country is not that far behind in technological furtherance.
History of crypto transactions in India:
If we go back to the year 2012, minuscule bitcoin transactions were already happening during that time. The term 'Crypto' was still at a primitive stage of advancement and only bitcoin enthusiasts were curious about it. But in 2013, Everything changed Bitcoin started gaining popularity and was expanding across many nations globally. (Fun fact: A pizza business called Kolonial in the Worli area of Mumbai became the first restaurant service in India to accept Bitcoin payments).
Shortly, Cryptocurrency exchanges began to crop up within the country. Pioneers like BtcxIndia, Unocoin, and Coinsecure started offering crypto trading services in India.
What is crypto and its pros and cons:
Indeed, With a rapid increase of crypto trading and exchange platforms, the crypto market in India came a long way from its humblest level, when it was just considered a hobby to what it is today considered as a digital asset.
There are lots of problems faced by people while understanding the concept of cryptocurrencies (to be specific 'Bitcoin'), It's so volatile and hard to follow in real-time, but one can hit the bull's eye and end up making millions if invested intelligently.
Before investing, one should know its pros and cons. Here are some of them:
Pros
Unmatched Transparency: Cryptocurrencies being anonymous and the transactions being stored in an open ledger aka the blockchain enables the visibility of the transactions to anyone.
Its Accessibility: One can access their digital coins from anywhere with just a few steps so it makes their financial experience smooth and easy.
Cons
Its Complexity: It can be hard and overwhelming for a normal person to understand the whole concept behind cryptocurrency.
Illegal Transactions: Since the privacy and security of cryptocurrencies are high, it's hard for the government to track down any user by their wallet address or keep tabs on their data.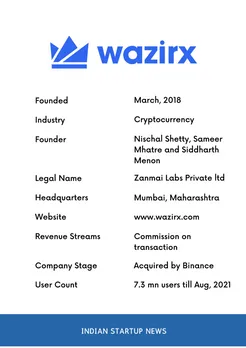 The inception of WazirX:
The rapid increase of the crypto market globally led Nishcal Shetty to start own India's crypto exchange platforms. Now, there are so many crypto exchange platforms in India like Unocoin, Zebpay, CoinDCX, CoinSwitch Kuber, among others, but WazirX is doing way more than these platforms.
The four-year-old platform is working on increasing the accessibility of cryptocurrencies to a lot of people in the country. With its easy-to-use interface, a non-techie person could also wrap up the format to invest in cryptocurrencies like Bitcoin, Ethereum, Bitcoin Cash, among several others.
WazirX was founded with the purpose of delivering the most powerful cryptocurrency trading platform. Having previously constructed Crowdfire, Nischal has proven that the difficulty of establishing a worldwide product from India and scaling it to 19 million users was, to say the least, an accomplishment.
Acquisition of WazirX:
WazirX is considered to be one of the most trusted cryptocurrency exchanges in the country. The immersive growth of the platform led Binance Holdings, a world leader in crypto exchange by trade volume, to acquire WazirX. In November 2019, Cayman Island-headquartered Binance completed the acquisition of WazirX, allowing Indian users to buy and sell crypto with Indian Rupees on the Binance Fiat Gateway.
Now, This crypto surge wasn't easy in India, It had faced so many hurdles in recent times. Earlier, It was reported that the Indian government is planning to propose a bill to ban all cryptocurrencies trading in the country. Despite this, many global investors have shown interest in fueling Indian crypto exchanges. Last month, another crypto trading platform CoinSwitch Kuber took $25M funding from global investors at a valuation of $500 million.
Founder:
Nischal Shetty, the founder & CEO of WazirX, has been creating products for a decade now and is profoundly known for building CrowdFire, a social media management tool for businesses. In 2017, Nischal got completely immersed into the world of Blockchain and ended up building a cryptocurrency exchange for India. It was infuriating to him because the existing crypto exchanges were not accurate and up to the mark.
Nischal,36, along with co-founders Sameer Mhatre and Siddharth Menon, started WazirX in the year 2018. Before that, the team had a social media managing startup but then soon they realised they need to change tracks.
The APIs — or application programming interfaces — of social media companies became increasingly restrictive, making it more difficult for third-party developers to launch connected businesses. It was time for Shetty and his co-founders to switch gears.
In 2018, Shetty and his co-founders decided to put their computer skills to work and establish a blockchain-based crypto trading platform.To their luck at the same time there was a huge surge in cryptocurrencies,especially bitcoin.
Growth of WazirX:
In the year 2021, The crypto market witnessed a whopping 405% increase in overall trading volume. WazirX also saw a 50% increase in its user base from 1 million to 2 million in a span of 78 days. According to several reports, The platform is estimated to have the highest conversion rate in the INR segment in India.
The goal is to work on a product, make proper usage of it, and help people access it seamlessly. Communicating with the audience, and building the features accordingly to their needs.

Nischal Shetty
He believes that what creates an impact on both the tokens as well as the audience. According to the reports, Binance-owned cryptocurrency exchange WazirX has outshined all of its competitors with a trading volume of over $200 million daily and $2.3 billion monthly, it claims.
The WazirX (WRX) token, which is based on the Binance blockchain, is known to be India's first token to get listed on more than seven global crypto exchanges. As per the CoinMarketCap report, WazirX is the 27th top crypto exchange globally based on traffic, liquidity, trading volumes, and confidence in the legitimacy of trading volumes.
Furthermore, The platform is also educating people about investing in crypto through its awareness initiative programs. Since many people are still unaware of the nitty-gritty of the industry, they tend not to trust the sources but are intrigued by the idea of having digital assets.
Goals and plans for the future:
WazirX is now aiming to hit a $1 billion trading volume per day in 2021. "BTC, WRX, TRX, ETH, MATIC, DOGE, ZIL are some of the top traded tokens in India. Our customers are spread across the country. Metros form a large chunk of the customers but other cities are growing fast. The majority of users are in the range of 22-to-30-year of age," Shetty said.
"Hope to see Indian banks taking the step forward to working with the Indian Crypto Industry. Banks around the world are building up their Crypto skill sets and working closely with the Crypto ecosystem."
To support the growth of crypto adoption in India, The startup had last year launched a $50 million 'Blockchain for India' fund to invest in crypto/blockchain startups in India.
The future is luminous for both the crypto industry and our trusted crypto exchanges in India in the forthcoming years, he added.
Also Read:
Follow IndianStartupNews on Facebook, Instagram, Twitter for the latest updates from the startup ecosystem.